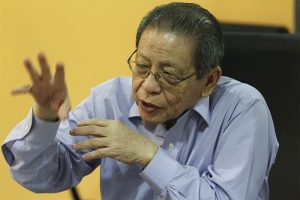 (MMO) –
DAP's Lim Kit Siang wants MCA, MIC and Gerakan leaders to explain how they will continue opposing the Bill to strengthen the Shariah courts once it is taken over by the government.
The Opposition federal lawmaker pointed out that senior Umno leaders have said the Barisan Nasional (BN) coalition will be taking over the Shariah Bill — better known as Hadi's Bill after its initiator PAS president Datuk Seri Abdul Hadi Awang — for tabling at the next Parliamentary session, and indicated that government MPs will have to vote along partisan lines.
"Liow, Mah and Subramaniam should explain how they can reconcile MCA, Gerakan and MIC's so-called opposition to Hadi's private member's bill and yet want their MPs to vote in support of Hadi's private member's bill motion in the March Parliament (which will be equivalent to passage of the first reading of Hadi's private member's bill), to enable a BN government take-over of Hadi's private member's bill to prepare for the second-reading development of the bill?" Lim asked in a statement today.
The Gelang Patah MP urged the three BN component leaders to instead embrace what he dubbed the "Pensiangan Formula" to stop the Bill from proceeding.
According to Lim, the two-pronged formula calls for no government takeover of Hadi's private member's Bill; and the establishment of a bipartisan parliamentary select committee to strengthen inter-religious relations based on the Federal Constitution, Malaysia Agreement 1963 and the Rukunegara with the specific aim of studying and making recommendations of the Bill.
Hadi's Bill seeks to amend the Syariah Courts (Criminal Jurisdiction) 1965 to raise punishment caps to a maximum 30 years' imprisonment, RM100,000 fine and 100 lashes of the cane.
It previously sought to remove all limits to Shariah punishments save for the death penalty.
Hadi has deferred its tabling in the Dewan Rakyat several times last year, but is expected to present it again when the session resumes in March.