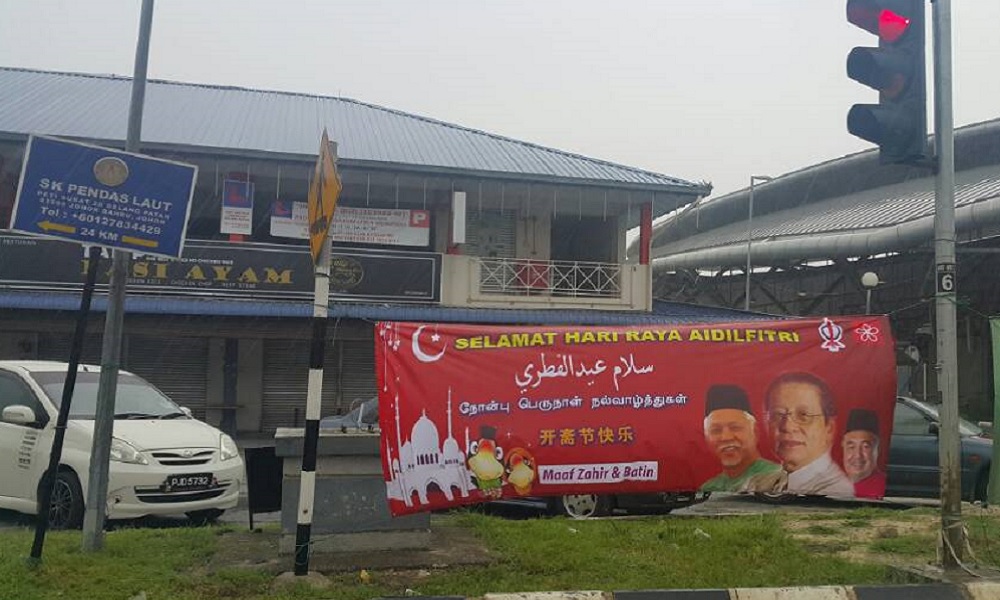 Parti Pribumi Bersatu Malaysia (Bersatu) has cried provocation over banners placed around Gelang Patah in Johor that purportedly made DAP parliamentary leader Lim Kit Siang appear like their leader.
The Hari Raya Aidilfitri banners show Lim alongside Gelang Patah Bersatu chief Nasir Hashim and the division's deputy chief Samat Atan, with the Gelang Patah MP in the middle and made significantly larger than the other two.
Nasir said in a statement yesterday that the banners were deliberately done to portray to Malays in Gelang Patah that Bersatu was only an "errand boy" to DAP.
"The banners are also aimed at creating a rift between me and Samat - as if I would be affected with (my deputy) Samat's picture being larger than mine.
"The banners seek to portray Samat and I as errand boys to Lim by making him larger and both of us flanking him," Nasir said.
He said there was no reason for the Bersatu-DAP banners as Pakatan Harapan comprised four component parties and any banner should reflect all of the parties.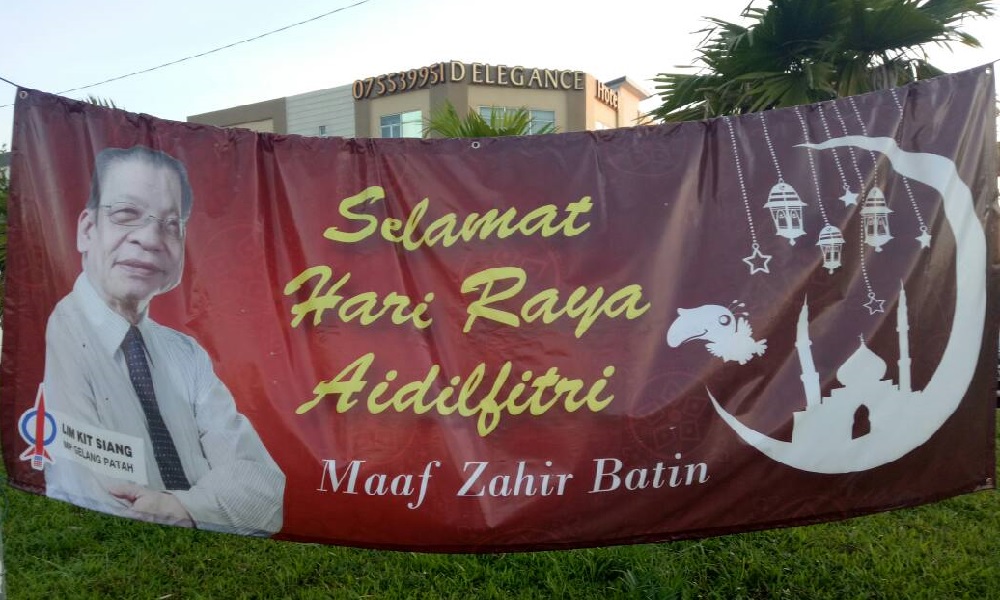 According to Nasir, the banners were strategically put up in Malay-majority areas in a bid to sow fear and play on racial sentiments.
Meanwhile, Samat yesterday lodged a police report on the banners.
"The hanging of such banners was done with malicious intent to portray to the Malays in the state seat of Nusajaya that I am in cahoots with Lim Kit Siang.
"For information, I have got verification from Gelang Patah DAP and they confirmed that they were not involved in putting up these banners," Samat said in the police report.
Nusajaya and Skudai make up the state seats within the parliamentary constituency of Gelang Patah.
When contacted, Lim's constituency representative Ng Siam Luang confirmed that DAP had nothing to do with the banners.
"No, we did not hang the fake ones," he said.
Ng said DAP's Hari Raya Aidilfitri banners had only Lim in them (photo above).- Mkini