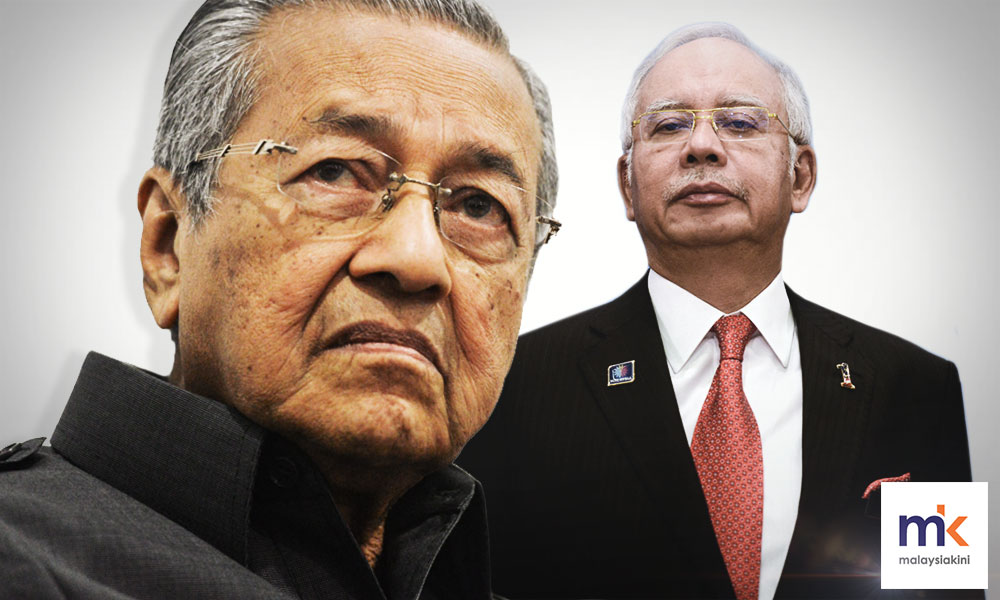 Since crossing over the political divide, former premier Dr Mahathir Mohamad's detractors have accused him of making a series of 180-degree turns.
The latest being his support for securing a royal pardon for his heir apparent-turned-nemesis-turned-accomplice Anwar Ibrahim and the latter's candidature for the prime minister's post if Pakatan Harapan wins the next general election.
In a blog post this evening, Mahathir, who is now the chairperson of Parti Pribumi Bersatu Malaysia (Bersatu), blamed Prime Minister Najib Abdul Razak for his U-turn.
"I did a U-turn long before my agreement to support Anwar's royal pardon and candidature as PM. I did it when Najib did a U-turn with Umno.
"The Umno which was set up in 1946 was dedicated to independence under a parliamentary democracy and a constitutional monarchy," he said.
Reiterating his allegations that Najib had abused his power and dabbled in corruption, Mahathir said this made him lose faith in the current Umno.
"... when the rule of law is abused and replaced with open corruption of the nation, when all these happened and more, I lost my belief in Najib's Umno and I turned away from it, and I set myself on a course to destroy this leader...
"In the effort to destroy the demon, I found common ground with the parties opposed to Umno and BN. I found common ground with Anwar (
photo
). I found that Anwar and I can work together after I had made my U-turn.
"We, together with many others will spare no effort to overthrow Najib and his decadent, corrupt kleptocratic government," added the 92-year-old without mincing words.
Mahathir also dismissed the claim that he was supporting Anwar for fear of what the latter would divulge to the Royal Commission of Inquiry (RCI) on the foreign exchange (forex) losses.
"I do not fear Anwar with regard to the RCI. But I do believe that the whole exercise to investigate the currency trading by Bank Negara is in order to implicate me.
"The RCI on currency trading by Bank Negara more than 30 years ago is not about seeking justice but is clearly a desperate effort by Najib to silence his detractors. It will not work," he added.
The former premier also noted the absence of an RCI on the 1MDB issue.
Najib has denied abusing funds for personal gain and blamed the allegations on those working with Mahathir to topple him from power.
Attorney-general Mohamed Apandi Ali has also cleared the prime minister of any wrongdoing.- Mkini