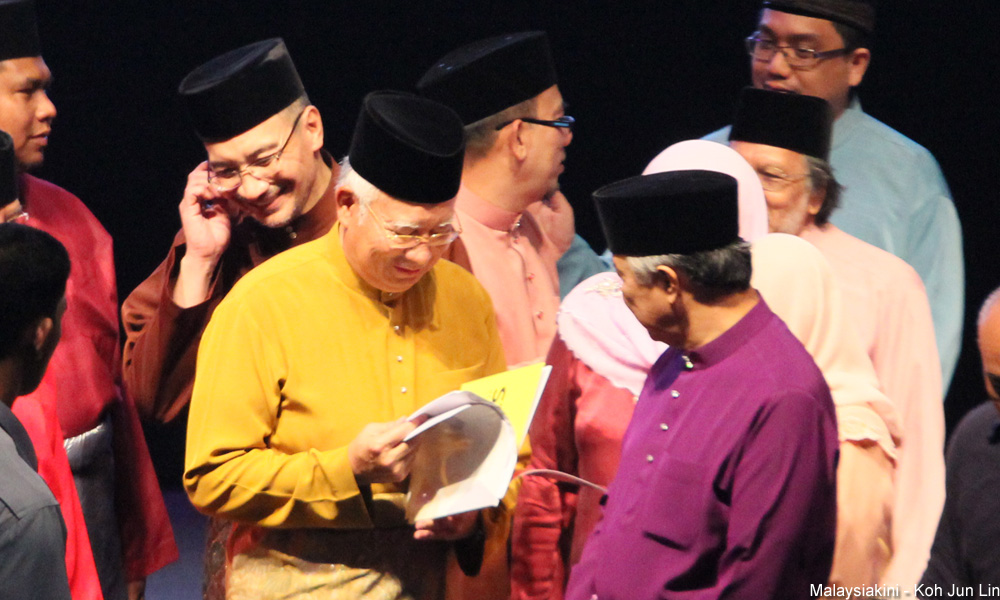 Pakatan Harapan chairperson Dr Mahathir Mohamad's endorsement of his former protégé Anwar Ibrahim leaves many questions unanswered, said Prime Minister Najib Abdul Razak.
He said people are now wondering if Mahathir still stands by his accusations against Anwar when the latter was sacked as deputy prime minister in 1998.
"(Mahathir) accused Anwar of committing acts against the order of nature (sodomy), and said Anwar had no morals and was not fit to lead the country.
"So the question in people's minds now is whether the accusation was wrong the from the beginning, or he is willing to sacrifice this principle for political ends, or there is some other trickery. All these he did not answer.
"As long as he does not answer, that means people would have doubts on this political drama that has no sincerity," he told reporters after attending Umno's open house at the Putra World Trade Centre today.
Mahathir sacked Anwar on Sept 2, 1998 and accused him of committing
immoral acts
.
Anwar was subsequently convicted of abuse of power in April 1999, and of sodomy in August 2000.
The sodomy conviction was later overturned by the Federal Court in September 2004 but was slapped with another sodomy charge in 2010.
He is currently serving a five-year jail term after the Federal Court
upheld
his conviction in February 2015.
Anwar had maintained the charges were politically motivated.
Despite Anwar's incarceration, he was
appointed
to a top position within Pakatan Harapan along with Mahathir, with Anwar as de facto leader and Mahathir as chairperson.
PKR president Dr Wan Azizah Wan Ismail was named a president, while Muhyiddin Yassin, Lim Guan Eng, and Mohamad Sabu would serve as deputy presidents.
When asked to comment on the fact that DAP is not in the top three posts, Najib claimed that this was a political ploy.
Whatever the arrangement, he said, the dominant party would be the one with the most parliamentary seats.
"Going by our projections, our assumptions, DAP would garner the most seats (in the opposition. So if DAP has the most seats, the reality is that DAP would have ultimate power.
"No matter what arrangement they have, power in a democracy is based on parliamentary seats.
"The same applies of BN. Since Umno has the most seats, the dominant power is in Umno's hands," he said.
He also said criticised the opposition's leadership structure as unclear, in contrast to Umno's clear structure, hierarchy, vision, and track record.
"It's all clear, so the question is why should we take our chances with a party that is uncertain and unclear. Surely we are taking a huge risk if we choose the opposition," he said.
At the function, Najib also launched the book 'Asal Usul Melayu Induknya di Benua Sunda,' which purports to trace the origin of the Malay race.
The
book
was written by Zaharah Sulaiman, Prof Emeritus Datuk Dr Wan Hashim Wan Teh and Prof Emeritus Datuk Dr Nik Hassan Suhaimi Nik Abdul Rahman, of Institut Alam dan Tamadun Melayu, Universiti Kebangsaan Malaysia (UKM).
It was published by Universiti Pendidikan Sultan Idris (UPSI).- Mkini