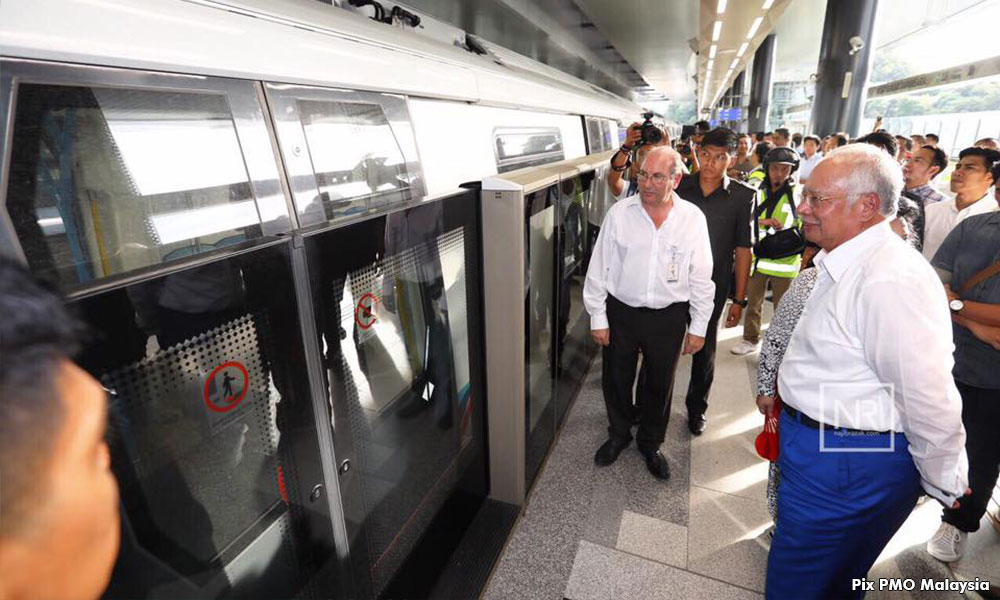 The Mass Rapid Transit (MRT) project is undoubtedly a mega project that is a source of pride for the Barisan Nasional government, especially for Prime Minister Najib Abdul Razak who approved the project in his second year as premier in 2010.
And despite its price tag, Communications and Multimedia Minister Salleh Said Keruak said the project was a
gift
from the prime minister to the country.
Launching the second phase of the MRT Sungai Buloh-Kajang (SBK) line today, Najib even took the MRT from the Tun Razak Exchange (TRX) station to attend the celebrations of the launch which continued at Kajang Stadium.
Just a week prior, Najib could not help but
take a dig
at PKR in his tweet promoting the opening of the Kajang MRT station, pointing out that this was the "Real Kajang Move".
The Kajang Move was PKR's political manoeuvre in 2014 to trigger the Kajang by-election.
As the SBK line ends at the Kajang MRT station, it is unavoidable for the celebrations-cum-BN Hari Raya open house to be held at the local stadium.
But one cannot help but wonder if the premier was making a move into Kajang state assemblyperson and PKR president Dr Wan Azizah Wan Ismail's territory.
The scale of the project and convenience it brings is undeniable but is it enough to change the people's minds on who they should be voting for?
Malaysiakini spoke to several Kajang voters on the matter during the event at Kajang Stadium today and found that this may not necessarily be the case.
Admitting that the most important thing for the people is the existence of various facilities, clerk Hazlinda Jemaai also admitted that the MRT stations in Kajang would definitely ease transport woes.
"It depends on individuals (whether they would support the government based on this project).
"But I don't think that one would support Najib just because there is the MRT," she said.
The 40-year-old, too, could not help but wonder whether the MRT project was truly built to help the rakyat.
"One side is, yes, this project can help prevent traffic jams, but there's another side, too.
"Even four-year-olds have to pay for Keretapi Tanah Melayu (KTM) fares, for example, so I can see that there is the profit factor here, too," she said, when asked on her thoughts about Najib.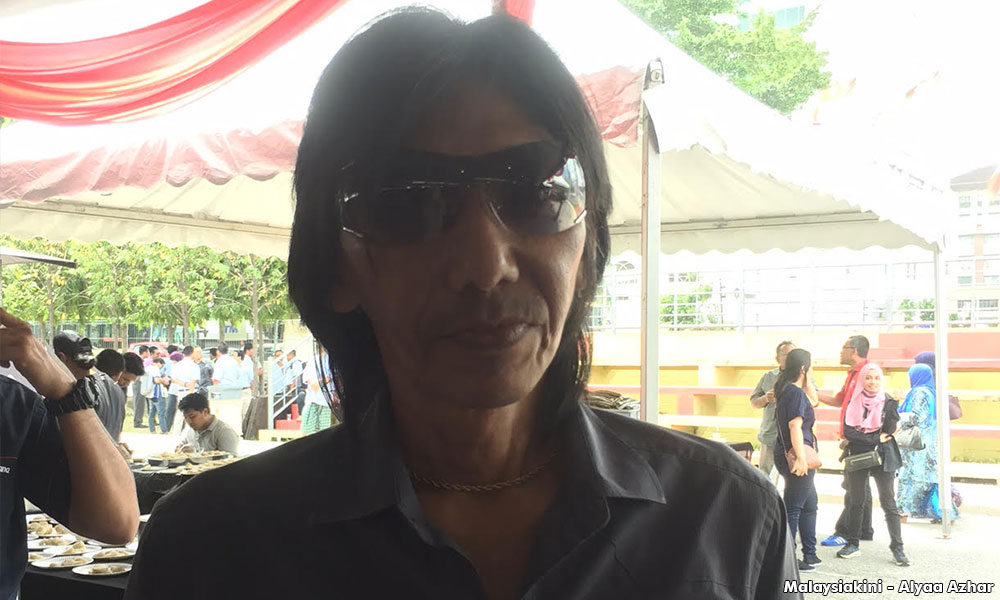 For Omar Bashar Kamaruddin (
pic
), 50, as a business owner selling food stuff, the existence of MRT stations in Kajang will definitely help alleviate traffic woes in the area and will also assist him in his work.
"With the MRT, job opportunities are more open and it will also give extra income to the locals."
But like Hazlinda, Omar does not think that a local voter may necessarily vote in favour of BN just because there is an MRT project here.
"When it comes to facilities, what matters for people most is ease in life. There is no question of what party. (Who they want to vote for) is secondary.
"Facilities and politics are different," added Omar.
For Lee Chong Siong, however, the project will indeed make a difference in terms of support for the federal government.
But he admitted that he was indeed a supporter of the government. Lee, however, acknowledged Wan Azizah has been doing fine in her job of taking care of the constituency.
"I'll see (come voting time). I can't make a decision now," said the 56-year-old, when asked whether he would not support Wan Azizah despite his admission that she was doing a good job in the area.
"Yes, I agree (that she is a good representative)."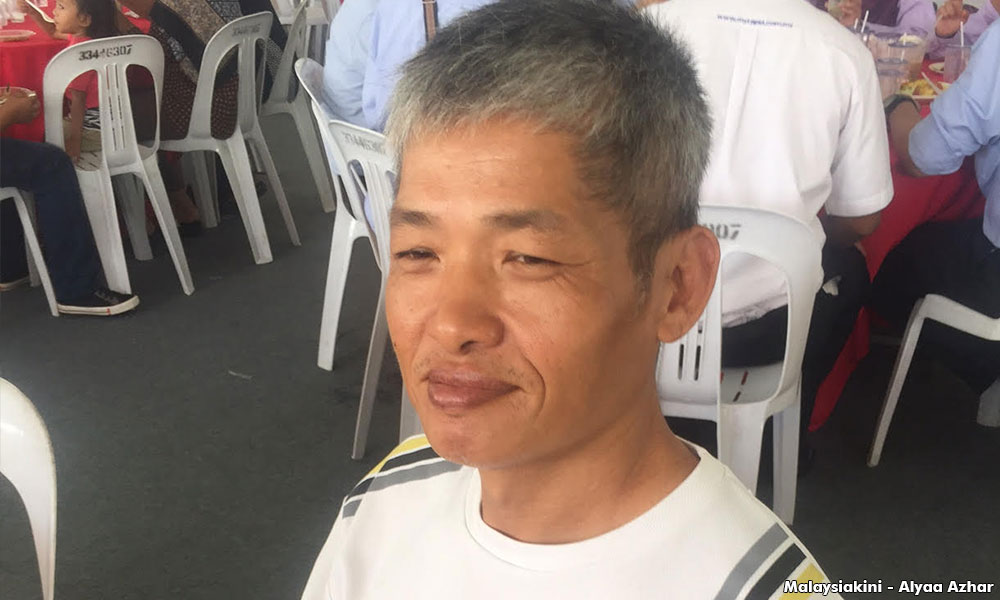 Lee (
pic
) said he received help from Wan Azizah when his son wanted to apply for an affordable housing scheme here.
Like the rest of the locals, Nashril Abdul Rani, 49, lauded the MRT project which he said would greatly ease Kajang's traffic woes.
"We have been waiting for an alternative in terms of transport. Previously we only depended on the KTM which is not consistent and is packed with people in the mornings," said Nashville who does freelance work in film production.
Asked whether the project would shift support of the people here from the PKR incumbe
nt to BN, Nashril (
pic
) said the most important thing was for both the federal and state governments to be fair in providing facilities for the people.
"As Kajang's problem is transport, there might be a slight change (in support for BN). (But) it's too early to tell.
"But whatever it is, the rakyat must be prioritised. Leaders don't have to wait until the next election to make changes," he said.
Like Lee, also noted how Wan Azizah had been assisting the people however she can.
Both Hazlinda and Omar also said they could see the changes in Kajang ever since Wan Azizah took responsibility for the constituency.
"I can see that she does do things for the people. She helps single mothers, for example.
"She monitors the area, and she doesn't just keep quiet and do nothing," said Hazlinda.
As someone who has been living in the area his whole life, Omar said he could see the changes in the constituency with Wan Azizah as the people's representative.
"What's obvious is that she takes care of the people. There is a difference in terms of the poverty line here.
"I won't have any problems if Wan Azizah continues to handle the area," he added.
Despite the praises, not everyone is enamoured when it comes to Wan Azizah.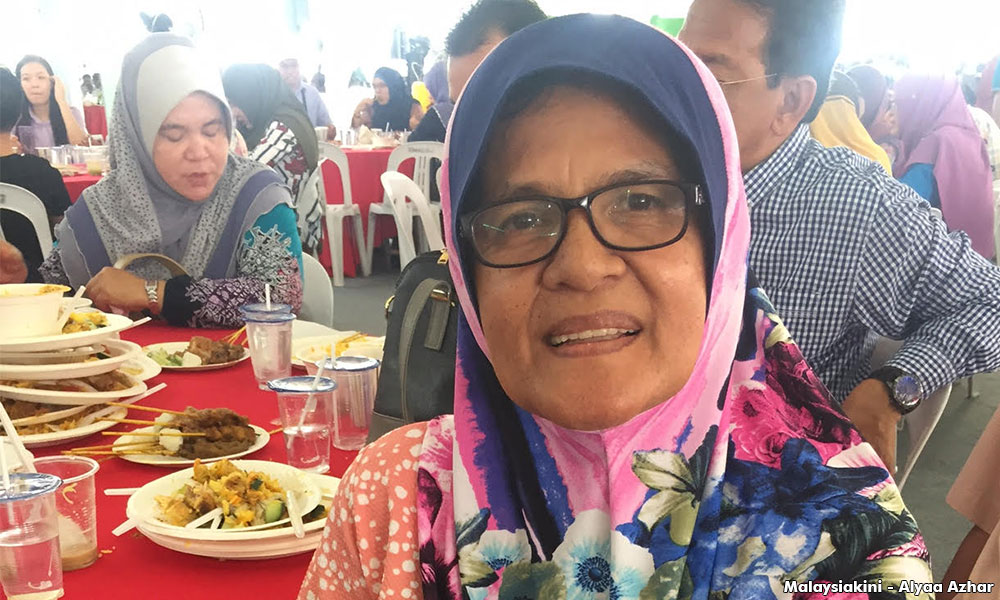 Retired civil servant Rabiah Joned (
pic
), for one, does not think that Wan Azizah has been a good people's representative.
"She never shows her face here," said Rabiah.
"I don't know about others but I have never seen her here although she did send her representative to send dates (during the fasting month)."
Asked on her thoughts about the MRT project, Rabiah expressed hope that the locals in Kajang would shift their support for the federal government.
"Most retired people are in support of the government but it's a different thing for the young people. Even with my children, we don't see eye to eye on this," she chuckled.
As for her thoughts on Najib as a leader, the Taman Kajang Baru, Sungai Jelok Umno branch committee member said she was in support of him and would continue to do so.
"I don't (believe what people say about Najib). We can think for ourselves and read the papers and go online," she said, pointing to her phone.
"I have been supporting him since then and will support him forever," she added.
In the Kajang by-election in 2014, Wan Azizah defeated MCA's Chew Mei Fun with a 5,379 vote-majority.
The winning majority was reduced and turnout was lower than at the 13th general election in 2013. PKR's Lim Chin Cheh won with a 6,824-vote majority and the voter turnout was 88 percent.
Apart from the Kajang state constituency, Wan Azizah is also the member of Parliament for Permatang Pauh, a parliamentary constituency in Penang.- Mkini