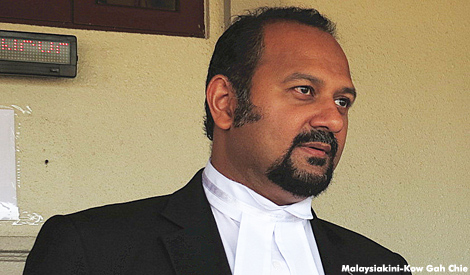 Sufficient reasons were given to the High Court in Kuala Lumpur for it to decide not to grant a permanent injunction application from Prime Minister Najib Abdul Razak against DAP national publicity secretary Tony Pua, lawyer Gobind Singh Deo said today.
This is Najib's second suit against Pua, who is also Petaling Jaya Utara MP, over a Facebook Live posting made by Pua last April.
Najib claims that the words used in Pua's live video posting on Facebook implied that he had abused his powers as prime minister by directing the cabinet, through the Dewan Rakyat speaker, to allow the tabling of amendments to the Syariah Court (Criminal Jurisdiction) Act 1965 (Act 355) by PAS president Abdul Hadi Awang to divert attention on 1MDB.
Gobind said his legal team had raised the defence of qualified privilege, justification and fair comment, which were highlighted in Pua's defence.
"As the ex-parte injunction was granted before we filed the defence, and now that the defence has been filed, where the defence of justification, fair comment, and qualified privilege has been pleaded, the court will normally lift the injunction.
"It is extremely rare that when those three defences are pleaded, the court would continue to grant a permanent injunction. That is what we told the judge during the oral submissions and therefore, the injunction should not be granted pending trial," Gobind told reporters outside court.
Pua's lawyers filed the defence on May 15, after Najib filed the suit in April.
Earlier, Gobind, along with lawyer Joanne Chua for Pua, along with Najib's lawyers Mohd Hafarizam Harun and M Reza Hassan, went to Justice Mohd Zaki Abdul Wahab's chambers to submit on the matter.
Initially, the matter was fixed for decision or clarification today by Justice Mohd Zaki.
However, following the further submissions, Justice Mohd Zaki fixed Aug 4 to deliver his decision, and extended the temporary injunction until that date.
Hafarizam said he had answered the questions raised by the defence during the clarification session, including replying to the question as to why the application against the inter-parte injunction was filed slightly late.
The Umno-linked lawyer also replied on the issue that the burden of proof was on his client for the permanent injunction application to be granted.
Najib filed the suit in which he complained that Pua, in his Facebook live posting, had alleged that Najib had disregarded the principle of separation of powers among the executive, legislature and the judiciary to see the tabling of the Act 355.
Pua's words had also implied that he (Najib) had conspired with PAS to split Malay votes among the opposition and that he practised dirty politics to remain in power, added Najib.
Najib further complained that the words uttered by Pua had meant that he had robbed 1MDB funds and would continue to commit criminal acts to rob from the people, and that he had betrayed Malaysians and that he would continue to lie to the people in relation to 1MDB.- Mkini