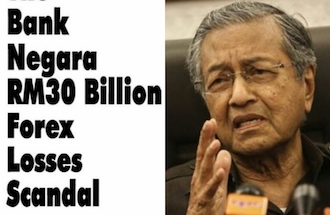 (LSS) – In BNM FOREX scandal, there are actually 3 crimes that may have been committed.
Crime 1. BNM did lose USD10 billion.
Whether is was pure gambling (which is wrong and breached all sorts of governance laws) or some has been siphoned out via lop-sided trades, the RCI team will have to uncover.
Crime 2. Cabinet was misled.
The RCI will have access to classified Cabinet papers to prove the Cabinet was informed that the loss was just RM5.7 billion when actually it was USD10 billion. On top of that, they told the Cabinet that the loss was only 'deferred expenditure' and 'unrealised losses'.
Crime 3. Parliament was misled.
Further to that, they lied to Parliament. In 1993 they told Parliament that the story about BNM losing a lot of money gambling on the forex market is a lie and mere opposition propaganda. In 1994 they told Parliament that Bank Negara had, indeed, lost some money gambling on the forex market but it was just a small loss and a paper loss on top of that. So no money was actually paid out.
The crimes are really just a "fait accompli" and the RCI's job is just to gather the evidence officially.
Any of these crimes will send the guilty people into jail for a very long-time.
It is important to note that these crimes had led to a RM100 billion loss to our country today – none of which is ever likely to recovered.
As Lim Kit Siang had once pointed out, the scale of the gambling exposure at 5 times our reserves and 2 times our GDP then could have bankrupted Malaysia many times over should the gambling bets had gone horribly wrong.
Thank god, the bets just went badly wrong instead of horribly wrong – resulting in "only" USD10 billion in losses.
BNM was also severely weakened from the depleted reserves and indirectly led to a more severe 1997-1998 economic crisis that destroyed so many companies, jobs and lives.
Whereas it also directly led to the downhill slide of Malay