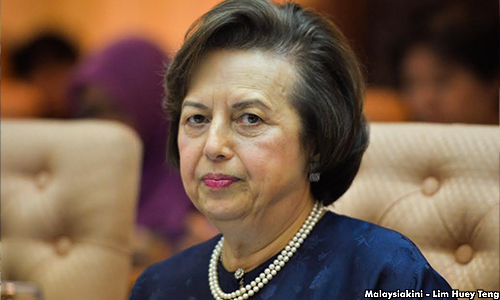 Former Bank Negara Malaysia (BNM) governor Zeti Akhtar Aziz has decided to stop giving media interviews as she had learned her lesson well.
"I don't give interviews anymore. I learned my lesson already," she said at an event in Kuala Lumpur on today.
However, Zeti did not explain the reason for declining to give future interviews to the news media.
When asked if the reason was that she had been quite vocal in recent interviews, she said, she only spoke to the media in conjunction with the 20th anniversary of the Asian Financial Crisis (June 29).
"No, (I am not vocal.) I have not given any interviews for a whole year," she said.
Zeti retired on April 30, 2016, after 16-years of helming the central bank.
Asked if the proposed Royal Commission of Inquiry into the forex losses would impact on the central bank, she declined to comment.
In a recent interview with
Sin Chew Daily
, she said the central bank could not do much about 1MDB other than
issuing
"the highest administrative fine" in Malaysian history.
She also told the Chinese daily that Bank Negara does not have the power to prosecute, though they are always ready to provide assistance to any institution who could do so.- Mkini