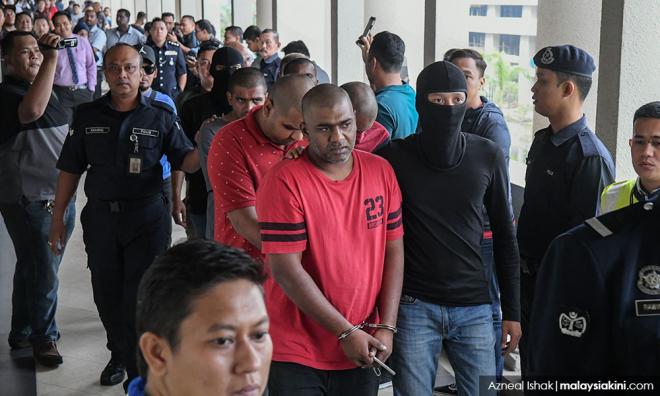 Two DAP assemblypersons were among 12 men charged at the Kuala Lumpur Sessions Court this morning over purported links to defunct terrorist group Liberation Tigers of Tamil Eelam (LTTE).
The suspects were taken to three different Sessions Court judges before they were slapped with the charges under Section 130J of the Penal Code.
Section 130J deals with the offences of soliciting or giving support to terrorist groups or for the commission of terrorist acts which carry a maximum punishment of life imprisonment or not more than 30 years in jail.
On Tuesday, 10 of the suspects were charged at different courts nationwide with supporting the LTTE or being in possession of items related to the terror group.
Today, four of the suspects - G Saminathan, who is DAP assemblyperson for Gadek in Malacca; scrap metal dealer A Kalaimughilan, 28; despatch S Teeran, 38; and taxi driver V Balamurugan, 37, were charged before Sessions Court judge Rozina Ayob.
Five others - teacher R Sundram, 52, Malacca Green Technology Corporation CEO S Chandru, 38, S Arivainthan, 27, storekeeper S Thanagaraj, 26, and security guard M Pumugan, 29 - were charged in another court before Sessions Court judge Azman Ahmad.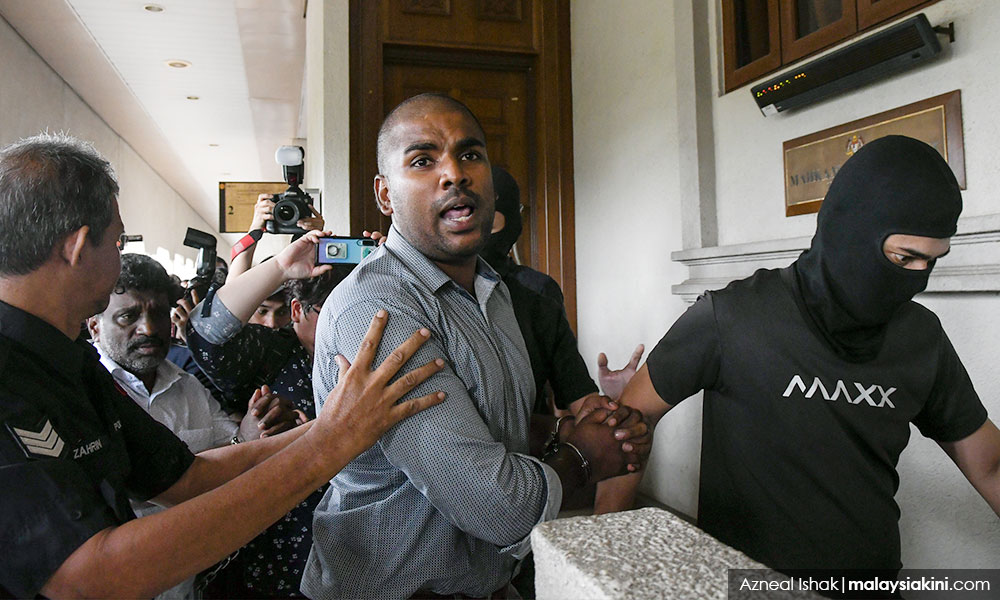 Three more suspects, meanwhile, faced similar charges before Sessions Court judge Azura Alwi.
They were DAP Seremban Jaya assemblyperson P Gunasekaran, V Suresh Kumar, who is a Malacca municipal council member, and grocery shop owner B Subramaniam.
All 12 were arrested by Bukit Aman's Counterterrorism Division during a series of operations on Oct 10 and 12 and detained under the Security Offences (Special Measures) Act 2012 (Sosma).
Meanwhile, proceedings before judges Rozina and Azura saw heated arguments between the prosecution and defence lawyers over the constitutionality of Section 13(2) of Sosma which prohibits suspects who are charged under Chapter 6A of the Penal Code (offences relating to terrorism) from being allowed bail.
Section 13(2) of Sosma stipulates that only suspects who are either under the age of 18 or a woman or sick can be granted bail by the court.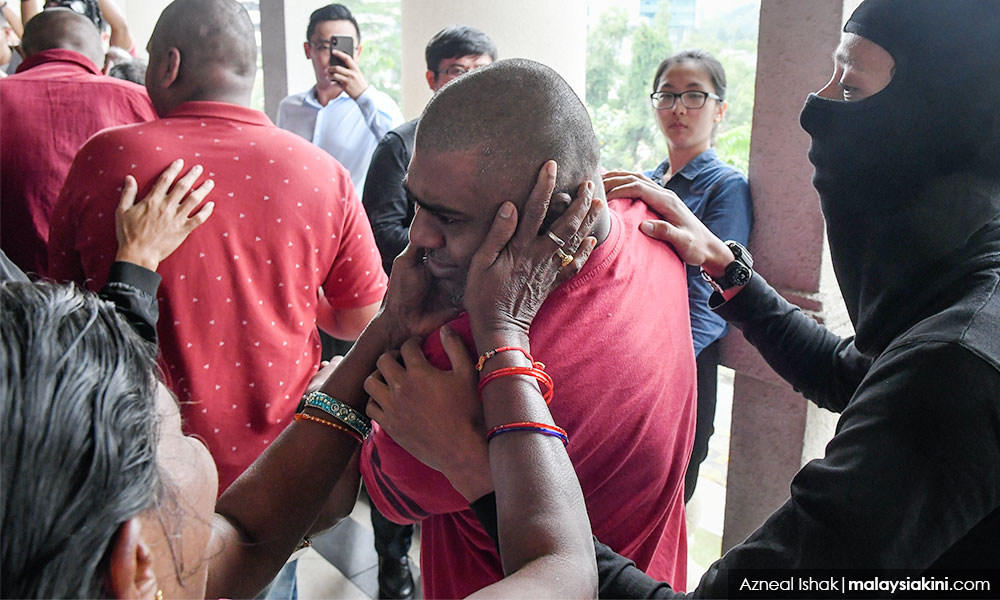 However, it also stipulates that these exceptions do not apply to those being charged with offences that fall under Chapter 6A of the Penal Code.
Lawyer Ramkarpal Singh told the court presided by Rozina that the defence was of the view that this provision was unconstitutional.
He then requested for the court to refer the bail application matter to the High Court as the defence wished to challenge the constitutionality of Section 13(2) of Sosma there.
According to Ramkarpal, the provision has taken away the court's power to decide on bail, and thus had gone against the separation of powers doctrine as per the Federal Constitution.
"We are of the view that due to the novelty of the case here on the constitutionality of Section 13(2) of Sosma, it ought to be referred to the High Court," said Ramkarpal, adding the lower courts do not have jurisdiction to hear constitutionality matters.
This was, however, disputed by DPP Aliff Asraf Anuar Sharuddin and Aslinda Ahmad, who claimed that there was no issue of constitutionality issue in the Sosma provision.
According to Aslinda, Sosma was enacted under Article 149 of the Federal Constitution which gave power to Parliament to pass special laws pertaining to security matters.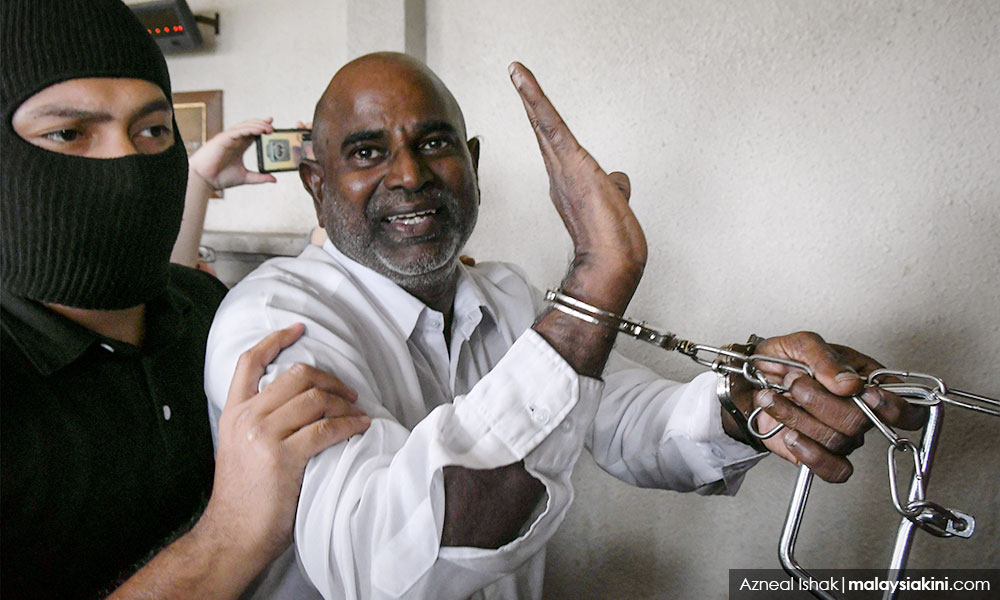 She said the article thus provided that such special laws could take away citizens' basic rights that were stipulated under Articles 5, 9, 10 and 13 of the Federal Constitution.
Both Rozina and Azura adjourned their proceedings to 9 am tomorrow when they will deliver their rulings on the bail matters while judge Azman set tomorrow morning to hear submissions from counsel over the same matter.
Gunasekaran, Saminathan and Chandru were represented by Ramkarpal, Sangeet Kaur, RSN Rayer and Damian Yeo while lawyer Kirthiraj Raja Sundram, Gan Chen Kiong and Y Mathan represented Thanagaraj, Sundram and Pumugan.
The prosecution team included Muhamad Iskandar Ahmad and Izhanudin Alias.
When leaving the courtrooms for the Sungai Buloh Prison, both Kalaimughilan and Suresh shouted that they were innocent with the former saying that the government and police should not have destroyed their lives.
"The police and the government should not destroy my life and my friends' lives," shouted the scrap metal dealer.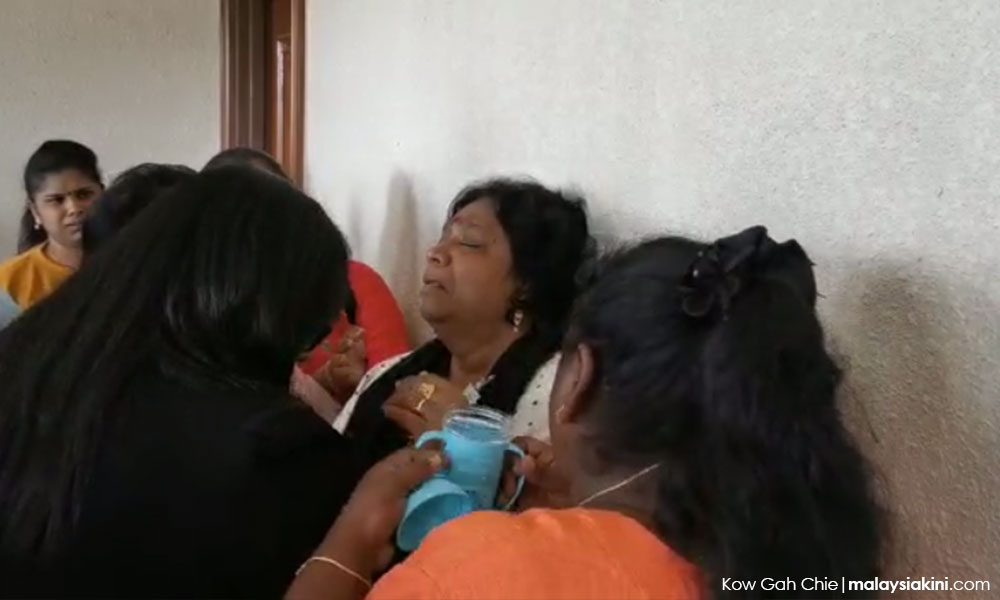 Suresh shouted out that they never had never supported any terrorist group.
"We never support terrorists, never. (We) were just being sympathetic. Is sympathy a crime?" he shouted.
"(Our) sympathy is being labelled as terrorism. We are not terrorists, we are not terrorists," shouted Kalaimughilan before the police escorted him away.
Several family members of the 12 charged today broke down in tears outside the courtrooms.
Present in court to show their solidarity with the two DAP assemblypersons were several DAP leaders including Primary Industries Minister Teresa Kok, Malacca exco member Tey Kok Kiew, Negeri Sembilan exco member Teo Kok Seong, Klang MP Charles Santiago and Sungai Pelek state assemblyperson Ronnie Liu. - Mkini