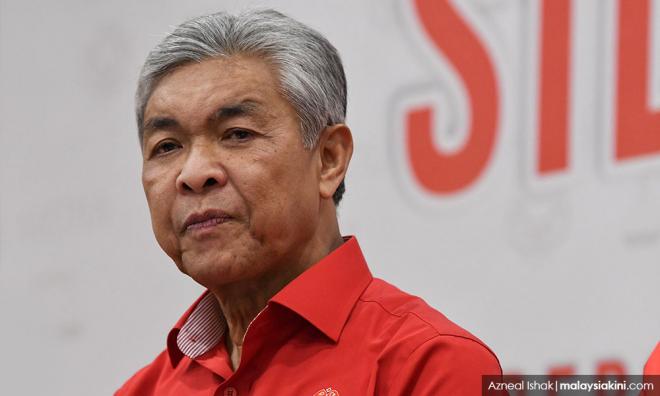 TG PIAI POLLS
| Pakatan Harapan has lodged a police report against BN chairperson Ahmad Zahid Hamidi over
his remarks
on the Johor
basikal lajak
tragedy court ruling.
In a statement, Johor Harapan Youth chief Taqiuddin Cheman said Zahid questioning the acquittal of the driver had caused tensions and challenged the integrity of the courts.
As such, they urged police to take action against the Umno president. The report was lodged at the Pontian police district headquarters.
At a BN-PAS ceramah on Wednesday for the coming Tanjung Piai by-election, Zahid questioned the Johor Bahru Magistrate Court's decision to acquit the driver involved in an accident where eight teenaged bicyclists were killed.
"When eight children playing on their bicycles in Johor were hit by a woman (driver), that woman was released as though there was no evidence," Zahid had said.
On social media, certain quarters had played this up saying the driver was acquitted because of her ethnicity.
In her
ruling
last month, magistrate Siti Hajar Ali acquitted Sam Ke Ting, 24, without having her defence called, after finding the prosecution had failed to prove a
prima facie
case on the charge of reckless driving.
In her judgment, Siti Hajar said the court took into consideration several factors, namely that it was a dark, hilly and winding road where the driver - who was not local to the area - could not foresee that there would be a bicycle gang on the road at three o'clock in the morning.
The magistrate added that the basikal lajak gang members had instead put themselves in danger.
Siti Hajar said investigations found that Sam was not under the influence of alcohol, was not using her phone, and had worn a seatbelt while driving, proving that the accused was driving responsibly and carefully.
Bukti Gelugor MP Ramkarpal Singh said Zahid's remarks were reckless and called for the latter to be cited for contempt of court. - Mkini