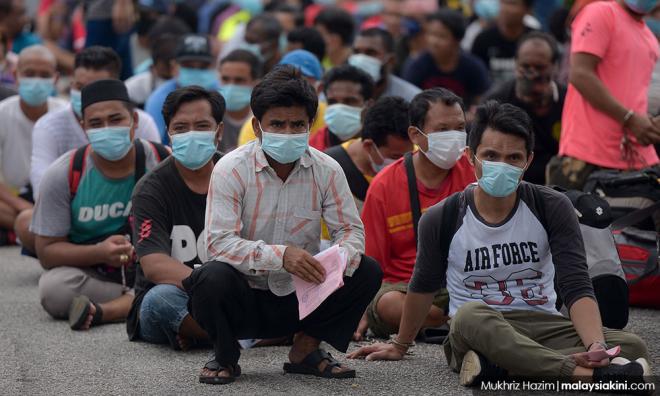 CORONAVIRUS
| A PAS leader today said the government's move to deport all migrants currently detained at immigration depots and have been tested negative for Covid-19 is part of a larger effort to save Malaysians from being exposed to the risk of infection.
In voicing support for the deportation plans, PAS information chief Kamarulzaman Mohamad pointed out that the government had also taken into consideration humanitarian grounds in taking care of the migrants while in detention.
"The government cannot give protection to these migrants because they have entered Malaysia illegally.
"However, in the interest of humanity, the government will still provide them with enough food, free Covid-19 screenings and treat them in our hospitals.
"PAS is of the view that the government's move to take action by arresting the undocumented migrants and placing them at immigration detention depots is a way to save lives of Malaysians from being exposed to the risk of Covid-19 infection," he said.
Kamarulzaman noted that the government have also dedicated its quarantine facility at MAEPS in Serdang for the infected migrants, at a cost to Malaysian taxpayers.
"Just imagine the costs to be shouldered by the government for migrants who never paid any levy, visa fees or others all these while.
"At the same time there are also Malaysians who must pay for their Covid-19 screenings," he said.
Kamarulzaman also claimed that the undocumented migrants were those who had taken away job opportunities from local workers, as well as setting up businesses that affected the income of Malaysians.
In taking a swipe at critics of the proposed plan, he further questioned the amount of remittances that were sent to the countries of origins, with a supposed negative effect on Malaysia's economy.
"In facing the Covid-19 crisis, the government must not be seen by the people as actively taking care of foreigners while abandoning their own citizens, as they cover the costs of testing migrants but Malaysians overseas returning home after June 1 must cover their own travel costs," he said.
In the current context, Kamarulzaman said PAS is in support of views that urged the government to reduce the number of foreign labour in Malaysia by up to 40 percent, as part of efforts to assist Malaysians who lost their jobs due to the Covid-19 outbreak.
Defence Minister Ismail Sabri Yaakob yesterday said it is
wrong to accuse
the government of treating undocumented migrants at the immigration depots in an inhumane manner.
The deportation plan to be carried out with assistance from foreign embassies here was announced in response to detection of a new Covid-19 cluster involving migrants.
Overall a total of 355 positive Covid-19 cases have been recorded at three immigration depots in Bukit Jalil, Semenyih and Sepang to date, based on results of swab tests conducted on 4,399 undocumented migrants. - Mkini