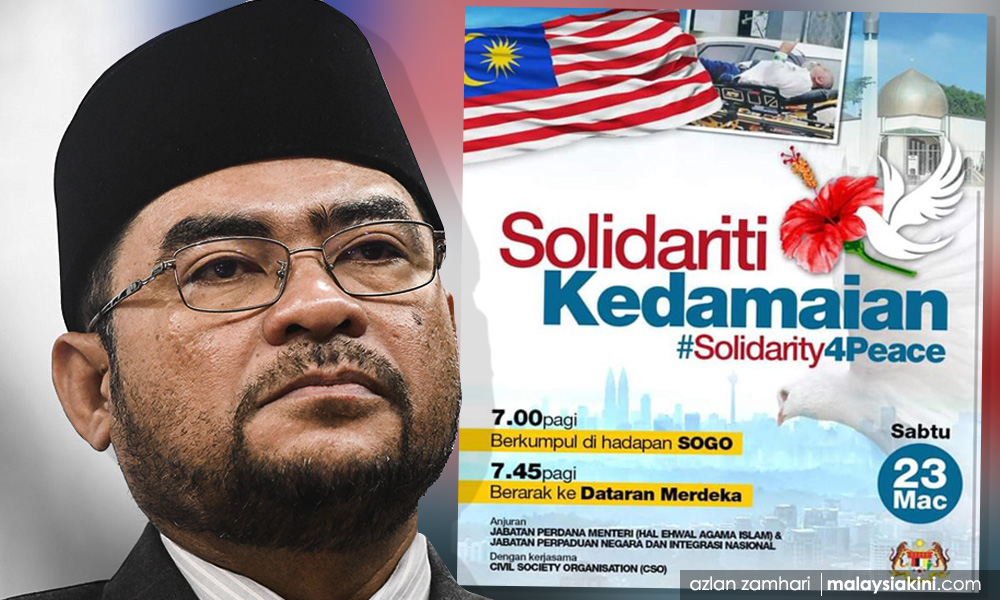 The scheduled 'Peace Solidarity March' in Kuala Lumpur this Saturday might come up against a legal hurdle because of the Peaceful Assembly Act 2012.
The decision to rally was made on Monday, after
de facto
Islamic Affairs Minister Mujahid Yusof Rawa
met
with several religious groups at the Federal Territories Islamic Religious Department (Jawi).
The purpose of the rally, according to Mujahid, is for religious bodies and NGOs representing various faiths to respond to the March 15 terrorist attack on two mosques in New Zealand, as well as to allow Malaysians of different creeds to bond.
If the rally were to proceed, however, it could be in violation of Section 9(1) of the Peaceful Assembly Act 2012, which stipulates that organisers of public gatherings must notify police at least 10 days prior.
According to Home Minister Muhyiddin Yassin, no one is exempt from this legal requirement because it is the law.
"It doesn't matter who is the organiser. There are rules for peaceful assemblies," he said when questioned on the matter by reporters in Putrajaya today.
The march is scheduled to begin at 7.45am at the Sogo Shopping Mall, and will conclude at nearby Dataran Merdeka.
The police, Kuala Lumpur City Hall and Mujahid's office have yet to confirm if march organisers have complied with the 10-day notice requirement and whether permission to use Dataran Merdeka has been obtained.
De facto National Unity and Integration Minister P Waythamoorthy is also expected to join the event. - Mkini