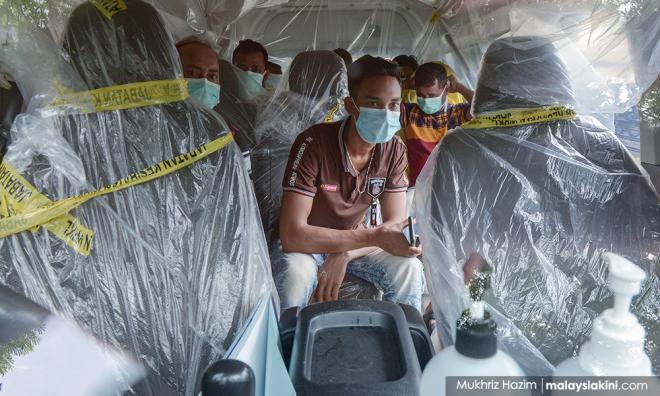 CORONAVIRUS
| Sarawak MTUC chairperson Mohd Ibrahim has called on the government to reduce the number of foreign workers in the country given the adverse economic consequences of the Covid-19 outbreak and the movement control order (MCO).
"It is really exasperating that the government has yet to decide on whether to trim the country's dependence on foreign labour and reduce the number of foreign workers in the country.
"It is glaring and obvious that we have to do so even before the MCO. For years we have been creating low-value jobs to suit the foreign workers and feed the agents.
"It simply makes no sense to push for economic growth and investment that create low-paying jobs for more than four million foreign workers," he said in his Labour Day statement today.
Mohd said the workers send back their wages to help the development of their own countries, not Malaysia.
Citing the case of Sarawak, he said that up to 80 percent of employees in the timber and plantation sectors are foreign workers while tens of thousands of Sarawakians have to leave their families to work in Singapore, Johor, Kuala Lumpur and Penang.
Mohd also claimed that up to 85 percent of SMEs are employing illegal foreign workers.
Overall, he added, workers across the country will not have much to celebrate on Labour Day, the traditional holiday around the world to honour the contribution of workers to a country and its economy.
"It will be very challenging for businesses to pick up even after MCO is lifted. This will result in companies having to close or to reduce operations and consequently retrench workers. This will affect all sectors.
"We expect hundreds of thousands of workers to lose their jobs and/or be forced to take unpaid leave or a salary cut."
Noting the Employment Insurance Scheme that was implemented in 2018, Mohd said the benefits are minimal with an average of only half a month salary for six months.
"If not for some employers groups' objection, the scheme could have started as early as 2010 and would have built up sufficient funds to offer a more comprehensive safety net," he lamented.
Mohd also called for the elimination of corruption and corrupt practices, citing recruiting agents for foreign workers as a glaring example.
He reminded the government that Malaysian workers are at the front line fighting the pandemic as health care workers, law enforcers and those in the essential and exempted services.
"They are working under tremendous stress and high risk of being infected with the virus," Mohd said.
He called on the government to do more to protect Malaysian workers.
"Our country wants to improve labour productivity through higher value and highly skilled jobs. This will remain a pipe dream as there is no incentive for employers to invest in technology and modern production methods as long as there are abundantly cheap and mostly illegal foreign workers," said Mohd.
"The government, workers and trade unions must grasp this opportunity to push for changes and embrace international labour standards and practices.
"This will facilitate greater empowerment of workers and trade unions to enable them to bargain for fair wages. The current laws make it easy for employers to sack workers and stifle trade unions as less than three percent of workers in the private sector are members of trade unions.
As a result, collective bargaining is nothing more than collective begging, he added. - Mkini