Russian couple Yevgeny and Natalia Pervin never expected that their dream of touring South East Asia would lead to them being stranded in Kuala Lumpur and their second child Ivan being born in an abandoned property in the heart of town.
They began their travels on Oct 4, 2019 and had planned to return to their home in Arkhangelsk, Russia on March 22 after visiting Thailand, Laos, Vietnam, China and Malaysia.
However, Yevgeny told Malaysiakini, the dream trip turned into a nightmare when the movement control order was imposed on March 18.
"We came into Malaysia on March 9 and planned to leave to Russia from Thailand on March 22. However, when the MCO was imposed we rushed to the Thailand border but they turned us away as we did not have all the documents. This was on March 20."
What complicated matters was that Natalia was already heavily pregnant. Yevgeny says that in hindsight they should have planned their departure earlier.
"We did not have a chance to travel earlier as our first son was younger. But now his grandmother is looking after him and we had the chance to travel around this part of the world, which has always been our dream."
Scramble back to KL
Initially, the MCO was only until March 31 so the couple decided to wait it out. However, when it was extended for a second phase, they knew their funds would run out.
"On April 3, we contacted the Russian embassy to help us return home. At first, they tried to help and we rushed back to Kuala Lumpur. I admit that in my first contact with them I didn't mention that my wife was pregnant," said Yevgeny who has a Masters in translation from the Northern Arctic Federal University.
The embassy, he said, put them up at a hotel in Jalan Ampang which he said was very pleasant.
On April 4, Russia announced the cancellation of all flights to return citizens from abroad to prevent the import of the virus.
Deputy Prime Minister Tatyana Golikova later announced that the government was only taking a pause to better plan their return and that the government would create a new timetable of flights for citizens.
Russia's Foreign Ministry also said at the time that there were more than 26,000 Russian citizens abroad seeking to be evacuated, more than half of them were stranded in Bangkok, Thailand.
It was reported that the government had given the Foreign Ministry 500 million rubles (RM27 million) to help stranded passengers with a daily allowance for three meals.
Yevgeny claimed that when the embassy found out that his wife was heavily pregnant, they turned hostile.
"On April 7, they offered us a document that was not in our favour and we did not sign it," he alleged.
"On April 11, we were evicted from the hotel and didn't have anywhere to turn to. We were given the wrong information that to give birth here costs US$4,000 so we decided on a home birth - but we did not even have a home."
An abandoned house
Amazingly, the couple found an abandoned house in Jalan Mesra, Kuala Lumpur.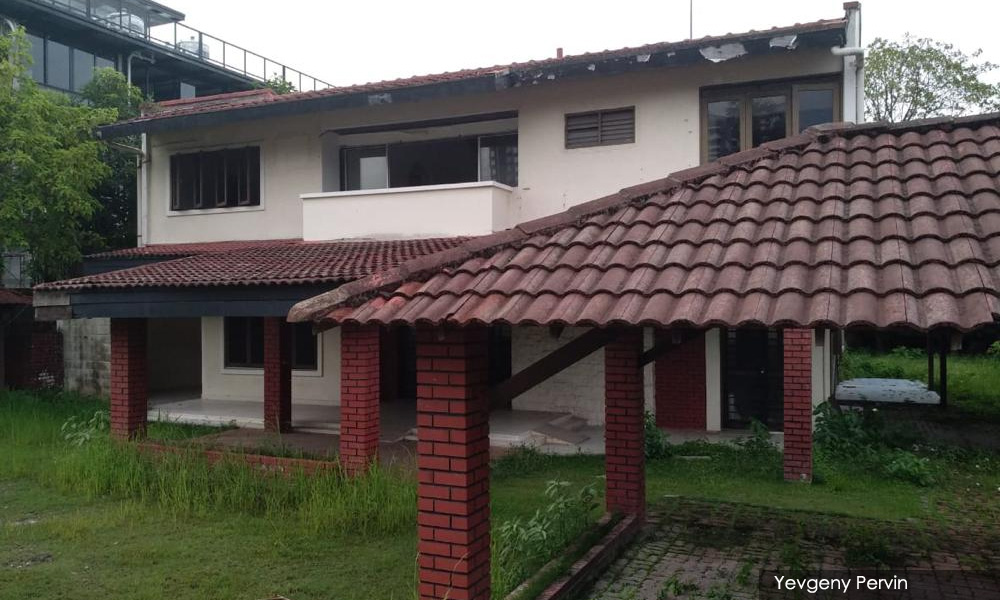 "People are so kind to us. We at first illegally broke into a house, but we met a friend of the owner and they allowed us to stay for a while.
"When people nearby heard of our situation they offered us food, water - some rigged a cable so we had electricity. I had to clean the house very quickly."
"Malaysians have been so kind to us," said an emotional Yevgeny.
On April 13, at 6.15am baby Ivan was born.
"Thank goodness everything was alright with the birth. If there had been some complications, I don't know what I would have done."
Yevgeny claims that by the time the embassy reverted to him with offers of help with the delivery, it was no longer needed.
"I met a truly wonderful Malaysian friend, an amazing man called Ken who is doing delivery of vegetables from Cameron Highland farmers. He gave me some work loading and unloading at his base, so this can help us survive."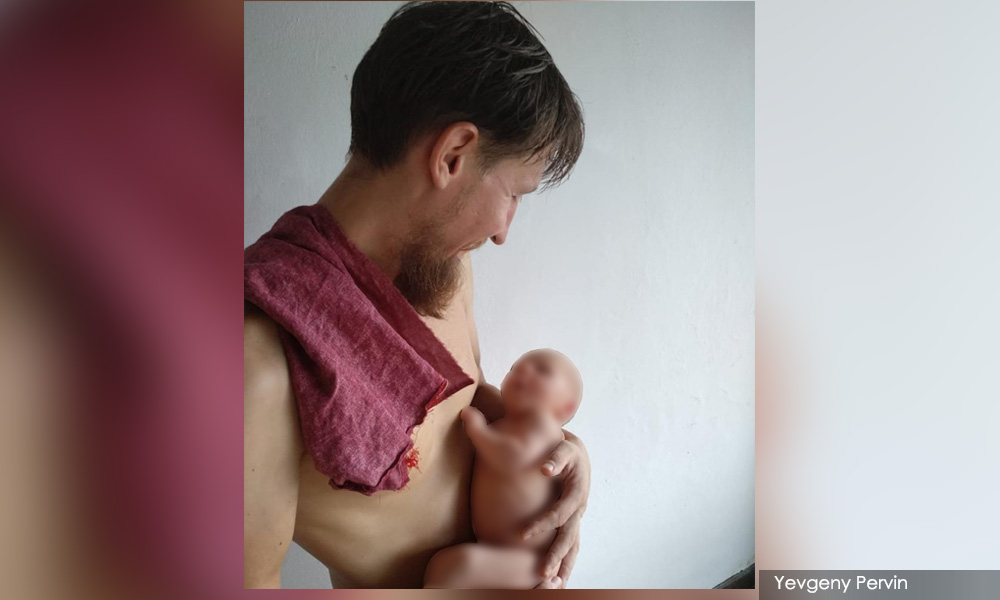 The couple was also helped by Inspector Sinniah Rajoo and Corporal Dayang Hartini Abang Ahmad from the Kuala Lumpur Traffic Investigation and Enforcement Department who bought baby Ivan
some diapers
when they heard of the Pervin's plight.
Embassy rebuttal
Yesterday, soon after Yevgeny spoke to
Malaysiakini
, the Russian Embassy in Kuala Lumpur uploaded a 25-minute
video
on its Facebook regarding this incident.
An embassy staff identified only as Pavel spoke in Bahasa Malaysia and detailed the interaction between the couple and the embassy.
He said that prior to the birth, Natalia had been examined by the embassy's doctor who recommended that she see a specialist.
However, he said that this suggestion was rejected by the couple, who also revealed that they had not taken medical insurance prior to their long trip.
Pavel also said upon contacting authorities in the couple's hometown, it was revealed that they were considered among the B40 group there and were regularly receiving financial assistance.
Pavel said the embassy offered to pay for the couple to visit the specialist but the offer was rejected and they had insisted on a home birth. Pavel said that the couple also got angry and claimed that they were being pressured by the embassy.
He said the hotel they were staying at had requested a medical letter concerning the expected due date of the baby, but they had declined.
The couple then moved to a number of different hotels, but none of the hotels was keen to have them when told that they wanted to have the birth in the hotel room without the assistance of medical personnel, he said.
The embassy had even offered them to stay in the embassy which they had agreed to but suddenly at 3.30am they aggressively insisted on leaving, despite being warned of the danger to their baby, he added.
Pavel claimed that the local government in Russia had volunteered to pay the hospital bill, but the couple did not reply to its messages.
He said that the embassy was sad that it could not come to an understanding with the couple over this matter. - Mkini