As the recovery movement control order (MCO) is set to expire at midnight tonight, all eyes were on Prime Minister Muhyiddin Yassin's new year address that was aired earlier at 9pm.
By the end of his speech, however, no mention was made regarding any extension.
A check on the Attorney-General's Chambers' website has found that no extension has been gazetted either.
However, Malaysiakini understands Defence Minister Ismail Sabri Yaakob will make an announcement on this tomorrow.
The recovery MCO is currently in effect in Perlis, Terengganu, Pahang, Malacca, Sarawak, Putrajaya, Labuan, Kedah, and Kelantan.
It is also in effect in certain districts of Penang, Perak, Negeri Sembilan, Johor, and Selangor.
Under standard operating procedures (SOPs) issued by the National Security Council on Dec 21, people are required to maintain physical distancing in various public venues and must 'check-in' when entering most premises for contact tracing purposes.
It also makes compulsory the proper wearing of face masks particularly in crowded places.
The SOPs issued by the NSC states these rules are set to expire at the stroke of midnight tonight.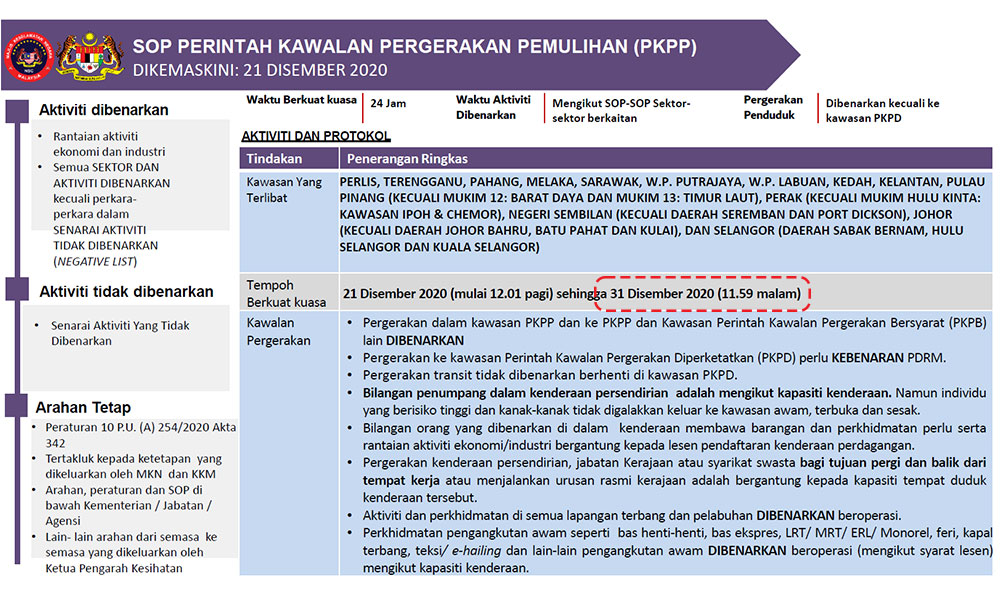 Previously, the government had extended the conditional MCO in several places to Jan 14 next year. The rules are stricter than the recovery MCO and apply to areas with a higher number of Covid-19 cases.
This includes the entirety of Kuala Lumpur and Sabah, as well as certain parts of Selangor, Penang, Perak, Negeri Sembilan, and Johor.

However, it should be noted that there is no restriction on travelling between areas under recovery MCO and conditional MCO.
This development comes as Malaysia broke several unenviable national records in relation to the Covid-19 pandemic today.
New infections are at a record-high of 2,525 new cases in a single day, while the number of active cases has broken records for the sixth consecutive day with 23,598 cases.
The number of patients being treated in intensive care units, meanwhile, are unchanged from yesterday's record-high of 131.
According to the Health Ministry's website, the Covid-19 infectivity (Rt) as of yesterday is 1.05, which indicates an outbreak that is still growing slowly.
The ministry had hoped the bring the figure down to 0.50, which would mean a shrinking outbreak where every 100 patients would go on to infect only 50 more people. - Mkini