PKR president Anwar Ibrahim today downplayed Umno president Ahmad Zahid Hamidi's dismissal of his previous claim of discussions between their parties ahead of the 15th general elections.
Asked for comments on Zahid's speech at the Umno Annual General Assembly last weekend, Anwar (photo, above) said: "I think he is referring to the earlier decision of the Umno Supreme Council."
"But they also have the mandate to leave PN.
"So there is the apparent contradiction, and Umno leaders need to decide and resolve it," he told reporters in Kuala Lumpur.
In his policy speech to Umno delegates during the party's general assembly over the weekend, Zahid stressed that the party did not have any negotiations with any other party, contrary to Anwar's previous claims of ongoing initial-stage talks.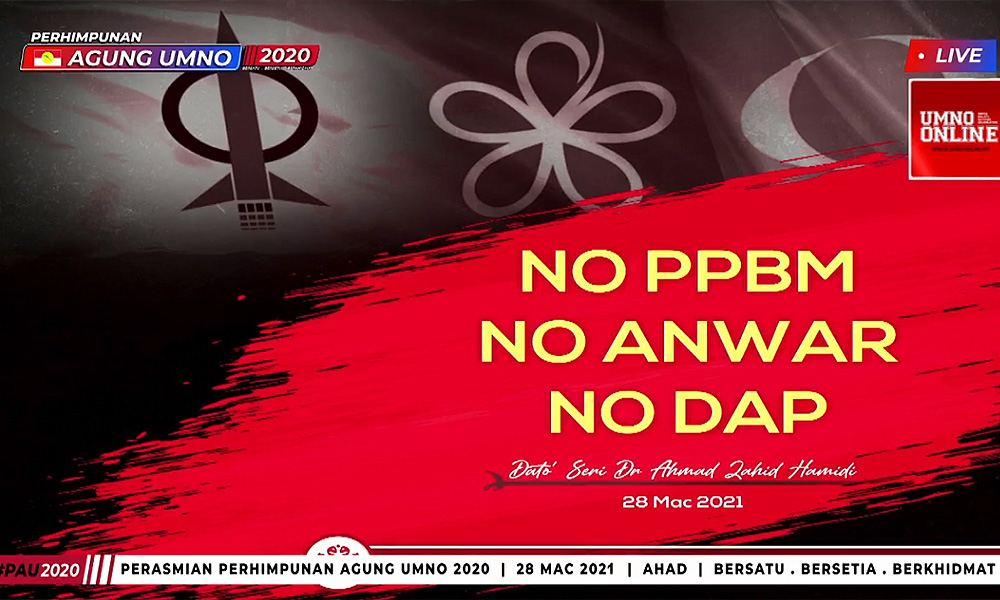 Zahid, who previously denied speculations over the possibility of working with PKR in GE15, also said Umno's stand was still permanent and final, which was not to accept working with Anwar, DAP, or Bersatu.
"I said in discussions...we discuss with all parties," Anwar said today when quizzed on the matter.
"In a democracy and a mature process, we need to be able to engage based on core values and principles.
"Otherwise, without this being agreed, we have seen limitations even in the Pakatan Harapan government. We have learnt our lesson, and we cannot compromise on these shared principles," he said.
Earlier, Anwar delivered a keynote address at the "Malaysia Democracy Forum" hosted by the International Strategy Institute.
In noting that democracy in Malaysia is currently "strangled" under the current emergency laws, the Port Dickson MP said he remained optimistic about the future of elections.
"I consider myself an incorrigible optimist...," said Anwar, who noted high participation rates of more than 75 percent in previous elections.
He further said discussions on democracy should not exclude a commitment to address real issues of poverty faced by the people, made worse by the Covid-19 pandemic.
The Port Dickson MP cited a recent World Bank estimate that Malaysia would achieve a high-income nation status by 2024, with a US$1,335 gap between current GNI (gross national income) per capita and the threshold for being high income.
"I've never been overly obsessed with GDP targets and the like because it is widely understood that they often conceal the bitter realities of life in a developing economy.
"The real conditions for most Malaysians today are absolutely problematic – and high-income status is a meaningless concept for them," Anwar said.
"The majority of Malaysians will run out of cash within one week if they lose access to their income.
"Meaning, the majority of Malaysians have less than one month of available cash reserve in case of a loss of employment," he said.
Earlier, Parti Cinta Sabah president Anifah Aman delivered his opening address at the one-day function slated to also feature, among others, former premier Najib Razak, former health minister Dr S Subramaniam, and Amanah communications director Khalid Samad. - Mkini