COVID-19 | The Health Ministry today reported 1,482 new Covid-19 cases nationwide with Selangor registering its highest number of new cases in eight days.
The number of new cases outpaced the number of people who were discharged today, pushing up the number of active Covid-19 cases to 14,604, an up from a low of 14,134 nine days ago.
Active Covid-19 cases were steadily trending downwards until March 21 (see chart below).
Active cases: 14,604
Patients in ICUs: 164
Intubated: 81
Cases by states
Selangor was the worst-hit region today with 661 new cases. However, the majority of these new cases were linked to clusters (400 cases) and close contacts of Covid-19 positive patients (165).
Other regions with a high number of new cases were Penang (200), Sarawak (176) and Johor at (86).
Unlike other regions in the country, the majority of new cases in Penang over the past four days involved foreigners, indicative of new cases being detected through targeted screening of workplaces.
Apart from Penang, the other territories with an R-naught figure of more than one are Kelantan, Malacca, Kedah, Pahang and Sarawak. A figure of more than one suggests that the number of people infected with Covid-19 is growing.
Deaths
The Health Ministry reported seven new Covid-19 deaths today, bringing the national death toll to 1,272.
Five of the victims were Malaysians while the other two were foreigners.
Four deaths occurred in Selangor while Johor, Sarawak and Sabah reported one death each.
Details of the victims are recorded in Malaysiakini's Covid-19 tracker site.
Clusters
The Health Ministry today also reported that 370 Covid-19 clusters are still active throughout the country.
The most active cluster is the Tapak Bina Persiaran Cybersouth cluster (196 new cases) which was first classified on March 19.
This construction site cluster involves the Sepang district of Selangor where 207 out of 213 people tested were found to be Covid-19 positive.
The new Jalan Jelawat cluster saw 88 new cases being reported.
There were 13 new Covid-19 clusters classified today of which only one was detected through targeted screening of workplaces.
Notably, there were two clusters involving educational institutions - Hevea Scruciana and Jalan Rasmi.
Details of the 13 new clusters are as follows:
Hevea Scruciana cluster
District(s): Petaling and Klang in Selangor
Locality/Source: Educational institute in Jalan Hevea Scruciana, Shah Alam, Petaling
Cluster category: Workplace
First case: March 31, index case with symptoms
Total infected: 55 out of 336 screened
Jalan Rasmi cluster
District(s): Gombak, Hulu Langat, Hulu Selangor, Klang, Petaling and Sepang in Selangor; Cheras in Kuala Lumpur
Locality/Source: Two education institutions in Jalan Rasmi 14, Taman Bukit Indah, Ampang
Cluster category: Workplace
First case: March 16, index case with symptoms
Total infected: 58 out of 119 screened
Jalan Kingsway cluster
District(s): Miri in Sarawak
Locality/Source: A government office in Jalan Kingsway, Miri
Cluster category: Workplace
First case: March 16, index case with symptoms
Total infected: 51 out of 384 screened
Bulatan Aman cluster
District(s): Sibu in Sarawak
Locality/Source: A factory near Jalan Aman, Sibu
Cluster category: Workplace
First case: March 21, index case with symptoms
Total infected: 43 out of 89 screened
Jalan Jelawat cluster
District(s): Seberang Perai Utara, Seberang Perai Tengah, Seberang Perai Selatan and Timur Laut in Penang, and Kerian in Perak
Locality/Source: A factory in Jalan Jelawat 1, Seberang Jaya Industrial Estate, Perai, Seberang Perai Tengah
Cluster category: Workplace
First case: March 26, targeted screening
Total infected: 145 out of 1,916 screened
Delima Baiduri cluster
District(s): Kuala Muda in Kedah
Locality/Source: An education institution at Lorong Baiduri 3/2, Taman Delima, Sungai Petani
Cluster category: Workplace
First case: March 23, index case with Severe Acute Respiratory Infection
Total infected: 10 out of 43 screened
Pulau Enoe cluster
District(s): Labuan
Locality/Source: Mining company at Pulau Enoe
Cluster category: Workplace
First case: March 31, index case with symptoms
Total infected: 8 out of 75 screened
Jalan Baji cluster
District(s): Sarikei in Sarawak
Locality/Source: Index case's residence at Jalan Baji, Sarikei
Cluster category: Community
First case: March 27, index case with symptoms
Total infected: 20 out of 29 screened
Kampung Baru Pasir Putih cluster
District(s): Kalabakan and Tawau in Sabah
Locality/Source: Vicinity of Kampung Baru Pasir Putih, Sri Tanjung, Tawau
Cluster category: Community
First case: March 28, pre-departure screening
Total infected: 8 out of 89 screened
Rimbayan cluster
District(s): Keningau in Sabah
Locality/Source: A funeral, location not stated
Cluster category: Community
First case: March 18, pre-departure screening
Total infected: 15 out of 42 screened
Emas Bemban
District(s): Baling and Sik in Kedah
Locality/Source: Index case's residence at Kampung Sungai Bemban, Mukim Teloi Kanan, Baling
Cluster category: Community
First case: March 24, index case with symptoms
Total infected: 6 out of 36 screened
Layar cluster
District(s): Kota Setar and Kuala Muda in Kedah
Locality/Source: Social event on March 12 at Jalan Sungai Layar, Sungai Petani
Cluster category: Community
First case: March 22, index case with symptoms
Total infected: 10 out of 16 screened
Lorong Mulia cluster
District(s): Johor Bahru in Johor
Locality/Source: Dialysis centre in Kota Tinggi; Index case's residence at Lorong Mulia 6, Sungai Tiram, Ulu Tiram
Cluster category: Community
First case: March 24, pre-hospitalisation screening
Total infected: 9 out of 71 screened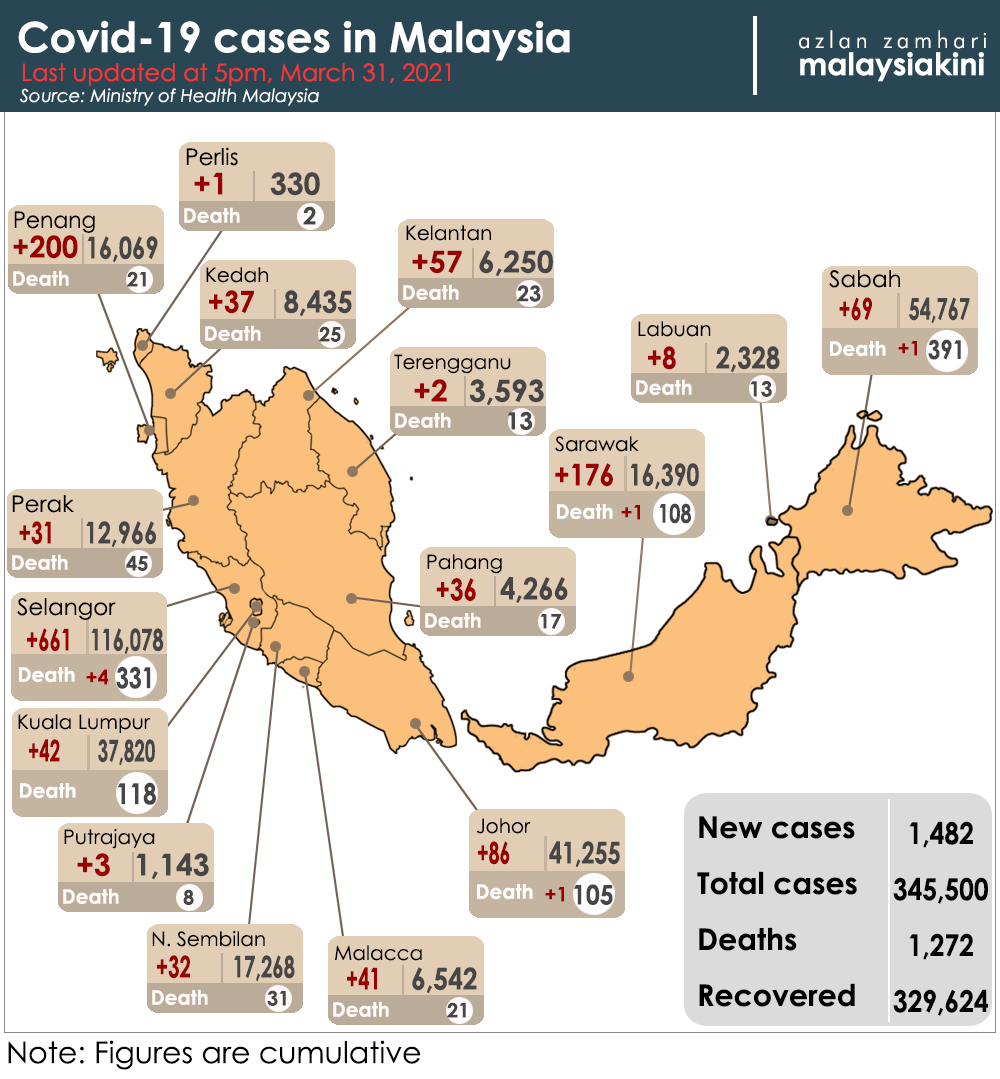 - Mkini