MIC vice-president C Sivarraajh pulled no punches in castigating Umno for its lack of respect for other BN component parties.
Failing to treat its partners as equals, he said, Umno can contest in the next general election on its own.
This was in response to Sungai Siput Puteri Umno chief Norazura Abdul Karim urging MIC to let Umno contest the Sungai Siput seat in Perak, noting that MIC had failed to win its former traditional stronghold in three consecutive elections.
Sivarraajh (above) pointed out that MIC and MCA have remained with Umno in BN since the formation of the coalition.
"Through thick and thin, MIC and MCA have stayed with BN. Why is it so hard for the Umno leadership to understand mutual respect among component parties?
"If Umno feels it is too strong and does not need the support of other component parties, then Umno should contest in the 15th general election using the Umno logo. No need to contest as BN," he added in a statement this afternoon.
Don't be arrogant
Sivarraajh urged the Umno leadership to be frank with MIC if there are misgivings instead of using proxies to do "shameful work".
He said there is no need to send a representative to talk about issues involving the BN supreme council, especially when Sungai Siput is the traditional seat of the MIC president.
"I would like to remind the Umno top leadership not to be arrogant or full of themselves. Stop this behaviour of asking for all seats to contest as if you can win everywhere.
"The top leadership in Umno needs to learn to respect their fellow component parties," he added.
Sivarraajh also pointed out that it was Umno which wanted to work with PAS through Muafakat Nasional and then with Bersatu through Perikatan Nasional (PN).
When the alliances failed to meet Umno's expectations, he said, its leaders started quarrelling with PAS and Bersatu without consulting other BN component parties.
"When your seat negotiations with them did not go your way, you want to take the traditional seats of your component parties instead.
"Why are you afraid to discuss these issues in the BN supreme council? You still want BN with you.
"You praise your fellow component parties at the Umno annual general meeting on our loyalty but barely two days later, you want to stab us like this?
"Resolve your internal issues first before you meddle in the affairs of other component parties," he added.
'Our loyalty has its limits'
Sivarraajh also claimed that during the cabinet formation under the PN government last year, Umno president Ahmad Zahid Hamidi did not include names from MIC to be appointed as ministers, deputy ministers or senators.
"Can the Umno president deny this?" he asked.
"Do not assume that we have blind loyalty. Our loyalty has its limits," he cautioned.
Sivarraajh also recalled how MIC had compromised with Umno on the Cameron Highlands parliamentary seat in the 2019 by-election.
The MIC vice-president had won the traditional MIC seat in the 14th general election in 2018 but the Election Commission declared the results null and void.
In the subsequent by-election, BN fielded direct candidate Ramli Mohd Nor, a member of the Semai tribe which is indigenous to the area. After winning the contest, Ramli joined Umno.
Sivarraajh implied that MIC relinquished the seat so that BN would be able to save the BN-led Pahang state government.
"I suggest we ask the Umno president who were we trying to save when MIC let go of the Cameron Highlands seat in the by-election?" he added.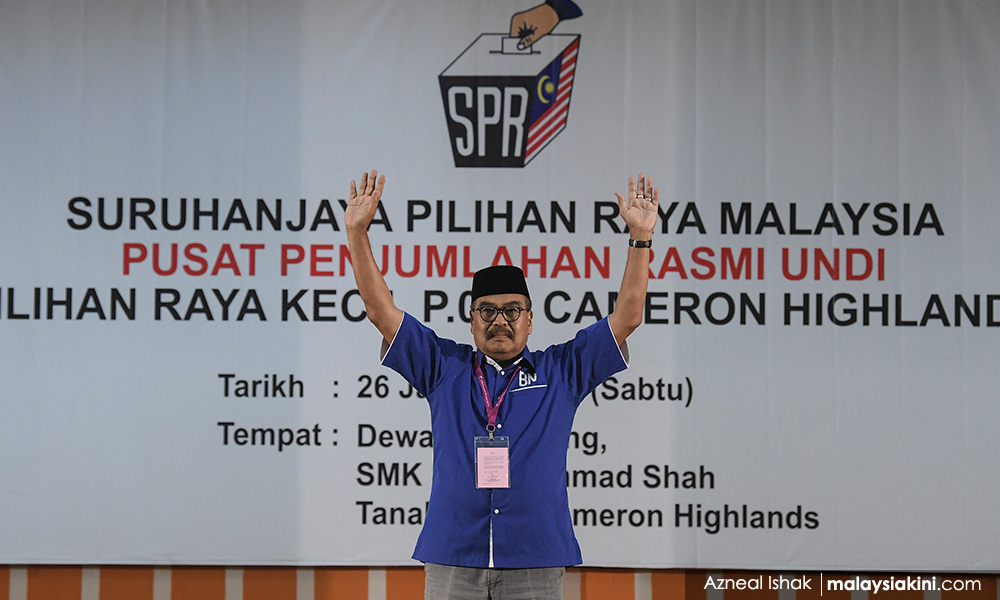 Based on the logic of the Sungai Siput Puteri Umno chief's argument, Sivarraajh said, the Cameron Highlands seat should be returned to MIC in the next election.
"I won Cameron Highlands in the last election. The MIC candidates before me also won.
"But why is it that after the Cameron Highlands by-election, Umno wants to maintain it as Umno's seat even though the original agreement was a loan?" he questioned.
Announce PM candidate
Meanwhile, Sivarraajh also urged Umno leaders to announce who would be BN's prime ministerial candidate for the 15th general election.
He said this must be clarified before other component affairs and seat negotiations could start for MIC and MCA.
"Do not assume that everything is done according to your requirements alone.
"Just as you have the right to decide for your party, we also have the right to decide for our party. It is not certain that both decisions will be the same.
"Respect your fellow component parties first if you want your fellow component parties to respect you," he added.
In a related development, Sungai Siput MIC exco member Neruji Muniandy dismissed the local Puteri chief's statement as "childish".
He said MIC has been working on the ground in Sungai Siput since last year in anticipation of the upcoming general election.
"We started working here since last May or June. Every week, we meet 100 to 200 people," he told Malaysiakini. - Mkini