COVID-19 | The Health Ministry today reported 1,133 new Covid-19 cases, notably with Penang reporting the second highest number (194).
Half the new cases in Penang were not from close contacts or clusters, having been detected through "other screenings".
According to the Penang Health Department, 124 out of the 194 new cases detected in Penang involved foreigners.
At the national level, Malaysians still made up the bulk of new cases (69.4 percent) and clusters involving detention centres amounted to 7.7 percent of new cases.
Active cases: 14,119

Patients in ICUs: 161

Intubated: 76
States
As of yesterday, there are six territories which had a R-naught of more than 1 - Kedah, Pahang, Sarawak, Penang, Kelantan and Malacca.
A R-naught of more than one suggests that the spread of Covid-19 was on the rise.
Selangor reported a number of 0.86 while the figure for Kuala Lumpur is 0.94.
Deaths
There were new Covid-19 deaths reported today, bringing the national death toll to 1,265.
The new deaths were reported in Kuala Lumpur (2), Selangor (1) and Sarawak (2).
The victimes were aged between 34 and 88, all Malaysians with comorbidity. Details of the victims are recorded in Malaysiakini's our Covid-19 tracker site.
Clusters
The Health Ministry reported that there are still 369 active Covid-19 clusters of which 50 saw new cases today.
The cluster with the most new cases is the Penjara Jalan Harapan cluster (73 cases). This cluster - active since November 2020 - originated from the Sungai Buloh prison and has spread nationwide.
The Health Ministry classified another nine new clusters today, of which only only two were from targeted screening of working places.
This would suggest that the new clusters were being spread by those who had no known connection to close contacts or clusters.
Details of the new clusters are as follow:
Jalan Western cluster
District(s): Sepang and Petaling in Selangor
Locality/Source: Plantation at Western Access Road, Sepang
Cluster category: Workplace
First case: March 19, index case with symptoms
Total infected: 19 out of 356 screened
Jalan SC Satu cluster
District(s): Hulu Langat in Selangor
Locality/Source: A factory at Jalan SC 1, Pusat Perindustrian Sungai Chua, Kajang
Cluster category: Workplace
First case: March 29, targeted screening
Total infected: 6 out of 40 screened
Jalan Pinang Raja cluster
District(s): Petaling and Klang in Selangor
Locality/Source: An education institution at Jalan Pinang Raja 18/2, Shah Alam
Cluster category: Workplace
First case: March 30, index case with symptoms
Total infected: 25 out of 230 screened
Batu Enam Setengah cluster
District(s): Seremban in Negeri Sembilan
Locality/Source: A factory at Batu 6½, Sungai Gadut Industrial Park, Seremban
Cluster category: Workplace
First case: March 27, targeted screening
Total infected: 47 out of 155 screened
Jalan Sulaiman cluster
District(s): Kepong, Titiwangsa and Lembah Pantai in Kuala Lumpur; Petaling and Gombak in Selangor
Locality/Source: A private company at Jalan Sultan Sulaiman, Kampung Attap, Lembah Pantai
Cluster category: Workplace
First case: March 29, index case with symptoms
Total infected: 12 out of 48 screened
Fasa Dua Semarak cluster
District(s): Tawau in Sabah
Locality/Source: Vicinity of Taman Semarak, Tawau
Cluster category: Community
First case: March 27, screening prior to new employment
Total infected: 6 out of 15 screened
Ranggu cluster
District(s): Tawau in Sabah
Locality/Source: Vicinity of Kampung Ranggu, Sri Tanjung, Tawau
Cluster category: Community
First case: March 28, index case with symptoms
Total infected: 8 out of 25 screened
Jalan Merak cluster
District(s): Kulai in Johor
Locality/Source: Index case's residence at Jalan Merak 21, Bandar Putra, Kulai
Cluster category: Community
First case: March 27, index case with symptoms
Total infected: 7 out of 36 screened
Kota Kemajuan cluster
District(s): Johor Bahru and Kota Tinggi in Johor
Locality/Source: Dialisis centre at Jalan Kemajuan, Kota Tinggi
Cluster category: High risk group
First case: March 27, index case with symptoms
Total infected: 5 out of 59 screened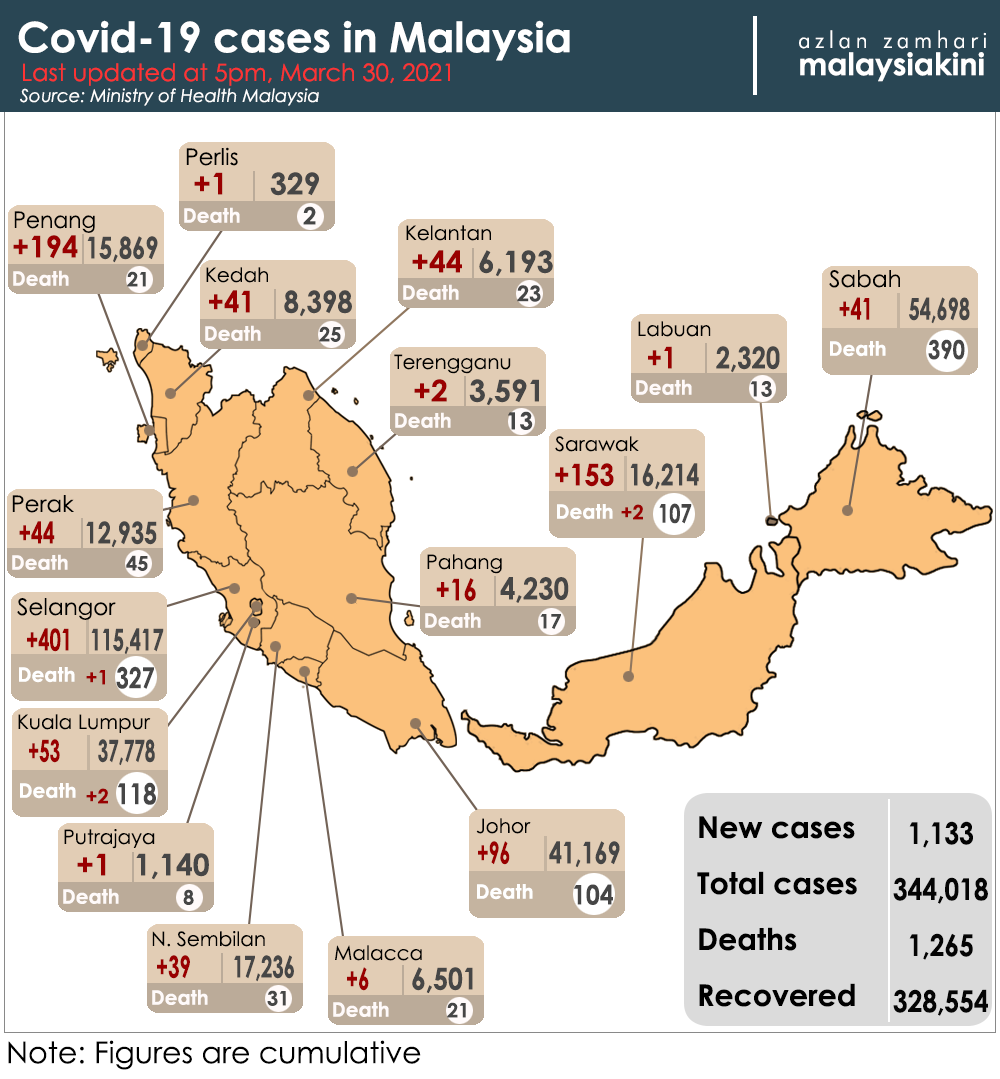 - Mkini