Eight individuals from opposition parties were questioned by police today over their involvement in the Undi18 protest on Saturday.
The eight individuals are Pakatan Harapan Youth chief Shazni Munir, PKR vice-president Tian Chua, Amanah communications director Khalid Samad, DAP Youth chief Howard Lee, DAP's Ketari assemblyperson Young Syefura Othman, Muda pro-tem secretary-general Amir Abdul Hadi, PSM central committee member Sharan Raj and PSM Youth committee member SK Arveent.
Their statements were taken at the Dang Wangi district police headquarters around 2.30pm today.
"We hope that they (the government) will not prolong such intimidation against activists who are just demanding for their rights.
"Whatever action they decide to take, it will not break our spirit. Whether it is intimidation by investigating or charging us, it will not stop the spirit of the people to continue claiming for justice," Amir told reporters outside the Dang Wangi police station after giving his statement to the police.
Shazni also told reporters that the whole exercise, including the protest, was actually unnecessary.
"We did not have to demand for something that was already approved by Parliament, that is to give voting rights to those 18 years old and above.
"The de facto law minister Takiyuddin Hassan said Undi18 would be implemented the latest by July 2021 so we, on behalf of all youths, demand that it is implemented by July 2021.
"We feel that the excuses given by the Election Commission (EC) are not accepted by the youths, and (the excuses) were inappropriate and childish," he said.
Similarly, Tian Chua said there is no excuse for postponing the implementation of Undi18.
"The procedure is actually very simple […] anyone who has reached 18 years old can straight away go and register (to vote), just like those who register at 21 years old or 60 years old.
"There is no difference," he said.
'Police harassment'
Amir said the protest last Saturday was not just a political movement but a movement by the general populace, including NGOs and student groups.
He noted that those called in for questioning today were from political parties but added that police would be calling in more individuals involved in the Undi18 protest.
Meanwhile, opposition leader Anwar Ibrahim said in a statement today that there has been no public announcement thus far that the protestors on Saturday had violated any Covid-19 SOP.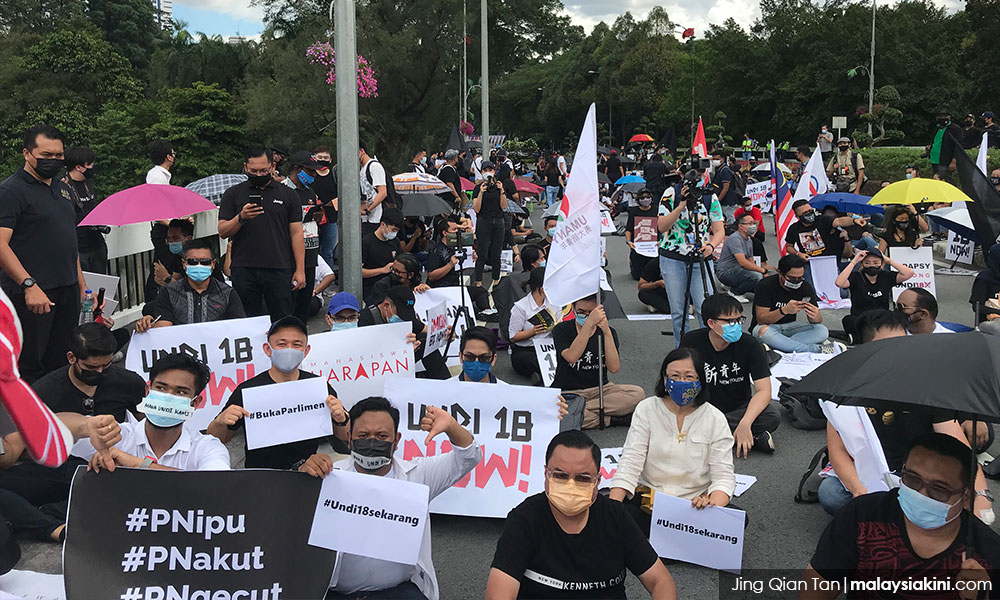 "Yet, numerous individuals with connections to Saturday's protest have been summoned to make a statement to the police. If such an accusation is to be made it should be made publicly and scrutinised by our independent judiciary," he said.
The actions taken against those involved in the peaceful protest was of concern and of smacks of police harassment, he added.
Though the Covid-19 pandemic has challenged Malaysia's democracy and institutions greatly, Anwar said it gives him strength to see youths so passionate about the current situation and that they managed to demonstrate peacefully and safely.
"I call on the police to uphold an example which matches that of the protestors, providing transparency and proper procedure, so that Malaysia may shine above the others as a functioning democracy even in these global dark hours," he said.
The demonstration was held last Saturday outside the Parliament building in Kuala Lumpur.
The protesters were demanding for the government to honour its promise to lower the voting age to 18 years as well as to implement automatic voter registration by July this year.
The protest followed the announcement by the Election Commission that the process would be delayed until September next year.
The 15th general election is widely speculated to be called in August this year when the emergency proclamation expires. - Mkini