Editor's note: An earlier version of a story carried statements misattributed to Umno vice president Khaled Nordin. The statement has been removed and the error is regretted.
The Bersatu-PAS pledge to strengthen cooperation between the two parties within the Perikatan Nasional framework clearly shows that PAS is abandoning its Muafakat Nasional alliance with Umno, claimed Johor Bahru Umno chief Shahrir Samad.
As such, he foresaw BN facing three-corner fights in the next general election or at least for the Johor Bahru parliamentary constituency and both its state constituencies, Larkin and Stulang.
"PAS no longer strengthens Muafakat that now belongs to Umno and BN only.
"The latest joint statement by PN and PAS defending the PN government puts BN parliamentarians in PN in an awkward position. There is no longer any need for them to wait for Parliament to be dissolved," he said in a statement today.
The Umno general assembly over the last weekend had resolved that the party should quit the PN government but left it to Umno president Ahmad Zahid Hamidi to decide on the timeline.
It also decided to sever ties with Bersatu for the 15th general election (GE15) but remained hopeful it can work out a deal with PAS which has drifted towards Bersatu.
Earlier today, however, PAS and Bersatu issued a joint statement saying that the two parties will strengthen their cooperation in PN to face GE15 which Prime Minister Muhyiddin Yassin has promised will be held once the threat of the Covid-19 pandemic subsides.
They also rejected any attempt to change the current coalition government's composition after GE15, but said they would cooperate with anyone who shares its goals of "unity of the ummah and the unity of our diverse communities".
Padang Rengas MP Nazri Abdul Aziz, however, surmised that the joint statement was mere "window dressing" because, despite pronouncements by PAS' top leaders, the Islamist party's grassroots members preferred to work with Umno through Muafakat.
Muafakat is an informal tie-up between PAS and Umno following the latter's fall from power in the 14th general election. The two parties had contested against one another during that election.
PN is registered as a political coalition and comprises BN (including Umno), Bersatu, PAS and several other political parties. It was formed after the Pakatan Harapan government collapsed following the Sheraton Move in February last year.
'Ready for Johor polls'
Meanwhile, Johor Umno deputy chief Nur Jazlan Mohamed appeared to be unfazed by the threat of Johor Bersatu deputy chief Mohd Nasir Hashim who said the Johor government could fall at any time if Bersatu lawmakers withdrew their support for Menteri Besar Hasni Mohammad.
When contacted by Malaysiakini, Nur Jazlan said Johor Umno was ready for state elections.
"Good. It's not in their interest and we are ready for Johor state elections," he said in a text message.
Mohd Nasir was not happy that Hasni, at the recently concluded Umno annual general assembly, had said that a survey found Muhyiddin weak in his own constituency in Pagoh.
Hasni said a survey of Malay voters throughout Johor also showed that only 26 percent supported PN.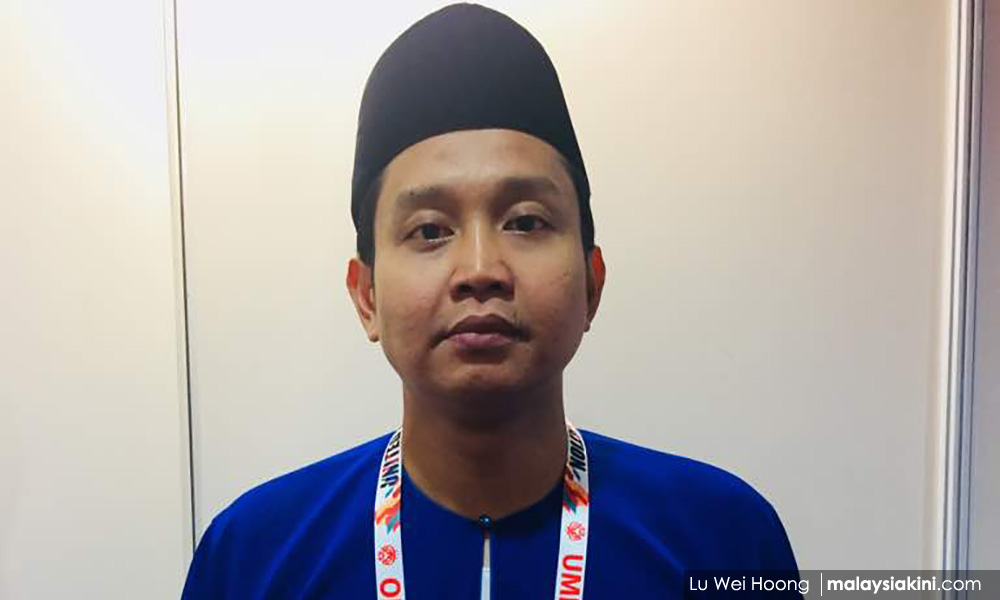 Nur Jazlan's colleague, Bastien Onn, however, responded in tactful manner, claiming that what was said by Hasni at the Umno assembly was meant only for the consumption of Umno delegates.
"As the state menteri besar, he was sharing his view and position on the situation of Umno Johor with Umno Malaysia," said the Umno Youth exco member and Segamat division youth chief.
"He didn't only touch on Bersatu, he also spoke about PAS and he talked about everything, from the Tanjung Piai by-election to the relationship with PAS and Bersatu.
"He didn't come out from the hall to meet the media and talk to them in the same manner. He respects the support from Bersatu, particularly from both his predecessors in Bersatu," Bastien told Malaysiakini.
While noting Bersatu could withdraw its support for the Johor menteri besar, Bastien stressed the need to take into consideration the interest of the people in Johor.
"What is the repercussion in doing that (withdrawing support)? The state government cannot function and the people will suffer," he said. - Mkini