COVID-19 | The Health Ministry today reported 6,276 new Covid-19 cases, the second consecutive day where fresh infections in the country are above 6,000.
The increase was contributed by a significant surge in Selangor.
The number of active Covid-19 cases is on a six-day uptrend while the number of patients in intensive care or requiring ventilators is stagnating.
Active cases: 64,129
Patients in ICU: 905
Intubated: 452
New cases by state
Selangor (2,836)

Negeri Sembilan (644)

Kuala Lumpur (625)

Sarawak (376)

Johor (299)

Sabah (242)

Kedah (226)

Malacca (223)

Pahang (210)

Kelantan (159)

Perak (137)

Labuan (132)

Penang (131)

Terengganu (20)

Putrajaya (11)

Perlis (5)
Selangor reported 2,836 new Covid-19 cases, the fifth-highest on record for the state. It was also the state's highest number of new cases since June 3.
Worryingly, nearly one in five new cases in Selangor were only detected after the victim reported symptoms. These cases are not related to close contacts or existing clusters.
The R-naught for the country has risen to 1.04 as of last night. A figure of more than 1.00 indicates the spread of Covid-19 is accelerating.
The states of Selangor, Malacca, Kuala Lumpur, Putrajaya, Negeri Sembilan, Pahang, and Perak all have an R-naught of over 1.00.
The only state which is making significant progress in reducing the spread of Covid-19 is Terengganu (0.67).
Deaths
Another 62 deaths attributed to Covid-19 were reported today, bringing the national death toll to 5,107.
There were seven victims pronounced dead upon arrival at the hospital. They never got a chance to be treated.
Selangor (22) reported the highest number of new deaths followed by Negeri Sembilan (9), Malacca (7), Kuala Lumpur (5), Johor (4), Pahang (3), Sabah (3), Perak (2), Kelantan (2), Kedah (2), Labuan (2), and Sarawak (1).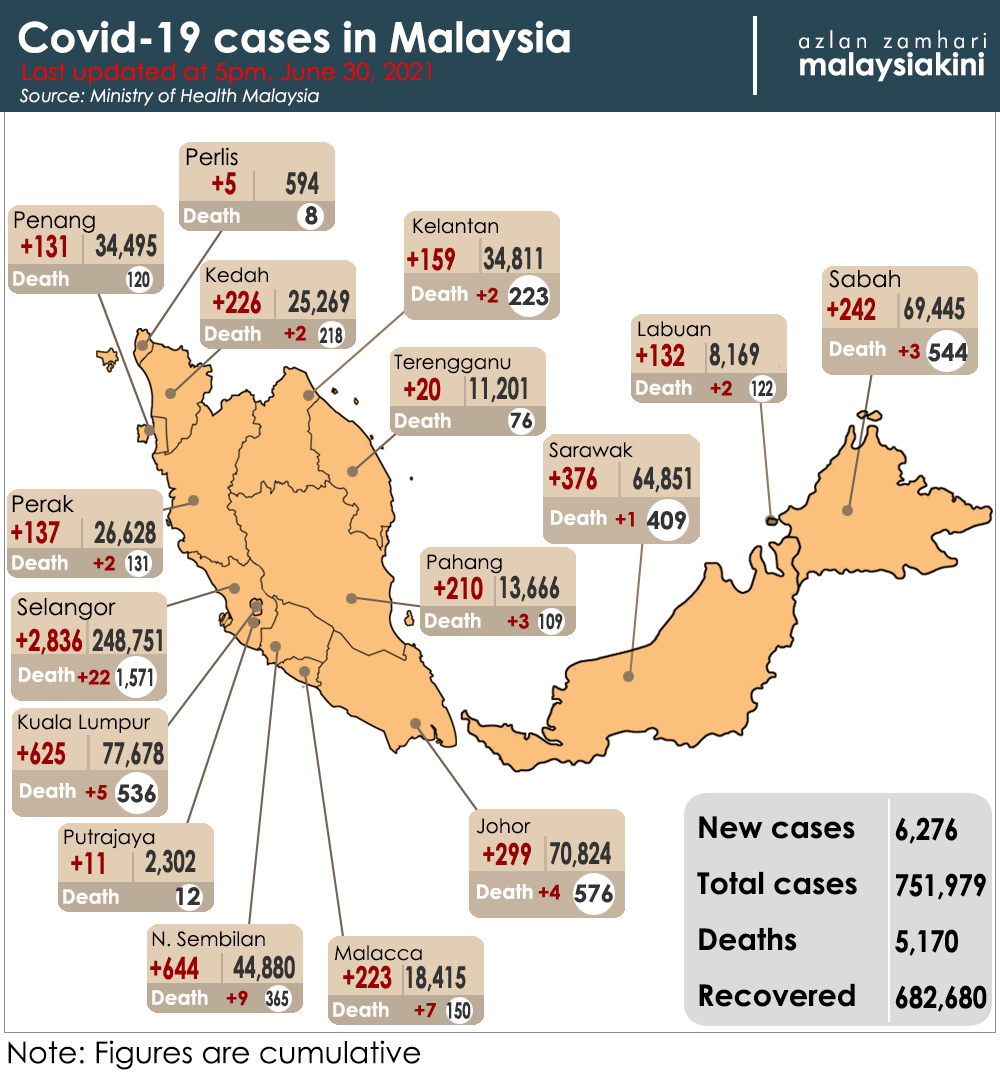 Details of the victims are documented on Malaysiakini's Covid-19 tracker page.
Clusters
The Health Ministry is currently monitoring 886 active Covid-19 clusters. There was no increase in the number of clusters compared to yesterday.
Another 23 new clusters were classified today, of which 13 were workplace clusters.
Industri Jalan Ikan Duyung cluster
Category: Workplace
State(s): Selangor
District(s): Klang
Total infected: 37 out of 102 screened
Industri Subang Utama Enam cluster
Category: Workplace
State(s): Selangor
District(s): Klang and Petaling
Total infected: 28 out of 235 screened
Jalan PPS Satu cluster
Category: Workplace
State(s): Selangor
District(s): Klang
Total infected: 12 out of 26 screened
Industri Jalan Masjid Batu Sembilan cluster
Category: Workplace
State(s): Selangor
District(s): Kuala Langat and Klang
Total infected: 186 out of 311 screened
Perindustrian 33 cluster
Category: Workplace
State(s): Kuala Lumpur
District(s): Kepong
Total infected: 13 out of 69 screened
Pasar TTDI cluster
Category: Workplace
State(s): Kuala Lumpur
District(s): Kepong and Cheras
Total infected: 11 out of 49 screened
Jalan Prima Impian cluster
Category: Workplace
State(s): Kuala Lumpur
District(s): Kepong
Total infected: 26 out of 28 screened
Jalan Thean Teik cluster
Category: Workplace
State(s): Penang
District(s): Timur Laut
Total infected: 37 out of 122 screened
Perindustrian Murni Empat cluster
Category: Workplace
State(s): Johor
District(s): Kulai
Total infected: 36 out of 314 screened
Jalan Penaga Industri cluster
Category: Workplace
State(s): Johor
District(s): Johor Bahru and Kota Tinggi
Total infected: 35 out of 108 screened
Batu 23 Choh cluster
Category: Workplace
State(s): Johor
District(s): Kulai, Pontian and Batu Pahat
Total infected: 6 out of 224 screened
Perindustrian Rami Satu cluster
Category: Workplace
State(s): Johor
District(s): Muar
Total infected: 22 out of 293 screened
Industri Bidor cluster
Category: Workplace
State(s): Perak
District(s): Batang Paandg
Total infected: 8 out of 73 screened
Kampung Pangkal Jetas cluster
Category: Community
State(s): Kelantan
District(s): Machang
Total infected: 19 out of 163 screened
Jalan 14/44 Padang Tembak cluster
Category: Community
State(s): Kelantan
District(s): Kota Bharu
Total infected: 16 out of 24 screened
Kampung Nibong Lemal cluster
Category: Community
State(s): Kelantan
District(s): Pasir Mas
Total infected: 8 out of 9 screened
Parit Keroma cluster
Category: Community
State(s): Johor
District(s): Muar
Total infected: 11 out of 13 screened
Limbawang cluster
Category: Community
State(s): Sabah
District(s): Beaufort
Total infected: 30 out of 160 screened
Tema Saan cluster
Category: Community
State(s): Sarawak
District(s): Tebedu
Total infected: 42 out of 223 screened
Po Ai cluster
Category: Community
State(s): Sarawak
District(s): Sri Aman
Total infected: 106 out of 330 screened
Blimbing cluster
Category: Community
State(s): Sarawak
District(s): Bau
Total infected: 35 out of 90 screened
Jalan Emas Putih cluster
Category: High-risk group
State(s): Selangor
District(s): Klang
Total infected: 8 out of 28 screened
Meranti Indah cluster
Category: Education
State(s): Pahang
District(s): Bera
Total infected: 16 out of 42 screened
- Mkini