Former premier Dr Mahathir Mohamad has warned that anti-vaccination sentiment is no longer on the fringe.
The Langkawi MP said instead, it was growing and could derail Malaysia's recovery process.
"Efforts to vaccinate as many citizens as possible could easily turn into an issue of individual rights against public interest especially when there exist in our midst anti-vaxxers who are not only opposed to being vaccinated but are working overtime trying to influence others from doing so.
"While it is believed that the anti-vaxxers groups are only on the fringe, the possibilities of them challenging the vaccination process are very real.
"If they are even slightly successful, the target of getting an 80 percent vaccinated population may be affected," said Mahathir, who was speaking online this morning at the Asian Leadership Conference themed "World after Covid-19 - rebuilding trust and cooperation".
He posited that if there was a problem in reaching vaccination targets, which are among the key requirements of the National Recovery Plan, there would be anger and open protests from both ends.
"One side demanding that the vaccination be made compulsory and the other demanding regards for their individual space.
"Such a situation would scuttle the whole strategy to mitigate the pandemic and eventually isolate it from the bigger body of the population.
"To my mind, this potential crisis within a crisis, will not blow up if the leaders are able to provide leadership and qualities that would gain the confidence and trust of the public," he said.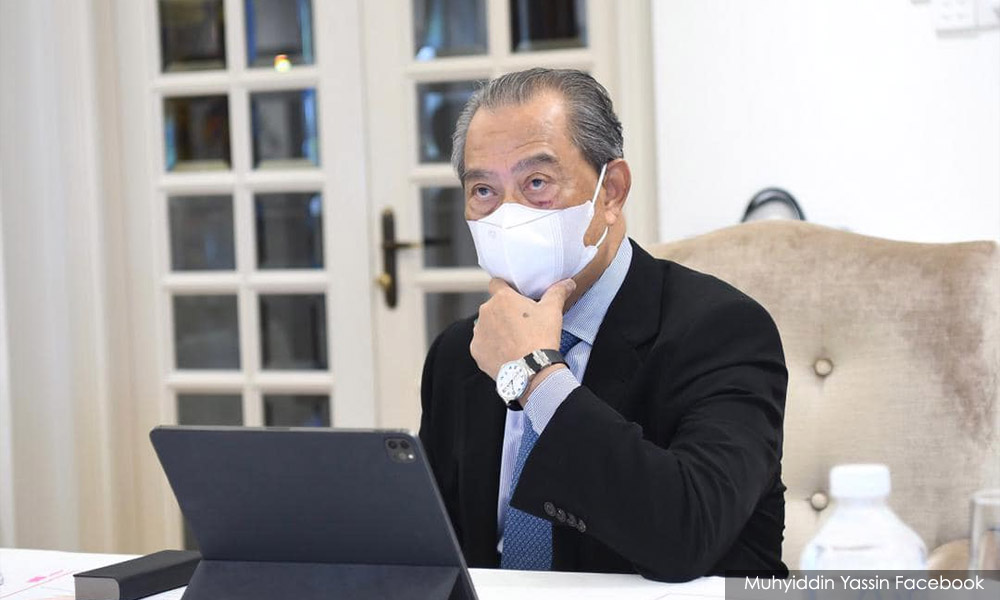 Swipe at current leadership
Mahathir, who served as prime minister in two spells from 1981-2003 and 2018-2020, went on to question the leadership of the current administration of Prime Minister Muhyiddin Yassin which has seen Covid-19 fatalities rise from 555 on Jan 11 when an emergency was declared, to 5,108 deaths now.
"The impact of the Covid-19 pandemic which spared no nation throughout the world demands leadership that is among others visionary, decisive, intelligent, experienced, creative, courageous, empathetic and selfless.
"We have seen governments forming war and war-like cabinets during conflicts, financial crises, catastrophes and other devastating calamities. It sends a very clear message to the populace that the crisis is the single-most-important issue, and everyone must treat it with utmost importance," he said.
However, Mahathir then went on to say that double standards must be avoided at all costs as rules and procedures demand a lot from the populace and if they were made to feel that these are only applicable to them and not to those in power or the elites, efforts to impose these rules and regulations would be met with resistance if not outright protests.
"During a crisis, you cannot have one set of rules for one half of society and another for the other half," he said, echoing a much-repeated criticism of Muhyiddin's government.
"If from the get-go, the leadership is unable to convince the populace that observation of the rules, regulations and SOPs are crucial in mitigating the crisis, then whatever subsequent strategies and steps introduced and taken, will not be smooth sailing, if not outright failures.
"We have witnessed opportunistic leaders and leadership that thrive on crises to strengthen their foothold and grip on their position. This is especially true with leaders whose positions are susceptible to democratic processes and unable to face the test of legitimacy," Mahathir added.
The legitimacy of the Muhyiddin administration, which did not take power through an election and has avoided facing votes of no-confidence, continues to be an issue in Malaysia's political arena, particularly as the Dewan Rakyat was suspended despite its members being among the first in the country to be vaccinated.
It should be noted that Muhyiddin took power in the aftermath of the Sheraton Move, a political realignment that had its roots in Mahathir's own attempt to form a unity government under his own leadership in violation of his promise to hand over power to PKR president Anwar Ibrahim.
Rich nations should stop wars, help poor counties
On another topic, Mahathir called for the world's rich, powerful and capable nations to step up and show empathy in assisting lesser and stricken nations,
"It may be wishful thinking, but surely it is an opportune time for the powerful nations to step up and put a stop on military aggressions committed by belligerent nations on neighbours and such.
"These nations should be reminded that the virus doesn't distinguish between the aggressors and the victims.
"At a time when most nations are at a loss in dealing with their own devastations, the rich and powerful should step up and extend whatever assistance necessary in restoration and recovery," he said.
He called it an opportunity to extend goodwill, rebuild trust and reset long-standing practices, taboos, biases and prejudices.
"If in the past, relations between the rich and poor nations are defined by exploitations both economic and political influence, it is time that it is built on empathy and humanity.
"Lest the powerful nations forget, prospering thy neighbour is very much of the essence and a new maxim could probably be added in which a healthy neighbour is a welcome friend.
"The poor nations' misfortunes are not only the pandemic but the inability to deal with the fallouts that ensued. While the rich nations also have their fallouts, for the poor, the tools for recovery are not there.
"The acutely disproportionate distribution of wealth threatens poor nations with the public backlash and such. Left unattended, these nations would become failed states or continue to be one," he said. - Mkini