Government contract doctors at various hospitals this morning carried out mass walkouts in a nationwide strike to demand job security and better career opportunities.
It is learnt that at least several hundred, if not thousands, turned up despite their superiors threatening to take disciplinary action against those who participated in the Hartal Doktor Kontrak (HDK) protest.
Mostly clad in black and carrying placards and posters, the participants started leaving their respective health facilities in unison at 11am.
Among the locations that saw a significant number of participants included the Kuala Lumpur Hospital, Sungai Buloh Hospital, Hospital Shah Alam, Hospital Melaka, Hospital Pulau Pinang, Queen Elizabeth Hospital in Kota Kinabalu and Tengku Ampuan Rahimah Hospital in Klang.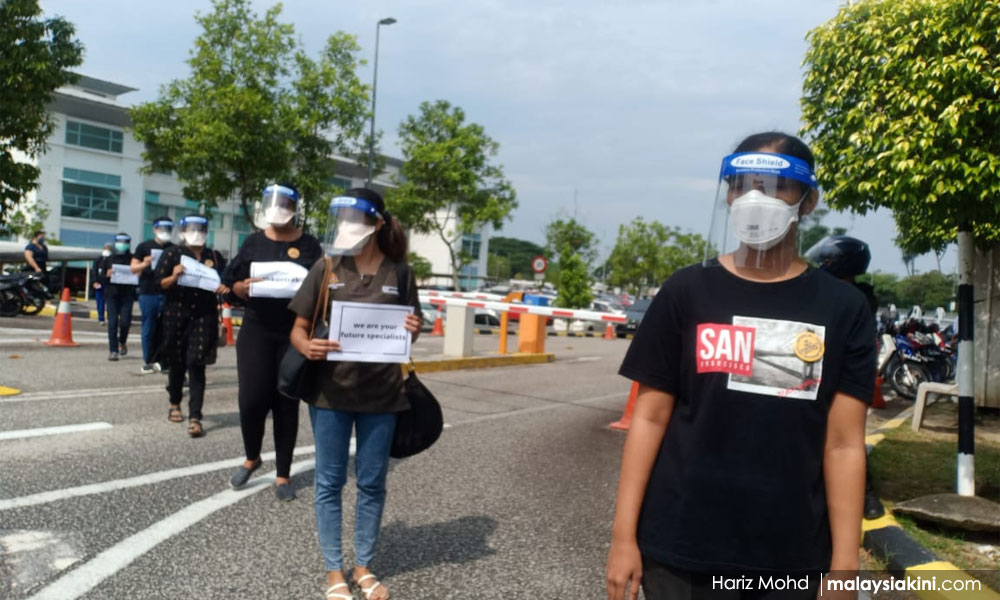 Malaysiakini estimates that there were nearly 100 participants at Sungai Buloh Hospital, 50 at Kuala Lumpur Hospital and around 30 at Hospital Shah Alam.
Meanwhile, at the Hospital Putrajaya, prominent doctor Dr Rafidah Abdullah and nearly 40 members of the nephrology department joined the protest.
According to the organisers, hospitals in other states such as Kedah, Kelantan, Perak, Perlis and Negeri Sembilan also saw similar protests. They were still waiting for confirmation of protests in more locations.
MAEPS action cancelled after threat of arrest
However, at the Covid-19 quarantine centre at Maeps, Serdang, doctors decided to cancel the proposed walkout when threatened with police arrest.
Members of the media were also informed that only the Jabatan Penerangan Negeri Selangor was allowed to "cover" the event and even official media such as RTM and Bernama were barred.
Government junior contract doctors face the risk of losing their job after the end of their five-year training at government hospitals.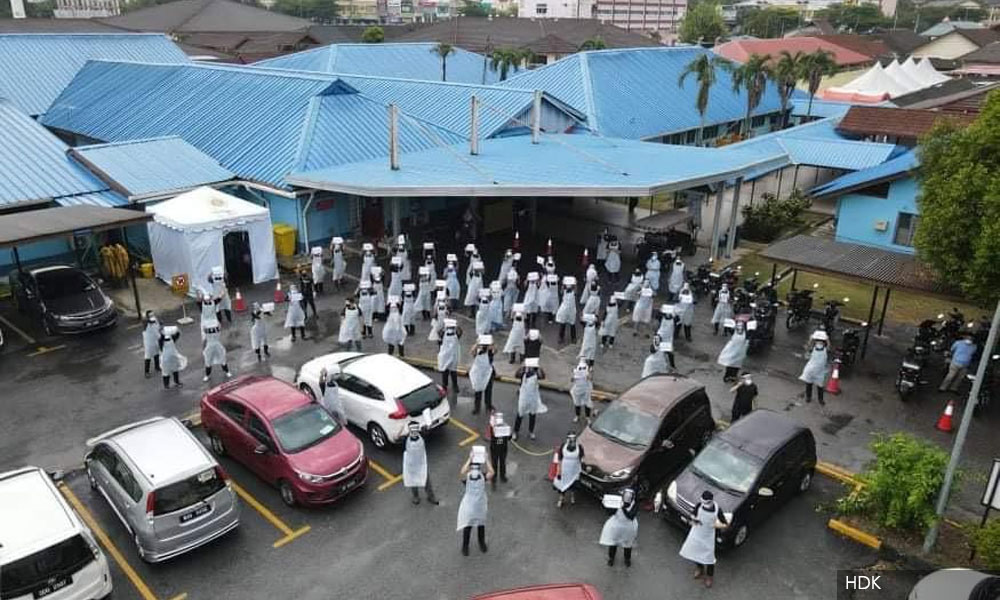 The HDK had said that being on contract also means that they do not receive certain perks compared to their colleagues in permanent positions, including equal opportunity to further their career into specialisations.
Last Friday, the government offered to extend their contracts for up to four years but stopped short of offering permanent positions.
However, it promised to ensure similar perks with permanent doctors.
HDK described this as "half-cooked" and "sugarcoating". It vowed to continue with the plan to hold a strike.
In what was seen as another last-minute attempt to stop the hartal, Health Ministry officials at state and hospital management levels had allegedly issued threats to their junior doctors yesterday against participating in the strike.
This was followed by Health director-general Dr Noor Hisham Abdullah's message last night reminding the doctors of their oath.
[More to follow] - Mkini