Hidilyn Diaz clinched her country Philippines its first-ever Olympic gold medal yesterday, after defeating every other contestant in the women's 55kg category for weightlifting at the 2020 Tokyo Olympics.
As she dropped down the final 127kg barbell, Diaz (above) held her hands to her face, let out a huge scream, and burst into tears before embracing her coach who came running up the stage to her.
Before that historic triumph, Diaz held a media interview and thanked the Japanese hosts, her team, her country, and another group of people - Malaysians.
"I'm really thankful to the host and all Malaysians for welcoming us, especially when we were facing a bad situation.
"Thank you for supporting me and my team who stand behind me," Diaz told local broadcaster Astro Arena just before her gold medal performance.
The reason for this acknowledgement was that Diaz had been spending her preparation for the Games in a quiet kampung in Jasin, Malacca, since October last year.
Diaz's determined spirit also shone through when, despite being stuck under difficult circumstances, she also helped to raise funds for the hard-hit communities back in the Philippines by holding online weightlifting classes.
She had initially been persuaded by her coach from China, Gao Kaiwen, to train in Malaysia back in February last year so that she could focus on qualifying for Tokyo.
But then the pandemic hit, and when she was scheduled to fly to Colombia for a competition in March last year, the government imposed a travel ban, causing her and her team to be stuck in Malaysia.
She found herself needing to find a place to stay for the long term, and the shutting down of gyms under the movement control order (MCO) threw everything into uncertainty.
"Where are we supposed to train, and what are we going to do about food and lodging?" she told Astro Arena in an interview last year.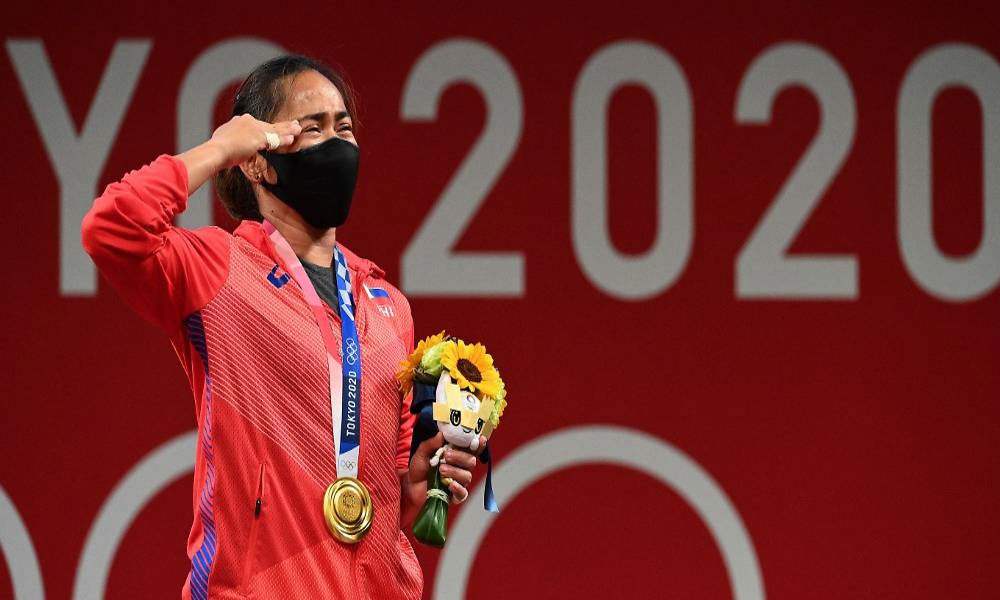 For a while, she and her team rented an apartment in Kuala Lumpur, and she managed to secure a training location at the Desa Tasik Sports Complex.
Born in a poor village in Mindanao back in the Phillippines, Diaz, who is a daughter of a trishaw driver, has never forgotten her roots and the spirit of service she had developed as a member of the Philippines Air Force.
She started to hold online classes to raise funds, not for herself, but the vulnerable communities back at her home who were affected by the Covid-19 pandemic.
Training and other matters soon started to settle, and she visited Malacca with other local athletes soon after the interstate travel ban was lifted.
"We were taking our holiday in Malacca and suddenly we received the information about the lockdown in Selangor, Kuala Lumpur, and Putrajaya," she told Astro Arena again in October last year.
A conditional MCO was imposed for the three areas, and now Diaz and her team were stuck again, in Malacca.
Eventually, an official from the Malaysian Weightlifting Association let Diaz and her team stay at a house the official owns in Kampung Kesang, Jasin.
Since then, she had trained at the car porch of the house, surrounded by banana trees, and sometimes, curious youngsters who were eager to learn weightlifting from her.
"I'm happy when children join weightlifting and they get curious because that's how I started," Diaz, who began by carting 18-litre jugs of water for her family as a child, told AFP in May this year.
She had to endure the hot weather in the open space as opposed to the air-conditioned gyms, but Diaz worked hard with her team, with the pressure mounting for the former sivler medallist at Rio 2016.

"The pressure is high because of course... everyone's expecting me to win the gold medal in Tokyo," she said just before the Olympics.
"I have embraced it. I just tell myself to focus on the technique, focus on the work ahead.
"I don't want to promise to win gold, I just want to do it."

Diaz eventually made it to the postponed Tokyo Olympics after bagging fourth place at the Asian Championship earlier this year, and the rest is history. - Mkini