Health Minister Dr Adham Baba said the ministry's randomised clinical trials on the efficacy of ivermectin in treating high-risk Covid-19 patients are expected to produce results in September this year.
"The study is called 'ivermectin treatment efficacy in Covid-19 high-risk patients' and it was approved by the Medical Review and Ethics Committee (MREC)
"As many as 500 high-risk Covid-19 patients with light symptoms at their initial stage of the disease will be involved.
"So far, about 200 Covid-19 patients have already participated in the trial and the results of the trial are expected in September this year," Adham said in his winding-up speech in the Dewan Rakyat today.
He was responding to a question raised by Mohamad Sabu (Harapan-Kota Raja) earlier about whether the government would look into ivermectin as a possible treatment option for Covid-19 patients.
In May, the Health Ministry had announced plans to carry out randomised clinical trials to see if ivermectin can be used to treat Covid-19, following unproven claims regarding its use as a preventive drug for the disease.
Ivermectin is an anti-parasitic drug mostly used in veterinary medicine, especially in treating worm infestations.
During Adham's winding-up speech today, Sivarasa Rasiah (Harapan-Sungai Buloh) had urged the minister to approve the off-label use of ivermectin for medical doctors to treat patients, instead of allowing its off-label use in clinical trials only.
Off-label use means the medication is being used to treat something not listed on its label.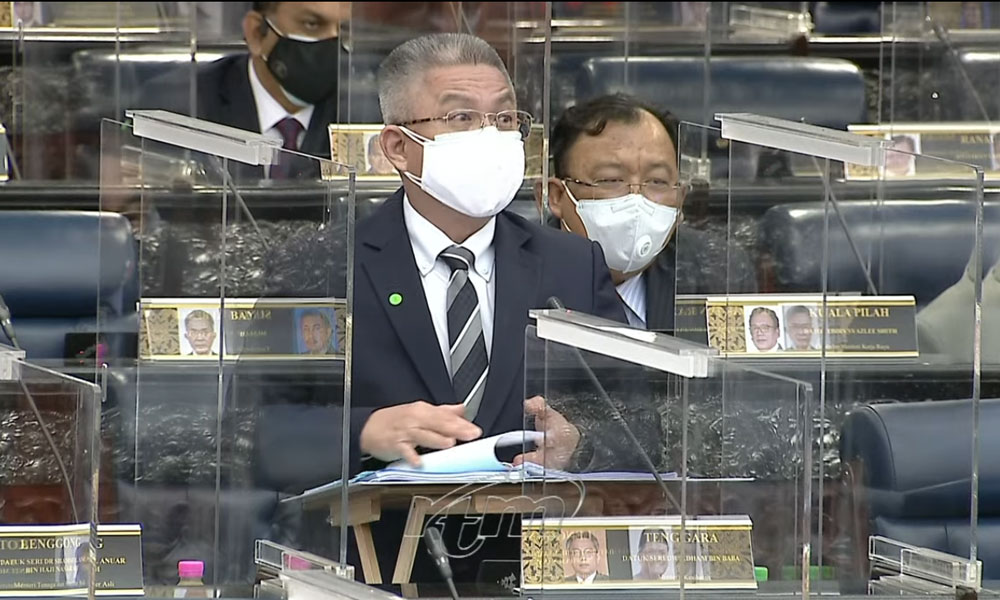 However, Adham said any decision about the use of ivermectin will have to wait until the results of the trials are ready in September.
He also stressed that the trials were to ascertain the efficacy and the safety of the drug, before any decisions can be made about allowing the use of ivermectin to treat humans.
Sivarasa argued that the trials can continue, but in the meantime, the ministry should allow doctors to use ivermectin to treat their patients without being accused of misconduct.
He also noted that ivermectin had been in use for 40 years, to which Adham said: "Yes, but what was it used for in those 40 years? As an anti-parasitic drug for worms."
Khalid Samad (Harapan-Shah Alam) had also chimed in support of Sivarasa, claiming that ivermectin is safe for use and has no side effects.
Adham insisted that the drug had side effects and added that India had dropped the drug from its Covid-19 treatment guideline in early June.
The US Food and Drug Administration (FDA) had also warned that some of the side effects that may be associated with ivermectin include skin rash, nausea, vomiting, diarrhoea, stomach pain, facial or limb swelling, adverse neurological events (dizziness, seizures, confusion), sudden drop in blood pressure, severe skin rash potentially requiring hospitalisation and liver injury.
Although the minister tried to move onto the next topic, Johari Abdul (Harapan-Sungai Petani) urged him to answer about the off-label use of ivermectin.
"I am making the decision here for us to wait until the results of the randomised control trial in September or October," Adham repeated.
Health director-general Dr Noor Hisham had previously said that researchers found in April 2020 that ivermectin can inhibit the replication of SARS-CoV-2, the novel virus that causes the Covid-19 illness.
However, that study used high doses of ivermectin that is implausible in a living being.
In April, the World Health Organisation (WHO) recommended only using ivermectin in clinical trials – not treatment – due to a lack of data.
The European Medicines Agency and the United States Food and Drug Administration have also warned against using it to treat Covid-19. - Mkini