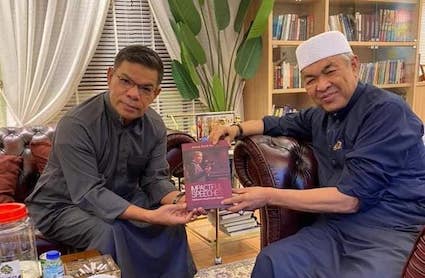 PKR warlords and the "16 September Frog Festival" architects such as Farhash Wafa Salvador, Saifuddin Nasution, Tian Chua and Johari Abdul are being slaughtered all over Malaysia.
(Malaysiakini) – Anwar Ibrahim and Rafizi Ramli would be the best ticket for PKR to face the 15th general election (GE15), said Setiawangsa MP Nik Nazmi Nik Ahmad.
He said this in a congratulatory statement after the PKR election's unofficial results were announced yesterday.
In his statement, Nik Nazmi expressed his gratitude after he was elected as one of the four vice-presidents of the party and defended his position as Setiawangsa branch chief.
"I would also like to congratulate Rafizi (above, right) for being successfully elected as the deputy president; Amirudin Shari, Chang Lih Kang and Aminuddin Harun who were elected as vice-presidents alongside me.
"With the Anwar-Rafizi pairing, I am confident this is the best ticket for PKR to face GE15.
"The future of the party is also positive: Rafizi is 44 years old, while Amirudin is 42; Chang is 41, I'm 40.
"This could turn a new leaf for our party, marking our renewal and dedication to the struggle of Reformasi," said Nik Nazmi.
He added that the party polls demonstrated that PKR does not lack talent, commitment, and enthusiasm among its members.
The PKR central election committee announced the unofficial results of the party polls last night.
As of 8.30pm, the results for all states and federal territories, except Sarawak, have been announced.
In the vice-presidential race, of which four elected positions are available, the projected winners are Selangor Menteri Besar Amirudin (52,304 votes), Tanjung Malim MP Chang (40,280 votes), Setiawangsa MP Nik Nazmi (39,572 votes), and Negeri Sembilan Menteri Besar Aminuddin (38,114 votes).
Members reject 'Big Tent'
Nik Nazmi, in the same statement, noted that while the party has brought new measures which put it ahead of other parties – such as online voting and the ADIL app for its party elections – voter turnout is still a cause for concern.
"We must not forget the fact that the turnout is low for party elections. This is a sign that more needs to be done to activate the PKR grassroots members.
"We must find ways to empower our members, not just by adding new members but empowering members.
"We need to focus on capacity building for more women leaders – as well as strengthening the role of Sabah and Sarawak," he said.
He also felt that the party elections signalled that PKR members had rejected the "Big Tent" strategy.
"Our members have sent a clear signal that they expect PKR to strengthen the existing Pakatan Harapan coalition.
"They want us to reject political interests by shortcuts, reject cooperation with powers that have repeatedly rejected reform, social justice, as well as multiracial spirit, and betrayed the mandate of the people," he said.
He added that the new leadership must respond to these "clear signals".
Among the four new party veeps, Amirudin is aligned with incumbent secretary-general and deputy president contender Saifuddin Nasution Ismail while Nik Nazmi, Chang and Aminuddin are aligned with Rafizi.
Rafizi had previously rejected the "Big Tent" strategy, saying that Harapan parties should not be seeking out a "new tent" when the going gets tough.
In yesterday's announcement of the party election results, Saifuddin Nasution won in Perlis and Sabah, while Rafizi won in the remaining states, including in prized Selangor.
At the time of writing, Rafizi had garnered 67,895 votes to Saifuddin's 48,797 votes.
The lead of 19,098 votes is unassailable, considering the number of remaining votes in Sarawak – the last remaining state in which results have yet to be announced – won't be enough to cover the gap.