It's easy to judge Malaysian politicians from afar.
While there are indeed many whose antics deserve all the derision they get, there are a handful of promising ones that show up to give us a tiny glimmer of hope that our nation is in safe hands.
And Minister in the Prime Minister's Department (Law and Institutional Reforms) Azalina Othman Said is one of the "few good eggs in the egg basket", which is our Dewan Rakyat.
The short time that I worked with her up close in the past two years has been an eye-opening experience, and provided interesting insights into what the life of one of these "good eggs" is like, behind the scenes.
As I pull back on my work commitments this coming year in order to focus on other projects, I thought this would be a good time to reflect on some of those insights.
Azalina was born on Dec 31, 1963, which makes her a Capricorn.
And in true Capricornian fashion, she has "ram-ed" through stereotypes of what women leaders should be like.
Beyond the public persona, Azalina is not just a human-rights-touting, legal-reform-pushing politician who goes viral on TikTok for giving male MPs a good dressing down without losing her cool.
The legal reform she pushes - be it for women, children or human rights - are causes she is truly passionate about.
There is no way a human being could put in as much work as she does on these issues especially when outside the public eye, without truly caring about the people affected by these issues.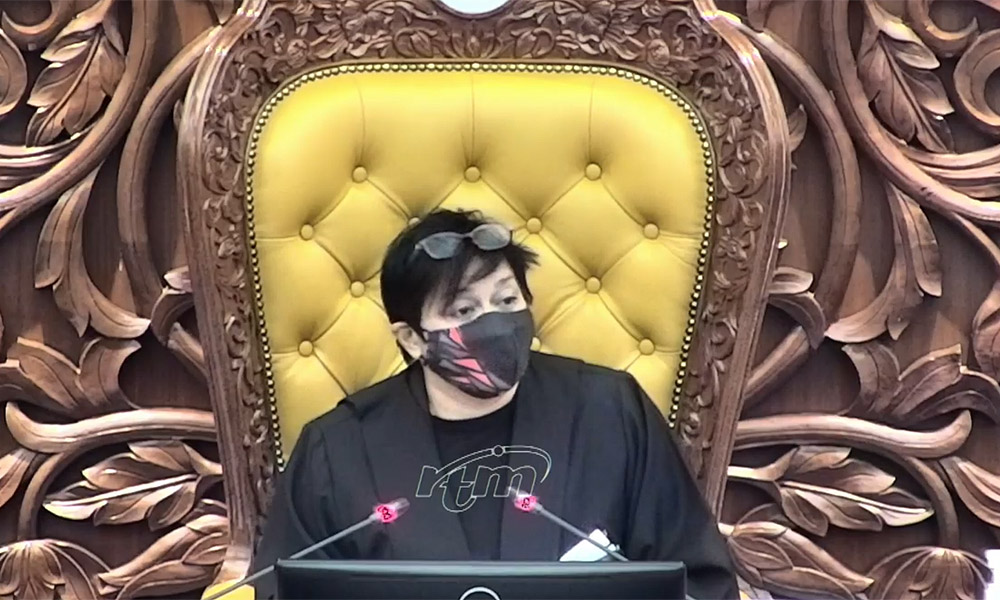 As such, she never drags her feet on the job but is at least a day or two ahead of everyone in the pursuit of upholding the rights of such people.
She is always thinking and moving at light speed, as if it would be a sin for her to waste a single second in executing duties and responsibilities entrusted to her by the rakyat.
Politicians and civil servants are often negatively portrayed as always taking their own sweet time to do their jobs. This couldn't be further from the truth for Azalina.
When she chided Besut MP for not submitting the letter to the speaker in the last Parliament sitting, it was not because she was poking fun at him.
Azalina was truly shocked that he was not able in eight full hours to perform what she saw as the simplest of tasks. Had anyone of her staffers failed to do a similar job in such a period of time, there would be consequences, to put it lightly.
Azalina expects both, from herself and those around her, a sense of responsibility and urgency in performing their duty to the people and country.
This year was challenging for Azalina. She lost both her parents within a span of just a few months - something that is emotionally debilitating for even the strongest of us.
Dealing with tough situations
Yet, just weeks after her mother's passing, Azalina had to begin campaigning for the 15th general election.
Campaigning is no walk in the park for any candidate, more so when you are a woman. Politicians do read comments on their Twitter feed and no matter how strong one may be, experiencing a slew of vulgarities and harassment on a daily can affect a person.
Azalina knows this first-hand and she knows that women face this and worse on a daily basis.
These first-hand experiences deeply inform the work she does on issues like women's rights and sexual harassment. Her passion for true gender equality is clear to anyone who has seen her speak or work on the issue - as is her belief that politics, like any other sphere of work, should always be a safe space for women.
Azalina also has a deep and abiding love for her constituency - Pengerang.
At the end of every week, rain or shine, whether she is well or feeling under the weather, Azalina makes the drive in the wee morning hours to Pengerang and stays there for the weekend to go about doing constituency duties.
She knows the constituents and has a genuine concern for the elderly folk and young families, in particular, thinking about ways to assist the elderly through healthcare and brainstorming ways to uplift young families.
If you have a chat with her, she will be sure to encourage you to visit Pengerang for seafood, bicycling and kayaking.
Azalina's no-nonsense exterior co-exists with warmth, kindness and an unparalleled sense of humour. While she does not tolerate tardiness or incompetence, she is also quick with quips and one-liners that often have people in stitches.
She is always on the lookout for the welfare of her staffers and has personally shown me concern for my well-being which goes well above and beyond what is expected of an employer, especially at a difficult time in my life.
Her kindness extends beyond helping people - she also rescues and adopts animals.
I have learned a lot from Azalina - from "walk the talk", giving 101 percent effort in everything you do, never sugarcoating things, being yourself unapologetically - and that with discipline, drive, and optimism - much can be achieved.
As we enter 2023, I truly hope more Malaysian leaders will emulate Azalina's passion and drive to make Malaysia a truly better place for all of us. - Mkini
---
DEBORAH CHOW is a research associate who also does strategic communications. She worked for Azalina Othman Said from 2021 to 2022.
The views expressed here are those of the author/contributor and do not necessarily represent the views of MMKtT.