Pakistani journalist Syed Fawad Ali Shah's whereabouts remain unknown to the public and his wife is appealing to Prime Minister Anwar Ibrahim for help in locating her missing husband.
Syed Fawad is a 41-year-old Pakistani investigative journalist in his home country, known for his brand in probing government corruption and missing persons using several English dailies.
He has been living in exile in Malaysia for over 10 years to escape persecution in Pakistan and is said to be a UNHCR card holder.
His wife, who is also of Pakistani origin and wished to simply be identified as Syeda for her safety, spoke at a press conference today on her ordeal attempting to locate her husband who has been missing since Aug 23.
"I need your support at this moment. I don't know what will happen to me after this press conference, I just know that I will fight for my husband until my last breath," said Syeda, who flew into Malaysia on Dec 19 to find her missing husband.
"I appeal to the Malaysian public and all humanitarian organisations to help in any possible way.
"I am going through a very critical phase of my life. I am asking for help from the prime minister to find my husband. I'm very worried about him. Please, help me," added Syeda.
Syeda, who is a teacher by profession, claimed that the pressure to locate Syed Fawad has burdened both her mental and physical health, disclosing that she had suffered from a miscarriage amid the trauma of her husband's disappearance.
"Before my husband went missing, we found out that I was pregnant and we were very happy to start a family but I started having panic attacks and high blood pressure, which resulted in us losing our child," said Syeda, adding that it was her first pregnancy.
The press conference was attended by representatives from the Malaysian Advancement Party (MAP) and counsel, P Waythamoorthy and Karthigesan Shanmugam.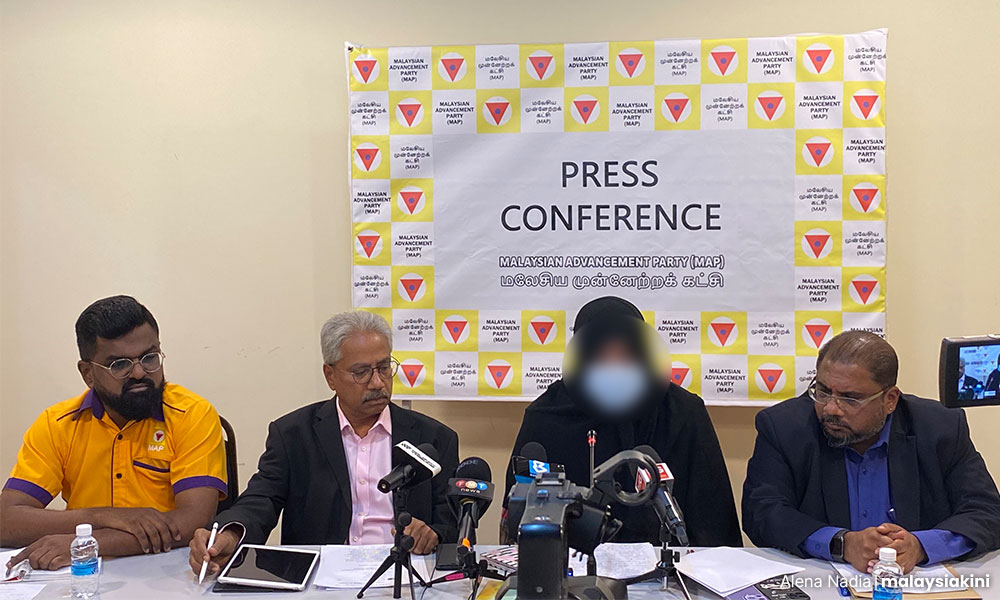 According to Karthigesan, he has received orders from Syed Fawad's wife to seek intervention from the judiciary once they have exhausted all other options to locate Fawad, adding that they would go to court if need be.
Malaysiakini is attempting to contact the police, immigration authorities and the Pakistani embassy for comments on the matter.
UNHCR: Protect asylum seekers
A spokesperson from UNHCR in Kuala Lumpur declined to comment on the details of individual cases such as Syed Fawad's.
However, its spokesperson reiterated that those asylum seekers in need of international protection cannot be returned to their countries of origin.
"In general, as a matter of practice, UNHCR consistently advocates that refugees and asylum seekers – having been confirmed or claimed to be in need of international protection – cannot be returned to their countries of origin.
"This is according to the principle of non-refoulment, which prevents states from expelling or returning persons to a territory where their life or freedom would be threatened," said the UNHCR spokesperson.
The UNHCR added that the principle is recognised as customary international law, which is binding for all states, regardless of whether or not they have signed the 1951 Convention Relating to the Status of Refugees.
"Furthermore, UNHCR has not received approval from the immigration authorities to access immigration detention centres since August 2019, despite continuous advocacy from UNHCR and others on this matter.
"This has unfortunately prevented us from seeing detained persons of concern in order to verify their refugee status, to determine if they are of concern to UNHCR and in need of international protection, and to prevent deportation for those verified to be refugees and asylum-seekers," the spokesperson told Malaysiakini.
"With the recent developments of deportation, there is an even greater concern that there remains in detention a number of individuals - including highly vulnerable persons - whose refugee status has not yet been verified, and requires our attention," added the spokesperson, advocating for immediate access to those who may be in need of its protection.
[More to follow] - Mkini