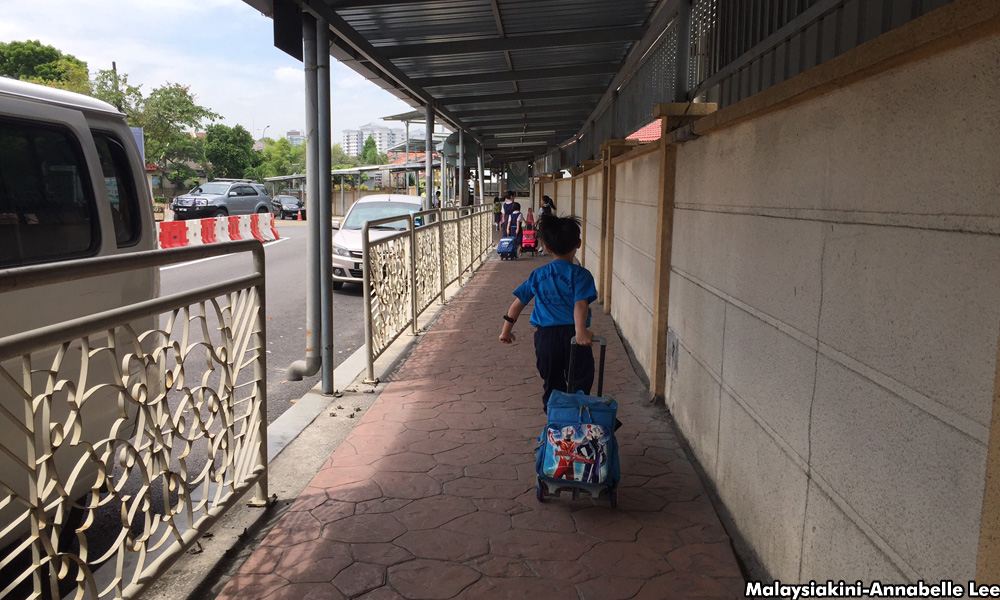 Education Minister Mahdzir Khalid has finally come out with a statement about caning after the reported case of a boy in SJK (C) Puay Chai 2 who was
caned
12 times for late payment of Parent-Teacher Association (PIBG) and security fees.
The minister said in a
Facebook
post that although caning is sanctioned as part of the education process, it should not be done to damage both the physique and self-esteem of the child.
In the case of the unfortunate child, it was arguably damaging for his self-esteem as he was caned in front of his peers for not paying up the two fees imposed by the PIBG before June 22. Both teacher and child were the unfortunate victims of the PIBG and the headmistress' deadline.
Love your pupils, not cane them
Gone are the days when teachers can use the cane indiscriminately on children.
In her immediate response to Mahdzir's posting, Noor Azimah Abdul Rahim, who is the chairman of The Parent Action Group for Education (Page) said: "Page does not condone caning in schools. Research has indicated that caning does more harm than good.
"Children who have been caned need not necessarily have benefitted from it. Some turn into wife beaters and child abusers in adulthood."
I like to emphasise this quote from Azimah: "Clinical psychologists are best stationed in schools either to assist counsellors or to play a more dominant role in 'hotspot' schools."
Perhaps, this is a good time to wake everyone up, and for the ministry to mull over the caning issue, especially since teachers are very likely to abuse the cane unless its use is restricted to only very serious cases.
After the incident, I had to immediately withdraw permission for the class teacher to cane my son. If he misbehaves or he does not do his homework, the teacher only needs to send me a message.
I assured the teacher that, as a father who believes in using the cane, I will personally discipline him. But, as a father, I do it out of love and will explain to him why he is being caned.
This reminds me of the biography of a Chinese teacher which I wrote several years ago. She remembered an incident where one of her teachers chased and caned her a number of times and later told lies to her father.
It is understandable why she resented the teacher for the rest of her adult life. Such abuses of the cane by some teachers have to stop. That explains why parents are willing to stand up for their children.
Every teacher should understand that a child is entrusted by parents to him or her, to educate a future generation of Malaysians. What baffles me is that the teaching profession is no longer seen as a respected vocation but a mere means to earn a living. The passion to educate the young is not there.
In my generation, as La Salleans, we were very privileged to have highly dedicated teachers, who loved us as though we were their own children. For example, our class teacher in Standard Six, Foo Seh Tong, still mingles with us and she often comes to our reunion dinners.
Although 40 years have lapsed, she is still our favourite teacher. In a Whatsapp message recently, she calls us her "chat mates". I love it when she wrote, "Still young at heart and in spirit but cranky on the joints."
Because she can still relate to our generation, she has earned our respect. However, did she have to use the cane? Yes, but sparingly.
Even in those days, we also had our share of the bad apples in the basket. I still remember our Standard Two teacher, who I shall call Cikgu here.
As my classmate, Frank, and I were both class monitors, Cikgu had the habit of calling us to the front of the class to push each other to see who was stronger.
He would then call another classmate with the surname Choo, and slap him a few times for no reasons, calling him, "Choo Pak Choo!"
Of course, as children we were helpless to defy Cikgu, but we took every opportunity to write short notes of complaints to the senior assistant, hoping that she would give some attention to them.
I recall him carrying a big rotan at least a centimetre in diameter. Those who are above 50 years of age should understand what I mean!
At the end of the day, caning is not the solution. I agree with the minister that in the context of the school, it is only a part of the solution, especially for those who break school rules.
However, the minister did not provide a solution apart from caning, which is worrying, especially since caning has become a sensitive issue these days.
I have never been caned by my teachers in all my school days, but the moral values I have now were imparted by those good teachers, who led by example.
Therefore, I would like to tickle the minister a little by asking him, "Mahdzir, have you been caned before?"
To add further, would you have preferred a lesson in which a teacher took the trouble to counsel you and bring you back onto the right track again?
This is where Western education has done very well, compared to the traditional "Listen, or I cane you" attitude.
---
STEPHEN NG is an ordinary citizen with an avid interest in following political developments in the country since 2008.- Mkini