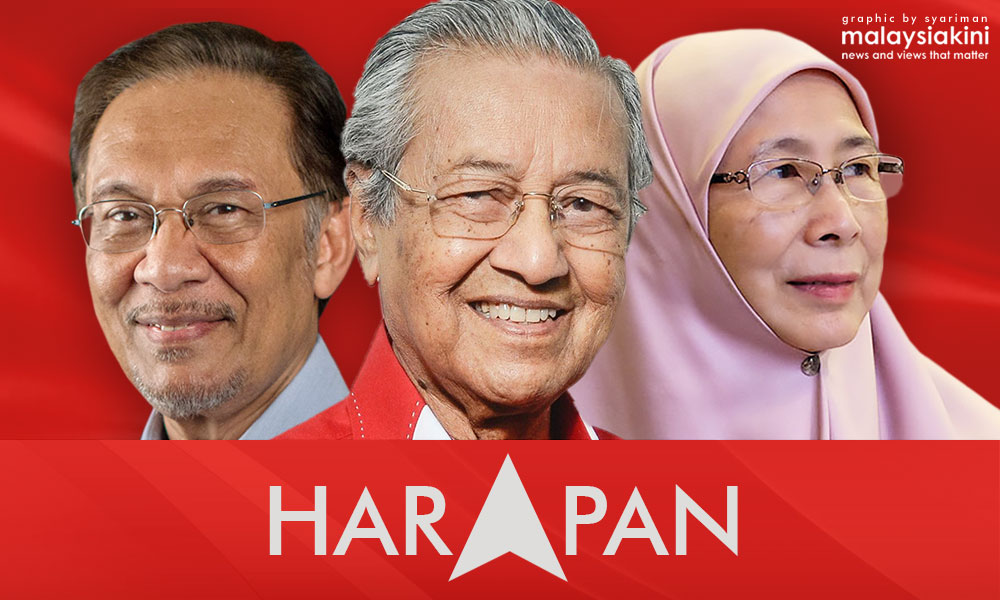 Parti Pribumi Bersatu Malaysia announced today that Pakatan Harapan chairperson Dr Mahathir Mohamad will be the one setting the coalition's direction.
Explaining the coalition's
leadership structure
, which was unveiled just after midnight, Bersatu strategist Rais Hussin Mohamed Ariff said the chairperson will be the one who "leads and gets things done".
"The chairperson will be the one who chairs all the meetings (and) sets the direction, with the president helping," he told Malaysiakini.
Explaining this, Rais cited the way things worked between Mahathir, who is also Bersatu chairperson, and the party's president Muhyiddin Yassin.
"The relationship is about the same. Do you see any problems between the chairperson and president of Bersatu?
"They work hand in glove to get things done."
Rais, therefore, does not foresee issues arising between the chairperson and president of Harapan.
The coalition's de facto leader (Anwar Ibrahim), on the other hand, will play an advisory role in the coalition, Rais confirmed.
Harapan's constitution, to be released in one week's time, will provide the terms of reference, he added.
Meanwhile, Parti Amanah Negara (Amanah) deputy president Salahuddin Ayub (
photo
) said he does not feel the same about Mahathir setting the coalition's direction.
"The direction will be collectively decided by the Harapan presidential council meeting chaired by Mahathir," Salahuddin added.
Mahathir will chair the meetings
However, Salahuddin confirmed that Mahathir would be responsible in chairing the meetings while the president would assist him in various important issues, which include deciding on the coalition's policies.
Salahuddin, too, does not find anything wrong for there to be both a chairperson and a president in the line-up, pointing to Bersatu's structure.
"It's only a matter of how we are going to exercise our roles and obligations," he added.
Asked who would be accorded executive power, Salahuddin said both the coalition's chairperson and president would have it.
"But from there we have to draw a line on their duties. (The main difference) is on (who is responsible in) chairing the meetings."
"We are all equal in Harapan. Having gone through all stages with Pakatan, and our experience with Bersatu, I can say that everything is discussed at the negotiation table.
"We have to table our ideas. We have to discuss them thoroughly in every meeting."
Apart from Mahathir as chairperson and Anwar as de facto leader, the Harapan top leadership comprises Dr Wan Azizah Wan Ismail as president and Lim Guan Eng, Muhyiddin Yassin and Mohamad Sabu as deputy presidents.
The vice-presidents are Mahathir's son Mukhriz Mahathir, Azmin Ali, Chong Chieng Jen and Salahuddin, whereas the chief secretary is Saifuddin Abdullah and treasurer is M Kulasegaran.- Mkini