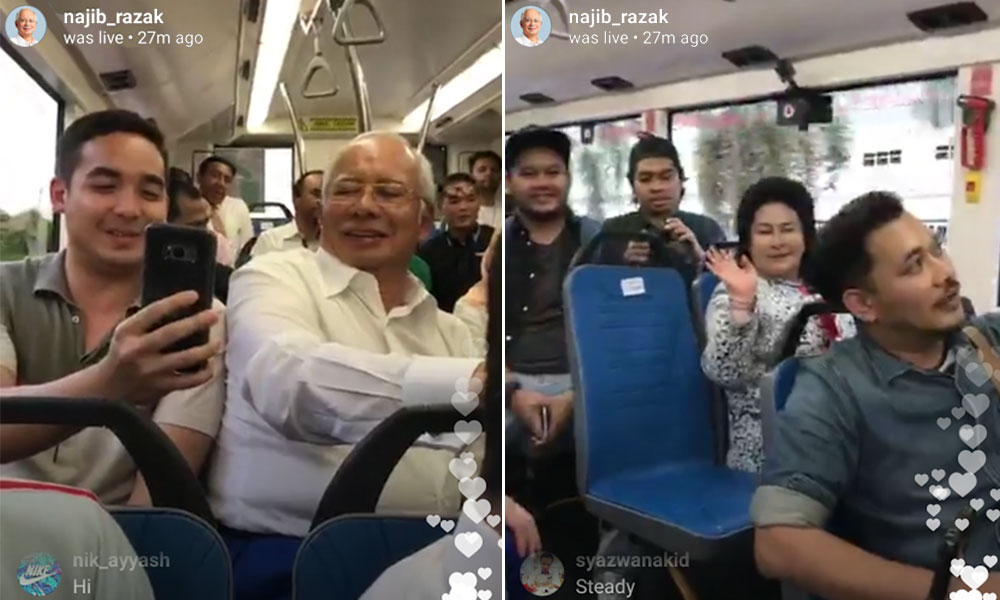 Prime Minister Najib Abdul Razak and his family went on a little trip today, to test out the second phase of the Sungai Buloh-Kajang MRT line.
Malaysiakini understands that the trip was closed off to the media, but social media influencers such as Wak Doyok, who accompanied the family, gave some insight as to how the trip went.
Najib, accompanied by his wife Rosmah Mansor and their son Ashman, arrived at the Pusat Bandar Damansara MRT station about 6pm, and were given a briefing about the MRT.
From there, they took a ride onto the new underground sections of the MRT before eventually taking a feeder bus.
During the bus ride, at one point Rosmah asked Najib to play music from his phone so the ride "won't be so boring".
Najib complied and put on the song Perfect by Ed Sheeran
The couple, however, appeared to be in good spirits throughout the ride.
Some MRT commuters, however, were less than thrilled by Najib's presence on the train.
Lawyer Andrew Khoo posted on Facebook that passengers that were on the MRT were forced to the back of the train to make room for the premier and his entourage.
Currently, the public can only use the MRT from Sungai Buloh to the Semantan station.
On July 17, the rest of line will be opened, allowing passengers to travel all the way to Kajang.
The opening of the second phase will see the MRT finally connect with other rail services in the Klang Valley.- Mkini