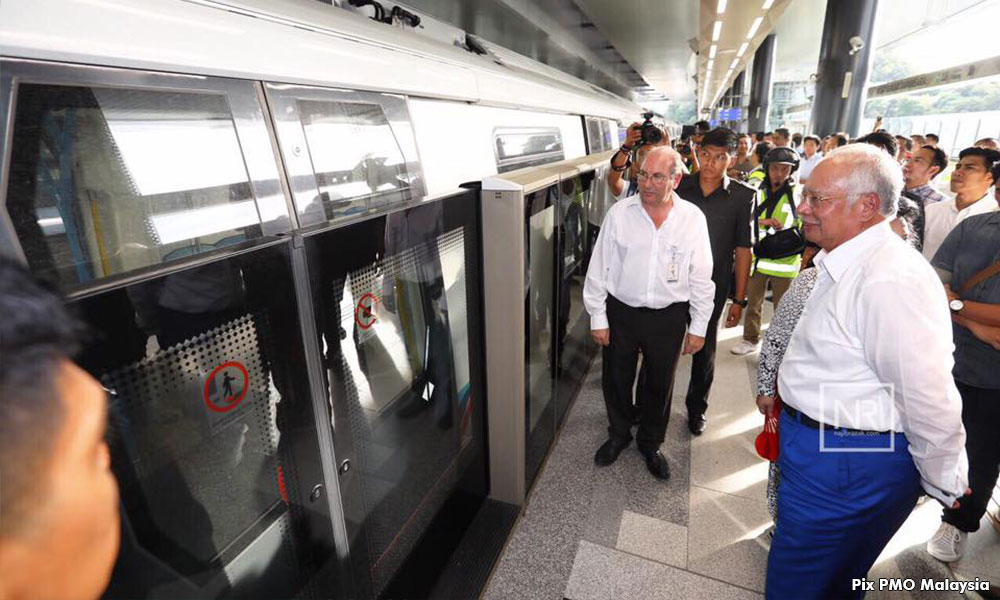 Najib Abdul Razak, having launched the Sungai Buloh-Kajang (SBK) MRT line today, is on track to secure his legacy as the prime minister behind the country's biggest rail expansion since his former mentor-turned-nemesis Dr Mahathir Mohamad's leadership.
The SBK MRT line adds on to the LRT extensions launched last year while another LRT line from Bandar Utama to Klang and the Sungai Buloh-Serdang-Putrajaya (SSP) MRT line is already under construction.
Despite the monumental achievement, the prime minister will unlikely to be able to shake off the taint of the 1MDB scandal which had spanned the globe and the opposition constantly reminds him of that.
Communications and Multimedia Minister Salleh Said Keruak today
hailed
the MRT launch as Najib's "gift" to the people but PKR communications chief Fahmi Fadzil was quick to jump on this, reminding of Najib's "bigger gift".
"The public is aware that the biggest gift Najib had given to the country is not the MRT but 1MDB," he said in a statement today.
Fahmi impressed upon the fact that it was the largest financial scandal in the world.
"Investigations have been conducted in many countries including the United States, Switzerland and Singapore over money laundering activities.
"Najib's 1MDB gift is also a presented to the banking world as financial institutions ranging from small to mega ones have been impacted by their involvement in the (alleged) misappropriation of 1MDB funds," he said.
Fahmi said this was one "gift" that Salleh would not want to celebrate as the government did with the MRT, which he added was a reminder of the need to combat the "cash is king" culture.
The US Department of Justice and Swiss investigators believe more than US$4 billion was misappropriated from 1MDB.
1MDB insisted its funds are accounted for while government leaders claimed the investigations were a case of "foreign intervention".
Najib had refuted claims that the multi-billion ringgit deposits in his bank accounts were from 1MDB, stating that they were a "donation" from a member of the Saudi Royal family.
He denied wrongdoing or taking public funds for personal gains.- Mkini