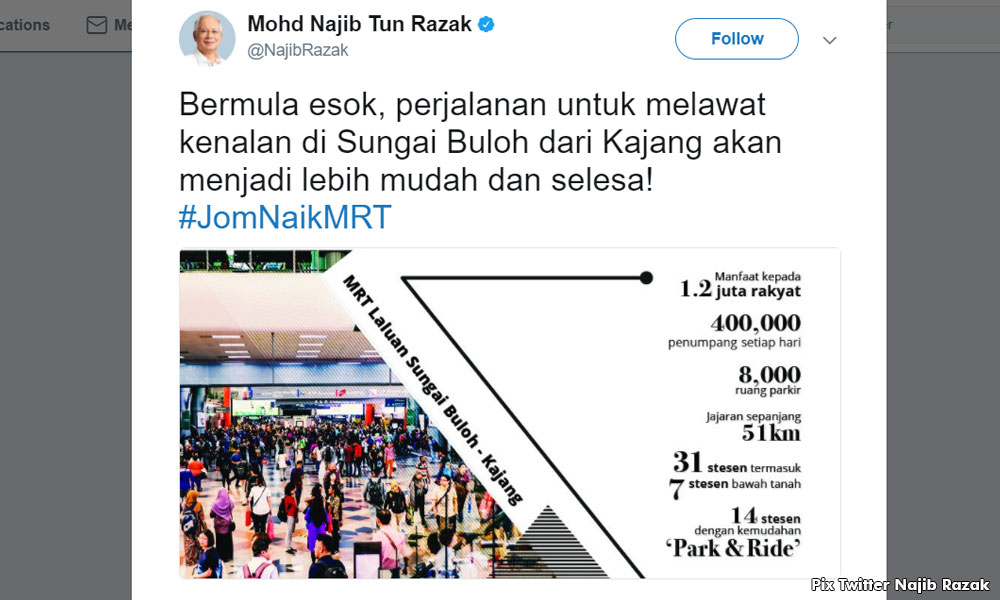 PKR vice-president Nurul Izzah Anwar has thanked Prime Minister Najib Abdul Razak for shortening the distance between her parents.
Taking to twitter, she was responding to the prime minister's tweet on the new Sungai Buloh-Kajang MRT line.
"Thank you for shortening the trip from Sungai Buloh to Kajang," she said.
In his tweet, Najib said the new line would help those in Kajang to visit people they know in Sungai Buloh in a convenient and comfortable manner.Though it cannot be established if the prime minister was taking a jibe at jailed former opposition leader Anwar Ibrahim and his wife Dr Wan Azizah Wan Ismail, social media users, however, had drawn a link.
Anwar is currently serving a five-year sentence at the Sungai Buloh prison while his wife, who is also PKR president, is the assemblyperson for Kajang.
Anwar has accused Najib's administration of fabricating the sodomy charge against him, but the authorities have denied this.
Previously, Najib poked fun at the opposition when he described the opening of the Sungai Buloh - Kajang MRT line as the "real Kajang Move" on his Facebook page.
"The Real Kajang Move. Coming to you in seven days. #JomNaikMRT," he had said.
The "Kajang Move" was a political manoeuvre in which PKR attempted to replace former Selangor mentri besar Khalid Ibrahim with Anwar.
However, the move failed.
Following this, PKR deputy president Azmin Ali replaced Khalid as menteri besar.- Mkini