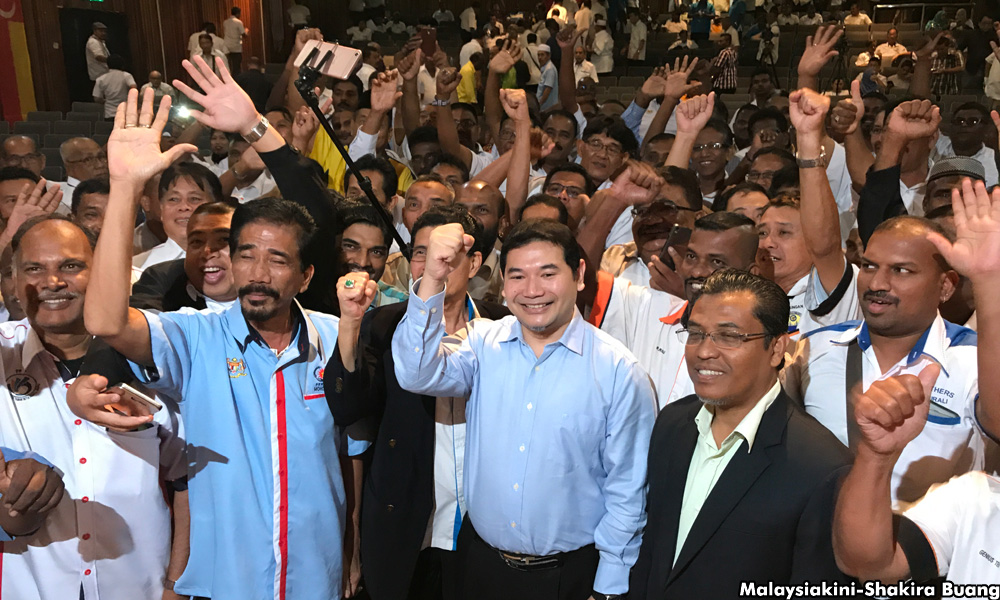 The hardship faced by cabbies in the country are caused by several politically connected "masterminds" who control the issuance of taxi permits, claimed Pandan MP Rafizi Ramli - and he plans to expose them.
"InsyaAllah, in the coming months we will show, one by one, the faces behind the taxi permit companies, who profit from the suffering of taxi drivers," Rafizi told some 200 cabbies when officiating at the Malaysian Taxi Drivers Congress in Petaling Jaya today.
"These masterminds are our main enemies. We have to show that for decades they have collected tens of millions (of ringgit) from the hardwork of taxi drivers," he added.
Cabbies in Malaysia have claimed that they have been facing growing economic pressure, especially with the increasing prevalence of ride-sharing services such as Uber and Grab.
Plans by the government to amend the Commercial Vehicles Licensing Board (CVLB) Act as well as the Land Public Transport Act, and regulate ride-sharing services, have also met opposition by several taxi unions.
Rafizi said he would be tabling a motion in the Dewan Rakyat to delay any planned regulatory amendments until the woes of taxi drivers are dealt with first.
"Solve the problems of taxi drivers first and then table the Acts. I will submit the motion; whether or not Parliament wants to accept is another matter," he said.
The PKR lawmaker also proposed that cabbies get together and form an organisation to look after their rights.
Meanwhile, on another matter, Rafizi took up the cabbies' opposition to the appointment of Umno veteran Isa Abdul Samad as Land Public Transport Commission (Spad) acting chairperson.
"We thought we got rid of him [Isa] from Felda and that he would retire [but] it turns out that he went to Spad.
"I want to tell my friends here today, just as how we succeeded in chasing him out of Felda, InsyaAllah, with your help we can make Isa's time in Spad just as short as he is," Rafizi said to rousing applause.
Isa resigned as Felda Global Ventures (FGV) chairperson two weeks ago amid a spat with the company's CEO Zakaria Arshad.
Prime Minister Najib Abdul Razak then announced that Isa had been appointed as acting-Spad chairperson.
The FGV crisis was sparked after the company's board, led by Isa, moved to suspend Zakaria and three other executives.
However, Zakaria claimed he had tried to stop "ridiculous investments" advocated by the board totalling hundreds of millions of ringgit.
FGV denied the claim and accused Zakaria of violating corporate governance rules. - Mkini