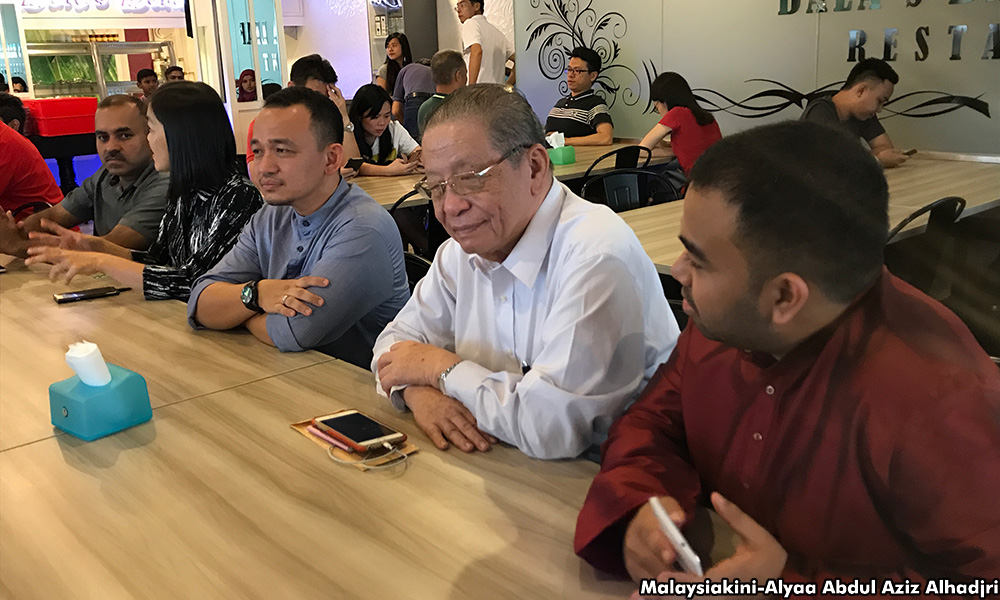 Star Wars and chicken biryani are not typically associated with Hari Raya celebrations.
The unlikely combination however cropped up at DAP's Hari Raya open house at a banana leaf restaurant in Bangsar yesterday.
DAP critics may claim the oddity validates claims the party is Chinese-centric and doesn't understand the Malay community, but organiser Subang DAP Youth argues differently.
A perceived Chinese party organising a Hari Raya event at an Indian restaurant - it can only reflect the Malaysian face, said Subang DAP Youth organising secretary Shukri Mokthar.
"We are trying to bring back the time when Malaysia was about everyone, and everyone is different in a way," he told Malaysiakini.
The crowd comprised people of different races and ages, with a significant presence of non-Malay elderly visitors.
Among the notable faces present were Selangor DAP exco member Young Syefura Othman, Ikram deputy president Zaid Kamaruddin and grassroots members of Parti Pribumi Bersatu Malaysia (Bersatu).
Instead of being serenaded with Hari Raya songs, the crowd listened intently to DAP national publicity secretary general Tony Pua, who made jokes about the 1MDB scandal.
After a meal of chicken biryani, some 100 guests stayed on for a dialogue session with DAP parliamentary leader Lim Kit Siang and political analyst Maszlee Malik.
Stressing he is not a DAP member, Maszlee joked how the invitation for the Hari Raya gathering, which carried his photo, had sparked rumours that he would be appointed as DAP's new "ulama chief".
Aidilfitri's true meaning
Maszlee noted the ordinary Malay voter would still find DAP as a very "confusing" party, with the party's critics often accusing it of being "anti-Malay" or even "anti-Islam".
At the same time, he urged the guests to reflect on the real meaning of Hari Raya Aidilfitri, derived from the Arabic word 'fitrah', or the innate quality inclined to goodness and rejecting the bad.
"That is the most important thing, to come back to your fitrah. And 'fitrah' is not only for Muslims, it is a common good.
"Coming straight to my point, let us relive this spirit of Hari Raya, this spirit of 'fitrah', in fighting corruption, in fighting kleptocracy, in upholding justice, in giving equal opportunities...," he said to applause and nods of approval from the guests.
Meanwhile Lim, reflecting on his own meaning of Hari Raya, said the celebration should go back to the roots of the Malaysian identity, based on mutual respect among all races.
He also touched on the importance of never losing hope for change, despite BN allegedly playing up issues of race and religion ahead of the 14th general elections.
'Force' still with Harapan?
During the question and answer session, an audience member who introduced himself as Chan questioned Lim's claim that Pakatan Harapan's current line-up can be a "new hope" for Malaysians, using a Star Wars reference.
Chan, who described himself as a Star Wars fan, cited the re-titled 'Episode IV - A New Hope' movie released in 1977.
In the context of Malaysia's current situation, he said the hope for change has dimmed over the years, particularly due to the systematic abuses during the 22-year tenure of former premier Dr Mahathir Mohamad.
With Mahathir as Bersatu chairperson now joining hands with the federal opposition, Chan asked Lim whether there is still hope for real change.
"The point is that the whole system is corrupted. You don't just chop off the branch. The whole tree and roots are corrupted.
"Unless you uproot the whole thing...Can it (change) be done? I don't think so, not in my lifetime," Chan said, to laughter from the audience.
"I mean, I am still hopeful but Mr Lim Kit Siang, what do you think?" he said.
Lim, in response, said he believes Malaysians are now caught between hope at one end, and hopelessness at the other end of the spectrum.
And like the struggle in Star Wars, Lim pointed out how in the last 10 years the federal opposition had gradually gained ground among voters, a trend he believes will continue in the coming 14th general election. - Mkini