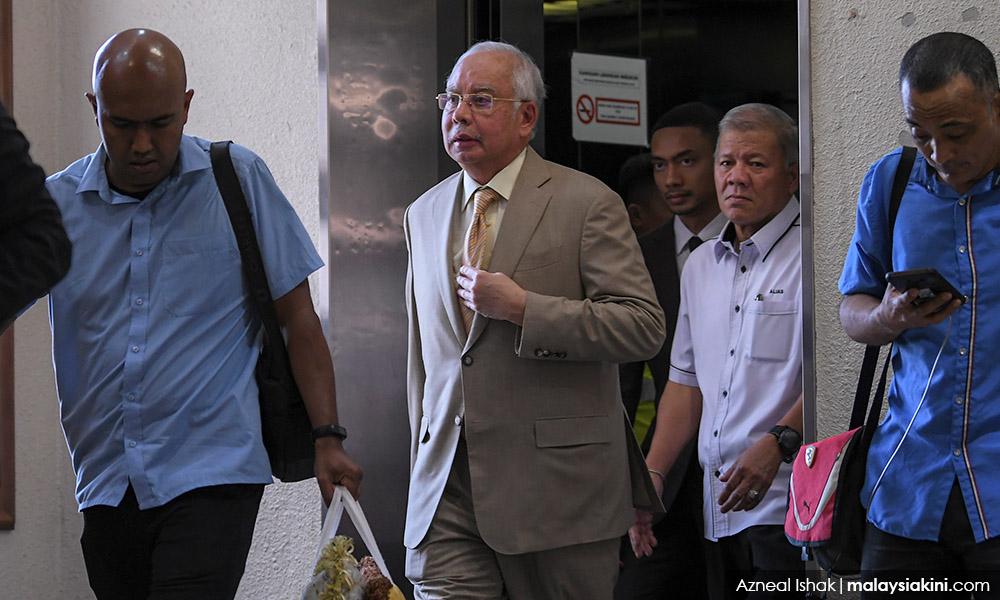 The criminal trial of former prime minister Najib Abdul Razak involving the alleged misappropriation of funds from SRC International Sdn Bhd enters its 30th today at the High Court in Kuala Lumpur.
Malaysiakini brings you live reports of the proceedings.
---
9am:
Clad in blue suit, former premier Najib Abdul Razak enters the courtroom and takes a seat at the front row of the public gallery to await beginning of proceedings.
He is seen conferring with his lead defence counsel Muhammad Shafee Abdullah.
---
Who was behind the telephone call by a self-proclaimed MACC person, whose urgings had sent then SRC International director Suboh Md Yassin packing from Malaysia to Thailand, out of fear of then prime minister Najib Abdul Razak in 2015?
Who were the unknown persons who not only arranged for Suboh and his wife's flight from Bangkok to Abu Dhabi, UAE, but also paid for his one-week stay in the Rosewood Hotel in the Middle East country?
These and other critical parts of the 42nd witness' testimony may be further probed by both the prosecution and Najib's defence team on the 30th day of the former finance minister's RM42 million SRC International trial today.
When proceedings resume before Kuala Lumpur High Court judge Mohd Nazlan Mohd Ghazali at 9am this morning, DPP Ishak Mohd Yusoff is expected to resume his examination-in-chief of Suboh.
When the court last convened on June 20, Suboh delivered a rather explosive testimony over his reason for having fled Malaysia, and stayed overseas for three years, until he returned to his home post-14th general election last year.
The key witness in the trial may be further probed by both the prosecution and the defence team over his testimony that he played no role in SRC International's decision-making and that the company's then CEO Nik Faisal Ariff Kamil called all the shots with the alleged greenlight of its then adviser emeritus Najib. - Mkini