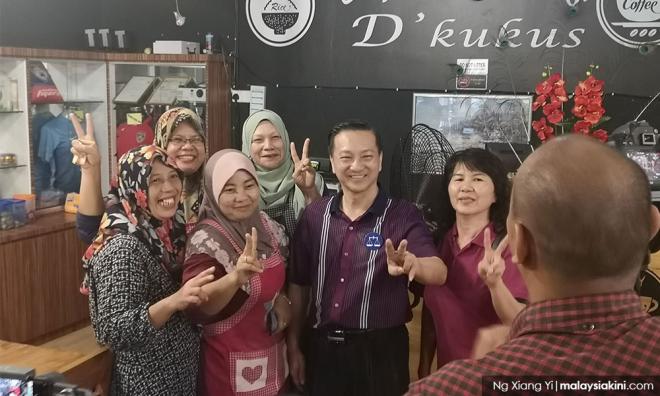 TANJUNG PIAI POLLS | Wee Jeck Seng, who is hoping to recapture the Tanjung Piai parliament seat in the Nov 16 by-election, censured another Johor DAP leader for branding him an ineffective lawmaker.
"This is defamation!" he thundered when met after a walkabout at the Pontian We Mart this morning.
"Who is he? Where did he get the details from? He has to refer to the parliament hansard...
"This is just nonsense and a personal attack...You ask him, what kind of behaviour is this? Cannot be this irresponsible, last time I went to parliament every day," he added.
Yesterday, Johor DAP secretary Tan Hong Pin claimed that Wee only engaged in debates 11 times, an average of twice a year, during the course of the 13th Dewan Rakyat proceedings.
Tan described the BN candidate as "check-in Seng" as the latter only spoke for 19 minutes yearly in parliament.
The Skudai state assemblyperson also pointed out that Wee only spoke 25 times during his last term as an MP, posed one question and debated one time during 2018 prior to the general election.
According to Tan, in 2017, Wee asked four questions and debated five times, in 2016, he asked two questions and debated three times, in 2015, he asked four questions and debated two times and in 2014, he asked three questions. There is no record of him speaking in 2013.
Previously, DAP's Senai assemblyperson Alan Tee Boon Tsong also claimed that Wee rarely spoke in Parliament and described him as a lazy MP, an allegation which the latter termed as
slanderous
Defending himself, Wee said not all lawmakers have sufficient time to join debates but pointed out that he had raised issues affecting his constituents in the Dewan Rakyat.
The MCA man, who lost the Tanjung Piai seat by a wafer-thin majority of 524 votes to Pakatan Harapan's Dr Md Farid Md Rafik last year, said the locals are aware of his capabilities.
"Who is he (Tan)? He is just an outsider, what does he know?
"I do not want to comment too much. Everyone knows me well. I'm not a freshie here, people know who I am," he added.
Wee would be contesting against five other candidates in the Tanjung Piai by-election, which was called following the death of Md Farid in September. - Mkini