PKR, the party with the biggest number of seats in Parliament, held its national Chinese New Year (CNY) open house in Penang last night to drive home two key messages - unity among the country's different ethnic communities is necessary for the country to move forward, and that Malaysians can look forward to a bright future when its president, Anwar Ibrahim, takes the helm as the eight prime minister.
Anwar was in top form last night as he covered three CNY open houses in quick succession.
He was at Rifle Range in an event organised by Kebun Bunga assemblyperson Jason Ong Khan Lee and at another event in the Esplanade, organised by MPs Sim Tze Tzin (Bayan Baru) and Muhamad Bakhtiar Wan Chik (Balik Pulau).
Sim, who is Agriculture deputy minister, is also PKR's strategic director, while Muhammad Bakhtiar is Tourism deputy minister and Penang PKR chief.
Anwar, who is Port Dickson MP, also went to Penang DAP's CNY do at Karpal Singh Drive last night, which was also attended by Finance Minister and DAP secretary-general Lim Guan Eng.
At his speech at the Esplanade, Anwar hit out hard at certain quarters who persistently manipulate race and religion to advance their narrow political agendas.
According to him, the country has been besieged by three Cs - communism, communalism and corruption.
"Desperate politicians continue to use these issues to advance their interests. In the end, only the people below are fighting, while these politicians or groups become wealthy," he said.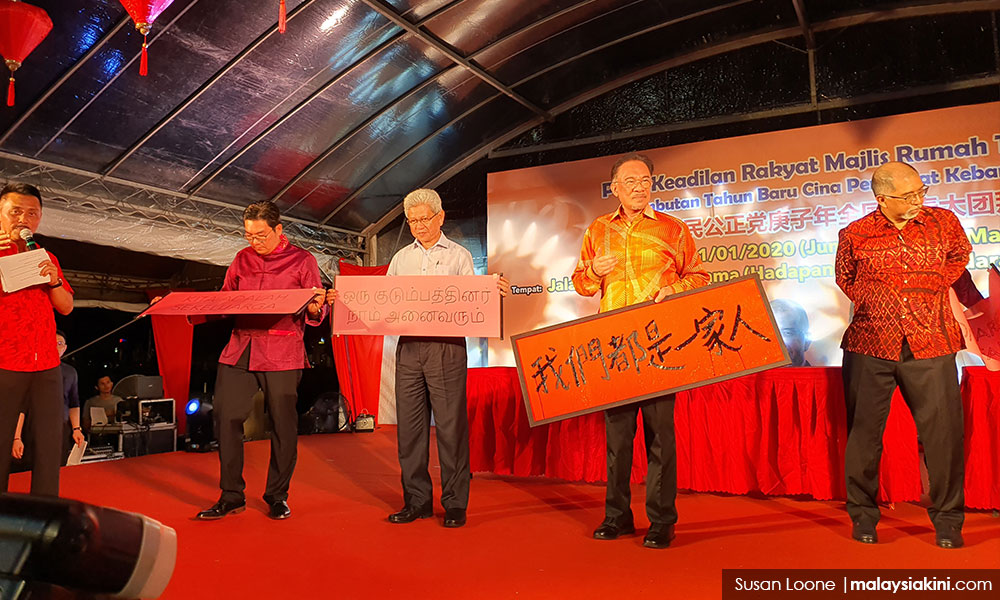 "Racial heroes never care for the people, they care only about themselves, about their own wealth and prosperity. This does not only apply to Malays but Chinese and Indians as well.
"It's time the people are aware and do not get influenced by such propaganda. Malaysia has diverse communities – we should learn from one another instead of sowing seeds of enmity and discord among ourselves," he stressed.
When he arrived at the Esplanade about 8pm, Anwar and a host of Pakatan Harapan leaders were greeted by a lion dance and the pair of lions escorted him to the main table.
Bright, colourful spotlights flooded the stage, where moments later Anwar and other PKR, DAP, Bersatu and Amanah leaders tried their hands on Chinese calligraphy and tossed the 'yee sang' for prosperity.
Accompanying Anwar were Chief Minister Chow Kon Yeow, his deputies, P Ramasamy and Ahmad Zakiyuddin Abdul Rahman, and DAP senior leader Lim Kit Siang.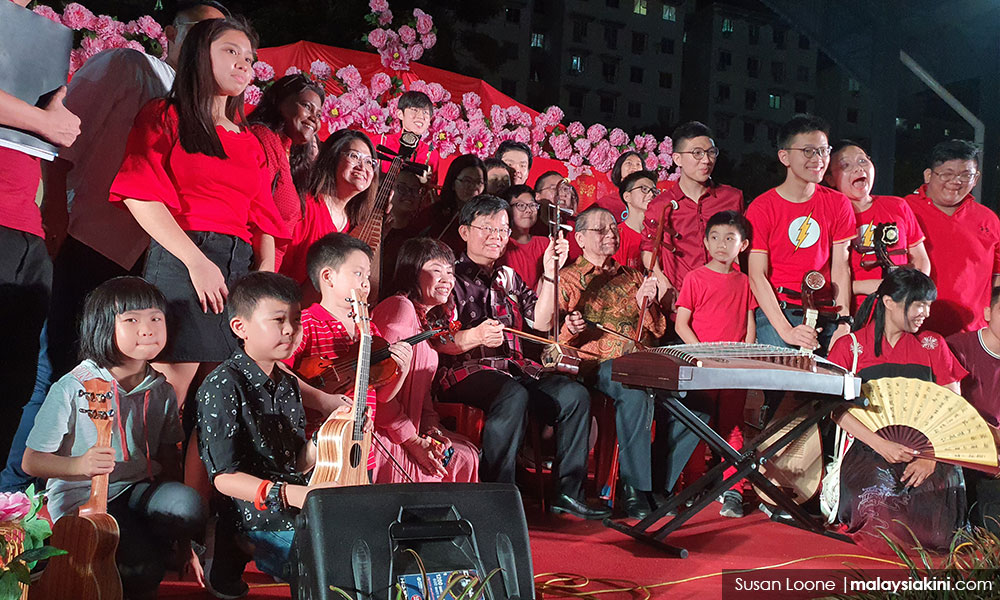 The 500-odd crowd, which was treated to an array of mouth-watering Penang street food, was later entertained by a glittering Boria performance, bringing home memories of the state's traditional arts and heritage highlighting Penang's mixed communities.
Meanwhile, journalists who followed him at all three locations were disappointed that the PM-designate did not entertain questions as he left the events soon after he arrived. - Mkini