After previously donating a motorcycle to food delivery rider Anas Hazmi Ahmad, Bukit Mertajam MP Steven Sim held a press conference today to "prove" the deed.
The bizarre move came after critics, including controversial academic Kamarul Zaman Yusoff, cast aspersions over the DAP politician's motives.
Earlier this month, Kamarul had criticised Sim (above, right) for publicising his charitable acts and cautioned Muslims from accepting assistance from "Christian evangelists".
After Sim said he would sue the Universiti Utara Malaysia professor, the latter doubled down. Kamarul recently offered a RM2,000 "reward" to anyone who could reveal Anas' personal details.
This was apparently because he doubted the veracity of the donation and wanted to contact the 22-year-old.
Speaking to the media at Sim's Bukit Mertajam service centre this afternoon, Anas confirmed that the lawmaker had donated a motorcycle to him.
He said it was registered under his name on April 14 and he even held up his pink vehicle ownership certificate to prove it.
He later posed for photographs with the orange motorcycle.
"All this while, I requested for Sim to not reveal my identity. And I thank the media for working hard to protect me even though I was attacked and accused of all sorts of things.
"I feel disappointed that some would offer RM2,000 (for my details) as if I am a criminal when I did no wrong.
"I hope the public will stop slandering me and Sim and allow me to continue on with my life without this kind of disruption," Anas said.
Sim: Come for me, not beneficiaries
Sim gave Anas the motorcycle after learning that the latter did his food delivery rounds on a borrowed bicycle to make ends meet.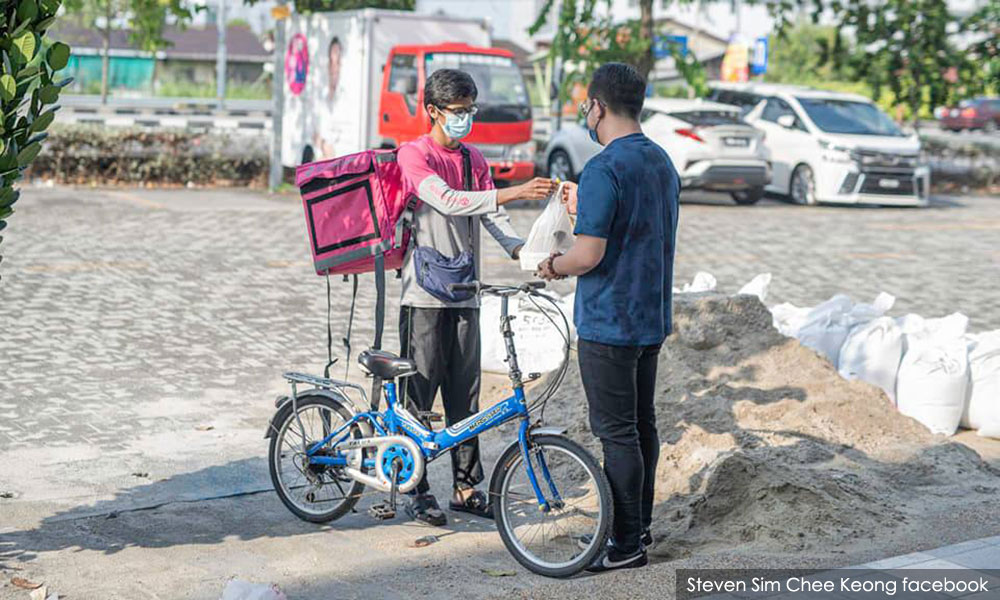 Delivering food was his second job as his other occupation earned him just RM500 a month.
Anas continued to work two jobs even during the fasting month of Ramadan and had suffered sunburn on his hands from his rounds.
At the press conference, Sim chastised his critics for embroiling Anas in their political jabs against him.
"I am a politician. So if they want to criticise or challenge me, I can accept that.
"But what I can't accept is he put a price on the head of someone who received assistance from me.
"This is extreme," he said, noticeably enraged.
The former youth and sports deputy minister opined that Kamarul was insincere in his claims of wanting to "verify" Sim's donation to Anas.
"When he does something like this to those who are already struggling, he has gone overboard.
"There must be a limit to our politicking, or else it will destroy our society," Sim added. - Mkini