Arrivals from a list of countries where Covid-19 variants of concern have been detected will need to undergo a 14-day quarantine at designated quarantine stations.
The 40 countries on the Health Ministry's list are as follows:
From the Americas: United States, Argentina, Brazil, Colombia, Chile, Mexico, Canada, Peru
From Europe: Austria, Belgium, Denmark, Greece, Ireland, Italy, Germany, Lithuania, The Netherlands, Norway, France, Czech Republic, Spain, Sweden, Switzerland, Turkey, United Kingdom
From the Middle East: United Arab Emirates, Iraq, Qatar, Israel
From Africa: Rwanda, South Africa, Mozambique, Nigeria, Tanzania
From Asia: Bangladesh, India, Cambodia, China, Philippines, Japan
As a precautionary measure, those who enter Malaysia from these countries will need to complete the following steps before they can be released from quarantine:
Undergo a Covid-19 swab test three days before departure and obtain a negative result
Download, register and activate the MySejahtera application on their mobile phone before arriving in Malaysia
Use MySejahtera to scan QR codes upon arrival at an international entry point
Pass through a screening for fever and other Covid-19 symptoms at the international entry point
Undergo a 14-day quarantine at a quarantine station designated by the government
Monitor their own health status using MySejahtera during their 14-day quarantine. If symptoms occur, they must inform the medical team on duty for further examination and treatment
They must remain inside their quarantine stations and are not allowed to leave their rooms.
Follow all Covid-19 related standard operating procedures (SOPs) laws and rules that have been set by the Malaysian government at all times
Undergo a Covid-19 test on Day 10 (10 days after arriving in Malaysia)
Arrivals will be released from quarantine on Day 14 if they test negative for Covid-19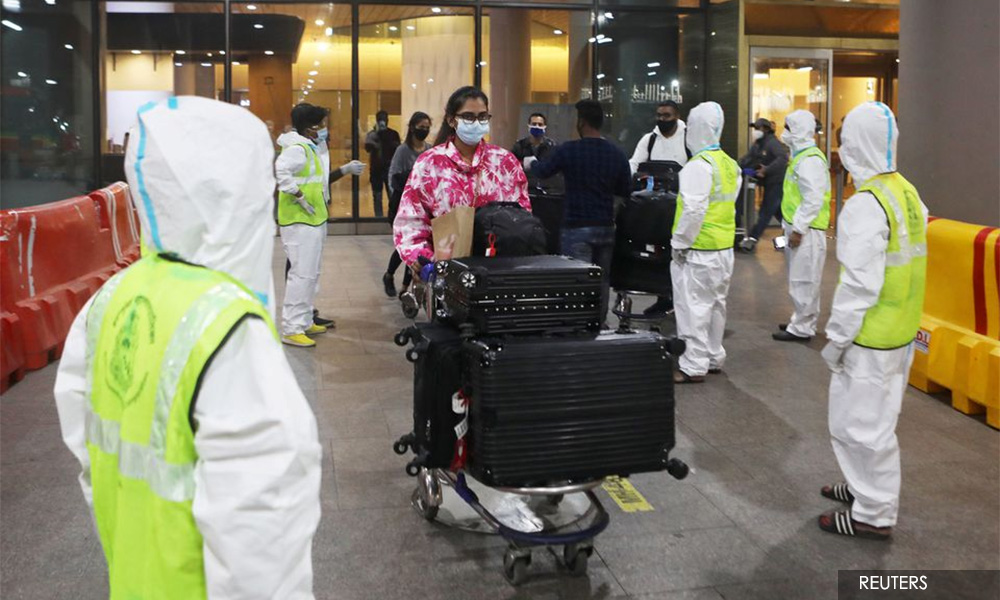 Malaysia has temporarily banned flights to and from India since yesterday.
International arrivals from countries not on this list need to undergo a 10-day quarantine at designation quarantine stations, usually hotels.
Three variants
The ministry's list comprises countries where the B.1.351 variant, B.1.1.7 variant and/or B.1.128 (P1) variant have been detected.
The list was based on situation reports by the World Health Organisation (WHO).
The B.1.351 variant is commonly called the "South African variant" as it was first detected in South Africa. It increases the transmissibility of Covid-19 and reduces the efficacy of some vaccines.
The B.1.1.7 variant is commonly called the "UK variant" as it was first detected in the United Kingdom. It increases the transmissibility of Covid-19 but is not known to affect vaccine efficacy.
Meanwhile, the B.1.128 (P1) variant is commonly referred to as the "Brazil variant" as it was first detected in Brazil. It increases the transmissibility of Covid-19 and reduces the efficacy of some vaccines. - Mkini