COVID-19 | The Health Ministry today reported 5,244 new Covid-19 cases and 83 deaths.
Most of the new cases were detected in the Klang Valley (48.6 percent). Non-citizens made up 18.06 percent of the new cases.
The number of active Covid-19 cases is currently on an 18-day continous downtrend while the number of patients requiring intensive care has also been trending lower since peaking on June 16.
Active cases: 60,816

Patients in ICUs: 879

Intubated: 433
Breakdown by state:
Selangor (2,001)

Negeri Sembilan (677)

Sarawak (577)

Kuala Lumpur (531)

Johor (282)

Pahang (245)

Kedah (189)

Malacca (180)

Penang (159)

Sabah (129)

Kelantan (81)

Labuan (77)

Perak (75)

Terengganu (27)

Putrajaya (13)

Perlis (1)
There is little to suggest that things are improving in the Klang Valley or Negeri Sembilan in the past week.
The number of new cases in the Klang Valley (2,545) was slightly higher than the average seen over the past 14 days.
Pahang (245) reported its highest number of new cases in 18 days while things are generally looking better in most parts of the country.
As of yesterday, the R-naught figure for the country is holding steady at 0.96, up from a recent low of 0.90 as seen on June 12.
As long as the R-naught remains below 1.00, it is an indication that the spread of Covid-19 is slowing down.
The only region where the R-naught was more than 1.00 was Negeri Sembilan (1.03). The regions with the lowest R-naught figures are Terengganu (0.69), Putrajaya (0.75) and Pahang (0.80).
Deaths
The Health Ministry reported another 83 deaths attributed to Covid-19 today, bringing the cumulative national death toll to 4,637.
As of today, 1,841 people were reported to have died of Covid-19 in this month alone. That's an average of 80 victims a day and 3.33 victims an hour.
Selangor (35) reported the highest number of deaths followed by Kuala Lumpur (9), Johor (8), Sabah (7), Negeri Sembilan (7), Kelantan (6), Sarawak (3), Labuan (3), Perak (2), Perlis (1), Kedah (1) and Malacca (1).
The youngest victim was 26. There were seven victims who were pronounced dead upon arrival at the hospital.
Details of the victims are documented on Malaysiakini's Covid-19 tracker page.
Clusters
Currently, 851 active Covid-19 clusters - one more compared to yesterday - are being monitored by the Health Ministry.
There were 24 new clusters that were classified today of which 15 were related to workplaces and seven related to community spreads, mostly in Sarawak.
Industri Jalan Bacang cluster
Category: Workplace
State(s): Selangor
District(s): Gombak
Total infected: 38 out of 74 screened
Tapak Bina Warisan Puteri cluster
Category: Workplace
State(s): Selangor
District(s): Sepang
Total infected: 65 out of 105 screened
Jalan Perdagangan Alam Jaya cluster
Category: Workplace
State(s): Selangor
District(s): Kuala Selangor
Total infected: 19 out of 72 screened
Jalan Enam Selatan Dua cluster
Category: Workplace
State(s): Selangor
District(s): Sepang, Kuala Langat, Petaling, Klang, Hulu Selangor and Hulu Langat
Total infected: 92 out of 330 screened
Jalan Bandar Satu cluster
Category: Workplace
State(s): Selangor
District(s): Gombak
Total infected: 25 out of 28 screened
Industri Jalan Kidamai Dua cluster
Category: Workplace
State(s): Selangor
District(s): Hulu Langat
Total infected: 18 out of 34 screened
Industri Perusahaan Utama cluster
Category: Workplace
State(s): Selangor
District(s): Hulu Langat
Total infected: 30 out of 43 screened
Industri Jalan Macalister cluster
Category: Workplace
State(s): Penang
District(s): Timur Laut and Seberang Perai Utara
Total infected: 21 out of 83 screened
Tingkat Perusahaan 6A cluster
Category: Workplace
State(s): Penang
District(s): Seberang Perai Tengah, Seberang Perai Utara and Seberang Perai Selatan
Total infected: 14 out of 137 screened
Industri Jalan Usaha Dua cluster
Category: Workplace
State(s): Malacca
District(s): Melaka Tengah and Alor Gajah
Total infected: 31 out of 588 screened
Jalan Mangga Satu cluster
Category: Workplace
State(s): Malacca
District(s): Melaka Tengah
Total infected: 25 out of 51 screened
Jalan Raja Bot cluster
Category: Workplace
State(s): Kuala Lumpur
District(s): Titiwangsa
Total infected: 19 out of 30 screened
Jalan Kukuban cluster
Category: Workplace
State(s): Kuala Lumpur
District(s): Titiwangsa
Total infected: 34 out of 44 screened
Jalan Kempas Permatang cluster
Category: Workplace
State(s): Johor
District(s): Johor Bahru
Total infected: 8 out of 32 screened
Pasar Kemunting cluster
Category: Workplace
State(s): Pahang
District(s): Kuantan
Total infected: 17 out of 118 screened
Nanga Tada cluster
Category: Community
State(s): Sarawak
District(s): Kanowit
Total infected: 107 out of 179 screened
Jalan Kuala Tatau cluster
Category: Community
State(s): Sarawak
District(s): Tatau and Bintulu
Total infected: 22 out of 29 screened
Sungai Kotak cluster
Category: Community
State(s): Sarawak
District(s): Meradong
Total infected: 34 out of 101 screened
Tanjong Lelengau cluster
Category: Community
State(s): Sarawak
District(s): Pakan
Total infected: 52 out of 90 screened
Lorong Tun Mamat Dua cluster
Category: Community
State(s): Malacca
District(s): Melaka Tengah
Total infected: 28 out of 37 screened
Kampung Segambut Dalam cluster
Category: Community
State(s): Kuala Lumpur
District(s): Kepong
Total infected: 70 out of 573 screened
Jerung Surau cluster
Category: Community
State(s): Terengganu
District(s): Marang and Hulu Terengganu
Total infected: 33 out of 139 screened
Jalan Sepang cluster
Category: High-risk group
State(s): Selangor
District(s): Sepang
Total infected: 18 out of 89 screened
Tembok Jelebu cluster
Category: Detention Centre
State(s): Negeri Sembilan
District(s): Jelebu
Total infected: 44 out of 557 screened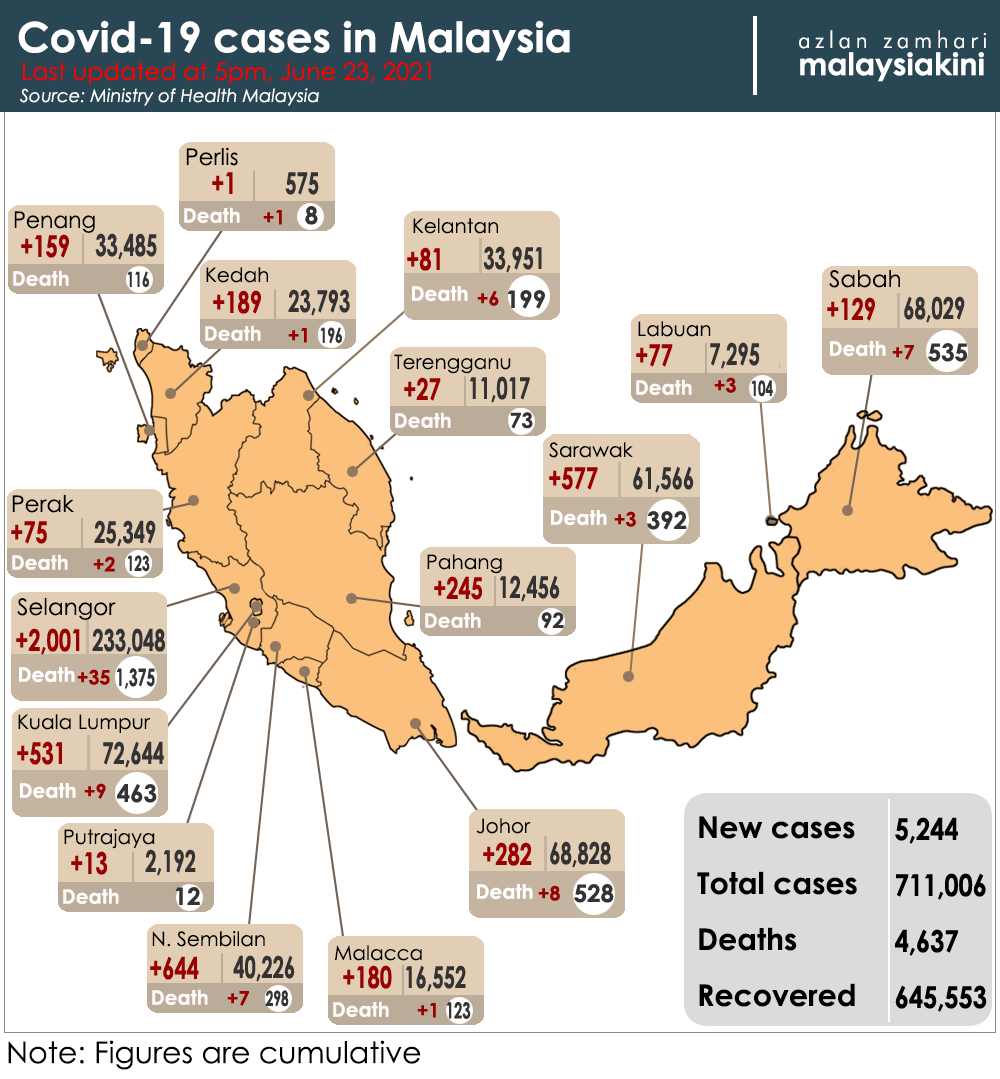 - Mkini