The government was urged to force large palm oil plantations to use 30 percent of their land to plant grains to produce animal feed, to ensure food security in Malaysia.
Amanah Youth Terengganu chief Zamir Ghazali said without such interventions, Malaysia may be stuck in a food insecurity cycle "until the second coming".
He said previous attempts to ensure a local supply of animal feed through cooperatives, government agencies, or government-linked companies had failed for various reasons including lack of expertise, lack of capital, and the need for large scale plantations to ensure profits.
"My proposed solution is to create a policy where large oil palm conglomerates with thousands of hectares of land are mandated to plant corn at no less than 30 percent of their land.
"This is instead of converting the land use (from planting oil palm) to Musang King durian, which is tak aci (unreasonable).
"Make it compulsory and set it for a certain period of time. They are rich conglomerates and can overcome weaknesses which led to the failures I mentioned," he said in a statement.
Zamir (above) proposed ensuring compliance by imposing higher taxes on companies who refuse.
"Use the tax revenue to plant more corn, or take away their concessions which currently is valid until the end of time," he quipped.
"Don't agree with this solution? Continue with this issue until we receive the second coming."
National policy on corn farming
Zamir's proposal comes as Agriculture and Food Industries Minister Ronald Kiandee told the Dewan Negara a policy on corn farming is being formulated to reduce dependency on animal feed imports.
"We didn't have such a policy to promote corn farming as importing the product, a component of animal feed, was much cheaper back then. The costs of (importing) corn now are too high," Ronald said in reply to a question from Senator Iskandar Dzulkarnain Abdul Khalid.
Ronald said the policy would involve large-scale projects to encourage the involvement of the private sector and government-linked companies (GLCs).
It is unclear if this is linked to the Grain Corn Development Masterplan (2018-2032), launched by the government in 2016, with the aim of producing 30 percent of grain corn required for domestic consumption.
The Department of Statistics of Malaysia (DOSM) in January said chicken prices went up an average of 13 percent year-on-year.
On Monday (May 9), it said this caused a rise in the services producer index, driven by higher prices in restaurants and mobile food service providers.
Despite the government capping the price of chicken to RM8.90 per kilogramme, prices can be as high as RM11 per kilogramme in wet markets.
The Domestic Trade and Consumer Affairs Ministry said the sharp increase in the cost of corn and soybean feed resulted in a 70 percent hike in poultry farming costs.
Minister Alexander Nanta Linggi said the poultry industry has requested for the shortfall in the retail price to be covered by government subsidy until production is stable.
Malaysia more dependent on food imports
The Federation of Livestock Farmers' Associations of Malaysia (FLFAM) said among the reasons for pricier chicken feed is drought and cold weather in Brazil, which severely impacted grain production.
The imported feeds are also pricier as the ringgit becomes weaker, it said.
Malaysia imports most of its corn from South America, with approximately 80 percent originating from Brazil and Argentina, while 96 percent of soybean comes from Argentina.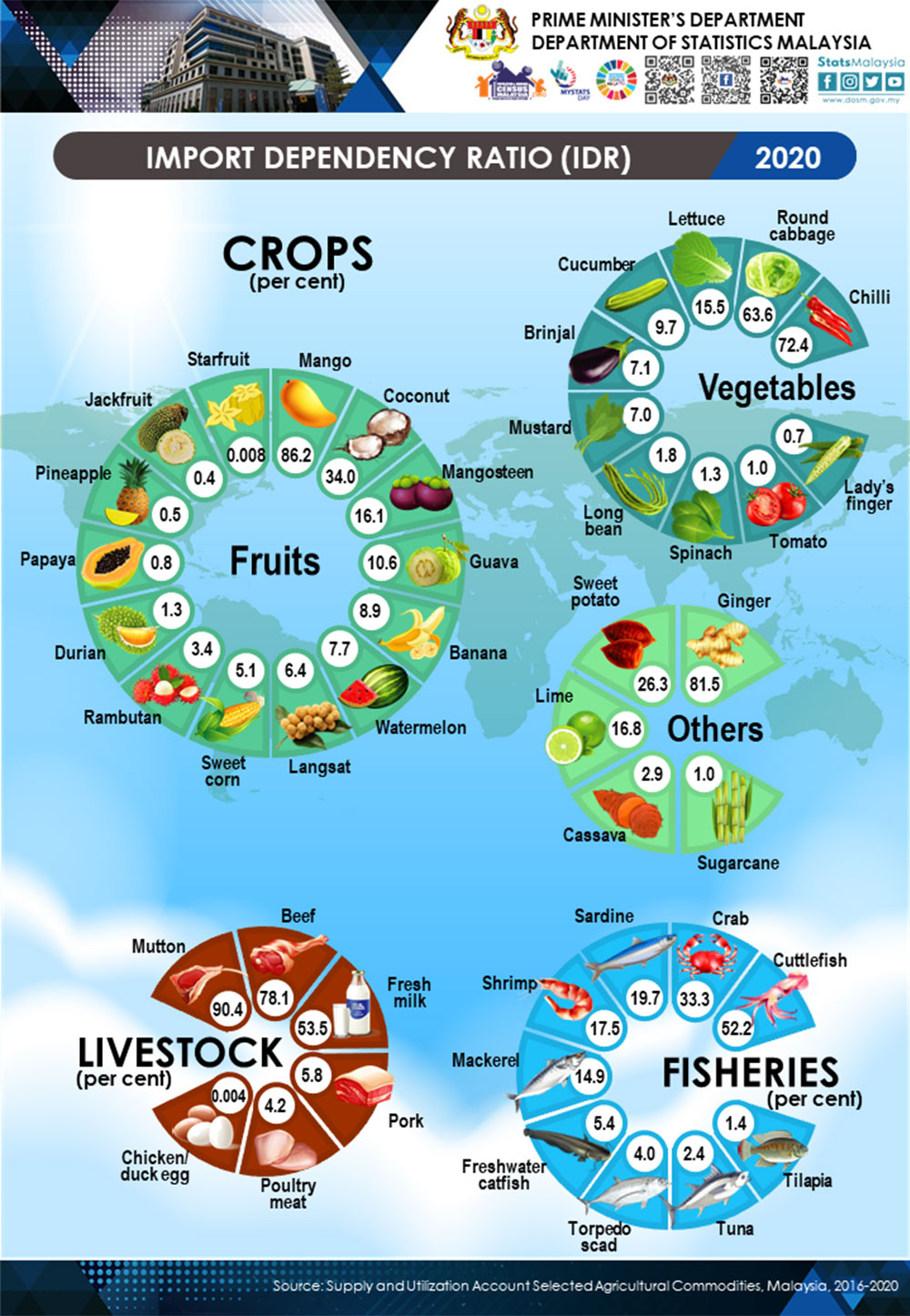 Over the past decade, the price of foodstuff and feed stocks have risen by an average 24.4 percent, the DOSM said.
Malaysia is also growing more dependent on imported food products, and is running a trade deficit in the area, it said.
The import dependency ratio has also risen to 13.7 percent in 2015, up from 7.3 percent in 1987. The ratio measures the country's dependency on imports for agricultural commodities. - Mkini