PKR president Anwar Ibrahim and former prime minister Najib Abdul Razak are facing off tonight in a debate on the troubled government-linked company (GLC) Sapura Energy Bhd as well as the country's future.
We brings you updates of the debate.
---
Rescuing big companies not the way to save M'sia - Anwar
9.35pm: In the second round of the debate regarding the country's future, Anwar says saving big companies is not the way to save Malaysia.
"When we talk about bailouts, we show that our priority is mega corporations. 'To save the country we must save the mega corporations'.
"I say that to save the country, we must save the people at the bottom first, their education, their jobs, their livelihoods," he adds.
Anwar says politics must also move away from power struggles which the public is sick of.
Najib later agrees that political stability is important, and that Malaysia must never again go through a situation where there are three governments in four years if it wants to retain investor confidence.
---
Anwar emphasises forensic audit
9.30pm: Anwar claims that the decision for PNB to buy a bigger stake in Sapura was done by Abdul Wahid Omar, the PNB chairperson when Najib was in power.
He says that Wahid's successor Zeti Akhtar Aziz had her hands tied when she took over and had to proceed with buying more shares as the funds had already rolled out.
Anwar also rubbishes Najib's plans, arguing that a Petronas bailout also involves public funds.
He hammers again that a forensic audit is needed, and not to let mismanagement of bumiputera companies and GLCs go unpunished.
---
Najib wants Petronas to step in
9.25pm: Najib suggests that Petronas take over Sapura, and guarantee that RM7 billion in contracts by Sapura are fulfilled.
He says Petronas can also ensure working capital for Sapura.
"When the company recovers, its shares bounce back, Petronas can sell off the company and make a profit," he adds.
He says this will benefit not just Petronas, but also the ASB investors and the country as a whole.
His alternative solution is for Sapura to get bank loans that are government-guaranteed, while also getting assistance from Petronas such as by increasing the value of contracts while oil prices are at an all-time high.
---
Najib agrees action should be taken for misappropriation
9.20pm: Asked about the implications of bailing out Sapura, Najib stresses that the company employs over 10,500 highly skilled locals and that its beneficiary owners include the 10.6 million investors in Amanah Saham Bumiputera (ASB).
He expresses agreement that if there is any misappropriation of funds, action should be taken.
Anwar uses his turn to again emphasise the need for a forensic audit, after which Sapura's own management can put forth whether or not they need government assistance.
The Port Dickson MP also stresses that GLCs should have good governance, and be able to solve problems instead of relying on bailouts when things get tough.
---
Anwar points out it's a matter of integrity
9.15pm: Anwar in his opening, argues that before there is any sort of intervention for Sapura Energy there must be a forensic audit.
He says the Sapura issue is a repeat of many cases of GLCs where bumiputera elites make a lot of profits, but then saddle the companies with various problems afterwards.
He cites how Sapura's former CEO Shahril Shamsuddin made over RM1 billion in remuneration from 2009 to 2021, and also the profits reaped by former substantial shareholder Mokhzani Mahathir when the latter sold off his shares between 2015 and 2017.
It is estimated that Mokhzani received between RM3 billion and RM4 billion by selling off Sapura shares.
Anwar says Sapura's problems are just like what has happened to 1MDB, Felda, Tabung Haji, and may happen to Digital Nasional Berhad.
Thus, he argues that there is a massive issue regarding integrity that needs to be addressed.
---
Najib: If Sapura goes bankrupt, people lose out
9.10pm: Najib in his opening remarks argues that the shared vision for Malaysia should be to make the country a high-income advanced economy.
To achieve this, the oil and gas sector is vital and Sapura Energy plays a strategic role - especially since it is now a GLC owned by PNB.
"So if we save Sapura, it will benefit the people. But if Sapura goes bankrupt, the people lose out," he says.
He adds that his plans to save Sapura will not involve a single sen of public funds.
---
Kicking off with a handshake
9pm: Anwar and Najib shake hands when they get on stage.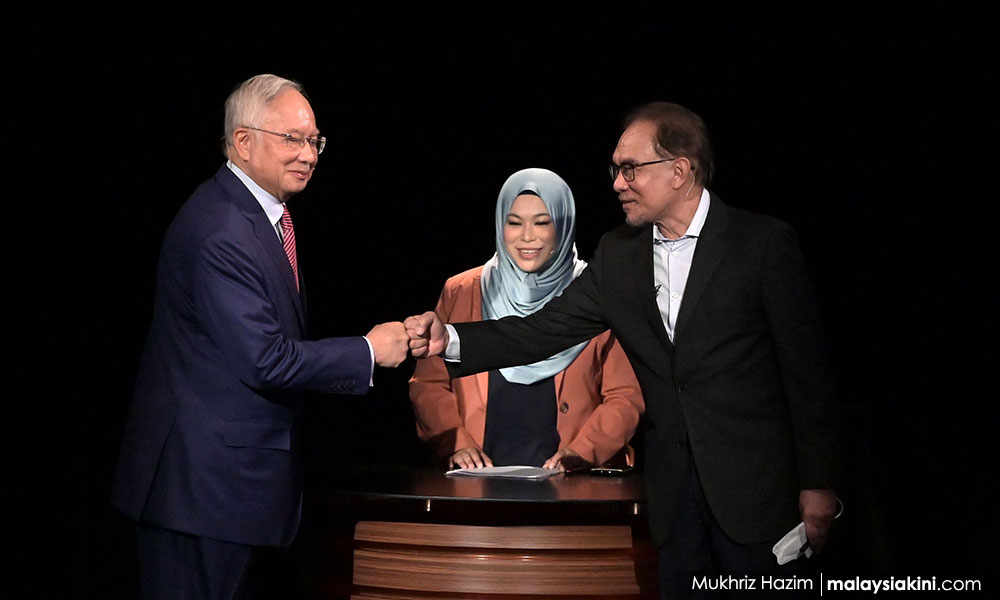 Tonight's debate moderator is Malaysia Gazette's Haslina AR Kamaluddin.
The debaters are given four minutes for their remarks, and three minutes to reply.
They are not allowed to make personal attacks or raise any issues that are currently in court.
The audience has been reminded to keep silent during the 90-minute debate, and not boo or cheer.
They had earlier engaged in a shouting match, with Najib supporters chanting 'bossku', and Anwar's supporters chanting 'reformasi'.
---
Sold out event
8.50pm: The crowd at the Malaysia Tourism Centre (Matic) is eagerly awaiting the debate to start.
Both Najib and Anwar have arrived for their showdown and will be on stage soon.
All 400 tickets to watch the event in person at the venue were sold, according to organisers.
Among those in the audience are Umno president Ahmad Zahid Hamidi and DAP secretary-general Anthony Loke.
Security for the event has been tight, with personnel doing thorough checks on those coming in - including going through their bags.
---
Debate topics - Sapura Energy and country's future
8.45pm: There are two topics that Najib and Anwar will debate tonight.
Firstly, on whether the government should assist ailing Sapura Energy. Secondly, on the issue of the country's future in terms of the economy, politics and direction.
Some Sapura Energy subsidiaries were served winding-up petitions in March, prompting Najib to seek government assistance.
The Pekan MP argued that since Permodalan Nasional Bhd - a government-controlled fund - had in 2019 poured RM4 billion into Sapura Energy, efforts must be taken to save the investment or at least prevent its assets from being sold to foreigners.
For the financial year ending Jan 31, Sapura Energy posted a loss of RM8.9 billion
Tonight's event is the first time Najib has accepted a debate invitation since he became prime minister in 2009.
Anwar's last televised debate outside Parliament was against then-information minister Ahmad Shabery Cheek in 2008. - Mkini