Former prime minister Najib Abdul Razak will know today whether he succeeds in his second bid before the Federal Court against his conviction and sentencing in the RM42 million SRC International corruption case.
Follow this news as we bring to you from time to time.
---
Judge: Up to bench whether to allow adjournment
9.20am: Federal Court judge Vernon Ong says on behalf of the five-person bench that it is up to the court to decide whether to allow adjournment of the appeal hearing or not.
One of the contentions behind Najib Abdul Razak's review application was that the previous apex bench last year erred in not allowing the former prime minister's legal team an adjournment of three to four months in the SRC appeal.
---
Judge: Apex court not treating review as appeal
9.10am: Federal Court judge Vernon Ong says the five-person bench is not looking at the review application like an appeal but at other issues such as whether Najib Abdul Razak was denied a fair trial, among others.
---
Judge Vernon Ong reads out judgment
9.05am: Federal Court judge Vernon Ong reads out the judgment on behalf of the five-person apex bench.
---
Proceedings begin
9.02am: The Federal Court convenes, with former prime minister Najib Abdul Razak seen seated in the dock.
---
Najib and Rosmah enter public gallery
8.55am: Najib Abdul Razak and his wife Rosmah Mansor are seen seated together in the public gallery while waiting for the Federal Court proceedings to begin.
The former prime minister, clad in a black suit and tie, and his wife in green baju kurung, are chatting together in the crowded public gallery while several red-hat Kajang Prison officers are seated nearby.
---
Rosmah seen in Palace of Justice
8.53am: Najib Abdul Razak's wife Rosmah Mansor is seen walking through the corridors of the Palace of Justice.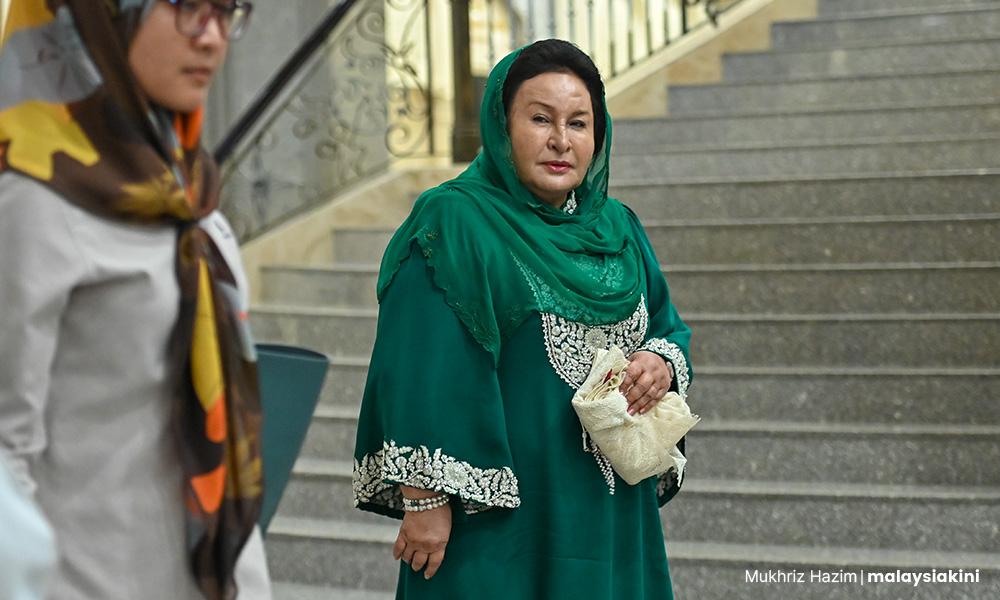 She is there to give support to the former prime minister in his review application in the RM42 million SRC International corruption case.
---
Prosecution, defence teams seen in apex court
8.40am: Deputy public prosecutor Mohd Ashrof Adrin Kamarul and several members of the prosecution team are seen in the Federal Court.
Former prime minister Najib Abdul Razak's lead defence counsel Muhammad Shafee Abdullah is also seen with other members of the defence team, preparing for proceedings to begin.
---
Here for Najib
8.30am: Dozens of Najib Abdul Razak's supporters are gathering near the entrance of the Federal Court, eagerly awaiting a ruling in their favour.
The court is mostly quiet and orderly.
---
The five-person Federal Court bench chaired by Chief Judge of Sabah and Sarawak Abdul Rahman Sebli would decide whether to allow or dismiss the former finance minister's review application against an earlier apex court verdict to uphold his guilty verdict as well as his 12-year jail sentence and RM210 million fine.
If the Federal Court does not dismiss the review bid, it could either order for a retrial of Najib's case before a new High Court judge other than Mohd Nazlan Mohd Ghazali, a rehearing of his appeal before a fresh Federal Court bench not led by Chief Justice Tengku Maimun Tuan Mat, or a full acquittal over the seven charges of abuse of power, criminal breach of trust, and money laundering.
The other members of the bench presiding over the review application are Federal Court judges Vernon Ong Lam Kiat, Rhodzariah Bujang, and Nordin Hassan, as well as Court of Appeal judge Abu Bakar Jais.
The Federal Court had heard the review bid over a six-day period that began on Jan 19, proceeded through Feb 20 to 22 and 27, and ended on Feb 28.
On Aug 23 last year, a separate Federal Court panel chaired by Tengku Maimun dismissed Najib's appeal to set aside his guilty verdict as well as a 12-year jail sentence and RM210 million fine in the graft case.
Having exhausted his appeals before the Court of Appeal and the Federal Court, Najib has gone before the current Federal Court panel to hear his review of the case.
Incarcerated in Kajang Prison, Najib is also pursuing other avenues outside the judiciary, namely a petition for a royal pardon as well as a petition before the United Nations over his alleged arbitrary detention.
Through the present review application, Najib contended that trial judge Nazlan, who has since been elevated from the High Court to the Court of Appeal, was in a conflict of interest when he heard and decided on the SRC International case in July 2020.
Najib claimed, among others, that the judge was allegedly aware that Maybank Investment (an entity of Maybank Group) and BinaFikir (another entity of Maybank Group) had advised sovereign wealth fund 1MDB in the matters of the setting up of SRC International.
Najib alleged that the conflict of interest arose due to Nazlan's previous role as a general counsel with Maybank.
Initially, a subsidiary of 1MDB, SRC became fully owned by the Minister of Finance Incorporated (MOF Inc). 1MDB is also fully owned by MOF Inc.
Najib's review bid also targets the previous panel's three other decisions.
They are the decisions denying his bid to produce additional evidence to strengthen his allegations against Nazlan, rejecting his bid to postpone the appeal hearing so his lawyers could have more time to prepare for the appeal and denying his application to recuse Tengku Maimun over alleged conflict of interest. - Mkini