Universiti Teknologi Mara (UiTM) has agreed to reschedule Muda's dialogue session, scheduled to take place tonight at its Shah Alam campus in Selangor, to a later date.
Muda president Syed Saddiq Abdul Rahman said the varsity's student representative council (MPP) has given its commitment to provide a more suitable date after Ramadan.
"The point is, students today can already vote yet they cannot engage in peaceful dialogues like this. I think it does not make sense.
"But what they (UiTM staffers) said is very mature, which is we can have a dialogue but maybe at a different venue and there's a need for other panellists to be present so that the discussion is more balanced. We have no problems with that," he told reporters in front of the university gates tonight.
Syed Saddiq showed up at the university with his entourage earlier but the gates were shut in an apparent attempt to prevent them from entering the grounds.
Police officers and auxiliary police were seen in front of the university's entrance.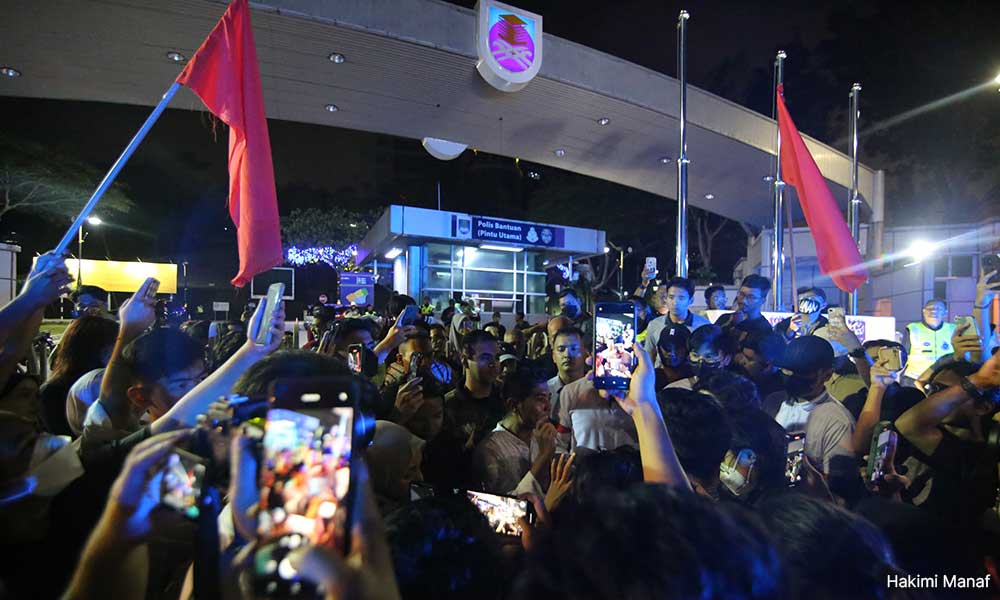 A crowd of some 120 Muda supporters and students also showed up in red armbands and red flags, chanting "hidup mahasiswa" (long live students).
The decision to reschedule tonight's dialogue session was reached after Syed Saddiq held several rounds of negotiations with UiTM staffers for approximately 20 minutes.
However, tonight's incident will not deter the Muar MP from holding more dialogues in other universities, as he hoped to speak to students as frequently as he can.
"I just hope that the message is clear. When the prime minister shared his aspirations for students to have the right to freedom of speech, is not restricted, we should follow.
"Don't just (let the advice) stay at the top, but there are restrictions at the bottom.
"We want to make sure that the reform actually happens," he added.
Dialogue initially cancelled
This comes after UiTM called off the dialogue organised by Muda affiliate Ikatan Mahasiswa Demokratik Malaysia, titled "Interns are not Forced Labour", from taking place.
In an earlier press conference in the Parliament today, Syed Saddiq cried sabotage over the cancellation of the planned dialogue session.
He claimed the university on March 28 rejected an application to hold the dialogue, purportedly to maintain harmony within the campus.
He asked, "when have I ever caused a ruckus? I have a very close relationship with UiTM".
Meanwhile, Muda secretary-general Amir Abd Hadi, who was present tonight, said the red flags and armbands were also a demand for the government to repeal the Universities and University Colleges Act (UUCA) 1971.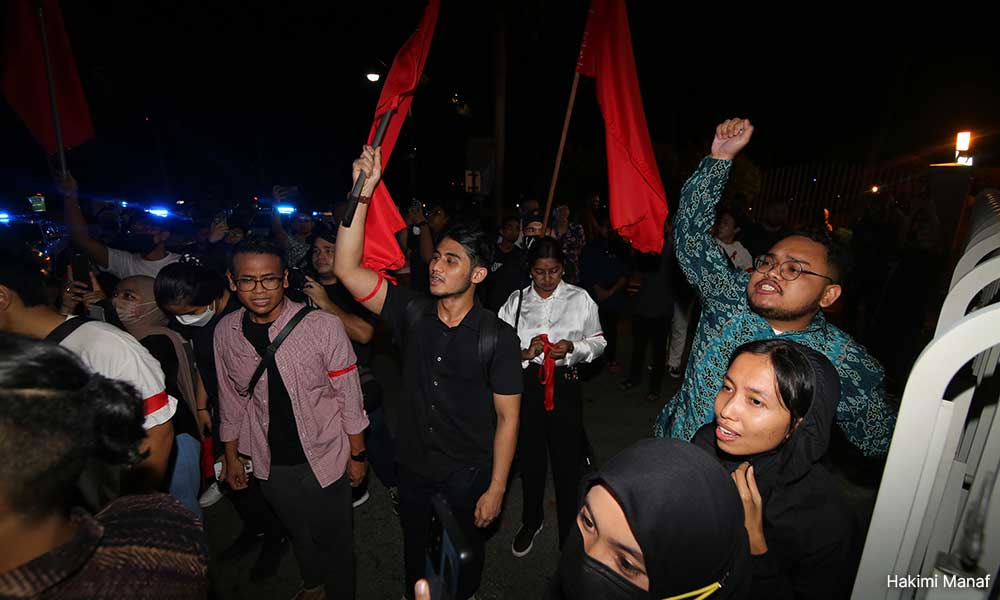 He also hoped the university would not take disciplinary action against students involved in the peaceful protest tonight.
"They (university staffers) promised to give us a chance (to hold dialogues).
"But I also hope they can promise us this.
"If there are any actions taken against the students, we might need to have a 'bigger discussion'," he said. - Mkini