The cooperation of all stakeholders, including employers and higher education institutes, is crucial to ensure that the new Rakan Muda programme achieves its goal of producing a generation with noble aspirations and rich human values.
National Negaraku Brigade president Khairul Nizam Mohd Sopery said this is important because participation in Rakan Muda activities is not only focused on students but also involves working youths.
"Rakan Muda has always been synonymous with young people as it targets youths between the ages of 15 and 30. So this time, we want to include all age groups of the target audience so that the planned programme can have a comprehensive impact.
"To achieve this, we need the cooperation of all parties, including government agencies and employers, as well as higher education managements, which should show flexibility if there are students or workers who want to participate in the Rakan Muda programme," he said when contacted by Bernama.
Referring to the objective of Rakan Muda, which has anti-corruption and -hypocrisy elements, Khairul Nizam (above) said it is a good effort to nurture the principle of "rejection of bribery" within oneself.
"Anti-corruption initiatives actually need to start from the school level, but it is not too late for us to 'catch up' through this Rakan Muda programme. It is also necessary to diversify the anti-corruption drive to ensure that the application of this principle is more effective," he said.
In this regard, Khairul Nizam said the government needs to allocate funds to boost this new Rakan Muda without creating bureaucratic problems which would cause people to lose interest in the programme.
Sharing his sentiment, Malaysian Youth Council president Mohd Izzat Afifi Abdul Hamid said employers should allow their workers to participate in the Rakan Muda programme to ensure that the concept of work-life balance can be practised.
"We know that this Rakan Muda programme can benefit and add value to employees if employers extend their cooperation. Maybe workers should be given a day off every month to participate in the programme," he said.
Izzat said the 10 lifestyle elements introduced in the revamped Rakan Muda not only promote an active lifestyle but also incorporate features related to current issues.
They are Rakan Demokrasi, Rakan Litar, Rakan Aktif, Rakan Bumi, Rakan Digital, Rakan Ekspresi, Rakan Muzik, Rakan Mahir, Rakan Niaga and Rakan Prihatin.
"Apart from promoting a healthy lifestyle, current affairs related to democracy will also be highlighted to improve awareness of democracy, as we know that the understanding of democracy and politics is still weak among youths.
"Rakan Digital has also been introduced, something not seen since Rakan Muda was introduced in 1994. We now know that technical and vocational education is an important skill for youths," he said.
He said all Rakan Muda activities should be widely promoted on social media, television or radio to ensure they reach the target audience.
"Firstly, it is necessary to work with the Education Ministry. Rakan Muda activities need to be aligned with the school curriculum. This is to ensure that youths are aware of the programme," he said.
Belia Prihatin deputy chairperson Afif Firdaus said the latest Rakan Muda is a proactive approach by the government to address current needs, particularly to raise a generation of youths knowledgeable in the latest technologies.
"Artificial intelligence is one of the new technologies that the young generation should master today to mould them into quality human capital," he said.
"I hope the programme will be introduced gradually. There will be more programmes with the latest technology-related content because such skills are essential now and can be an indicator for employers when they recruit in the future," he said.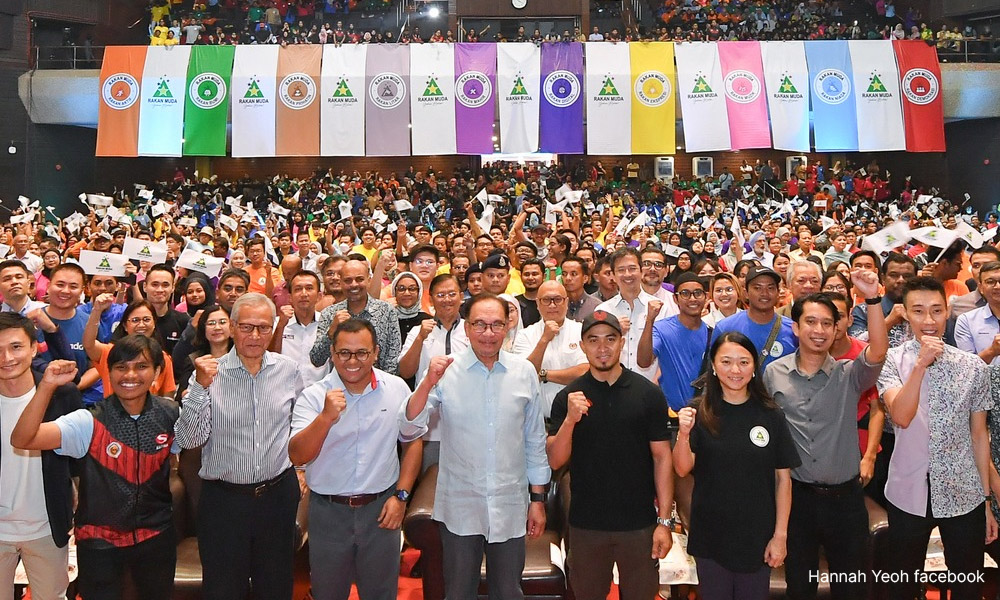 Last Sunday, Prime Minister Anwar Ibrahim launched the revamped Rakan Muda programme, which has been given a new lease of life with the introduction of a new phase to produce a generation of youths with the aspirations and quality to turn Malaysia into a great nation in the region.
- Bernama