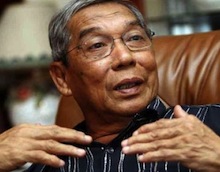 (MMO) – Former Election Commission (EC) chairman Tan Sri Abdul Rashid Abdul Rahman, who is also a Perkasa member, was announced today as one of Parti Pribumi Bersatu Malaysia's (PPBM) vice-presidents.
The party's supreme leadership council revealed today also included Penang Perkasa chief Marzuki Yahya, and former Selangor Perkasa chief Abu Bakar Yahya who quit the group early last month.
Abdul Rashid had, in November 2013, joined Malay rights group Perkasa, purportedly to keep the dominant Malay community in power.
While opening Perkasa's Federal Territory annual general meeting that year, he was quoted as saying that the three redelineation exercises during his term at the EC, which were done "in a proper way", had ensured the continued political dominance of the Malays.
Other vice-presidents elected in the new PPBM line-up were sacked Gopeng Umno Wanita chief Datuk Hamidah Osman and lawyer Datuk Abdul Rashid Asari, while former Langkawi Umno member Anina Saadudin was elected to lead its women's wing Srikandi and Syed Saddiq Syed Abdul Rahman was picked to lead youth wing Armada.
Former deputy prime minister Tan Sri Muhyiddin Yassin has been confirmed as the party's president, with former Kedah mentri besar Datuk Seri Mukhriz Mahathir as his number two and Mukhriz's father, Tun Dr Mahathir Mohamad, as party chairman.
Former Pagoh Umno vice-chief Datuk Dr Shahruddin Md Salleh was named PPBM secretary-general, chartered accountant Datuk Mohamed Salleh Bajuri as its treasurer, and former Semerak assemblyman Datuk Kamarudin Md Nor its information chief.
Other names in the council included former Umno Youth leader Akhramsyah Muammar Ubaidah Sanusi, veteran journalist Datuk A. Kadir Jasin, and Tariq Ismail Mustafa, the grandson of the late Tun Dr Ismail Abdul Rahman.
Besides Halimah and Anina, there are only three other women in the 30-strong council: part-time lecturer Hazlinda Abd Latiff, businesswoman Najwah Halimah Ab Halim, and public speaker Ulya Awamah Husamudin.
The Registrar of Societies approved PPBM's application in September, but the party was barred from using the word "Bersatu" as its acronym.