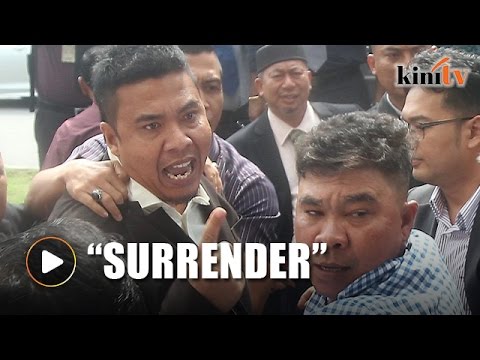 Among them included Tajuddin's 34-year-old son Firdaus.
This follows an earlier ultimatum issued by inspector-general of police Khalid Abu Bakar, who warned that the police will arrest them if they fail to surrender by 2pm today.
Sentul OCPD R Munisamy was quoted by the Chinese daily as saying that 12 people, aged between 30 and 48, came to the district police headquarters.
The police will apply for the group to be remanded, the daily said.
However, the report did not mention why 12 supporters turned up when the police only sought 10 to assist the probe.
At a press conference held earlier at Bukit Aman, Khalid said the police would decide if they wanted to act on the relevant lawmaker who had brought the group into the Parliament compound, depending on the MP's intentions.
"This depends on whether there was an intention to do that, we will investigate," he said.
To a question if the police had identified the relevant lawmaker who brought in the group, he reiterated:"We will investigate."
Tajuddin had denied that he brought the group in.
"If these people were actually invited by a MP into this area to cause bodily harm, distress, the MP should also be brought to the rights and privileges committee," he said.
When someone commits an assault in a restricted area, it is equivalent to an act of terrorism," said Nur Jazlan.
Responding to that, Khalid said: "I would not want to elaborate on that yet until we have finished our investigation because we want to see what was the purpose.
"I would not jump to a conclusion that it was an act of terrorism yet. Let us conduct the whole investigation - we call them up and interview them - then we will know what was their real intention," he said.
The top cop had no intention to detain the group under Sosma for now.
"We are investigating the case under Section 147 of Penal Code for rioting. So for the time being that is sufficient unless we have other information (that they might have) abused other laws," said the top cop.
He also noted that the log book of the Parliament entrance would be taken to assist the probe.
He described the incident as something "shameful" that should not be taken lightly as the sanctity of the Parliament House should be protected.- Mkini