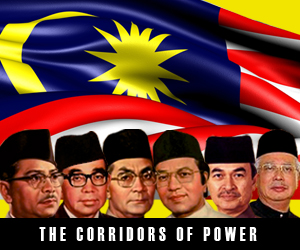 There appears to be two sides to the SPLASH story. Khalid says the price should have been RM250 million while Azmin says it is RM2.975 billion. Khalid says RM250 million is nett while Azmin says RM2.975 was the price Khalid had agreed to pay when he was the MB. Meanwhile no one is talking about the RM500 million kickback to PKR if the price is RM2.975 billion.
THE CORRIDORS OF POWER
Raja Petra Kamarudin
"Set up independent inquiry into Splash deal," said Kua Kia Soong today (picture above) in his article in
Free Malaysia Today
(
READ HERE
).
Kua went on to say:
The conflicting accounts about the purchase of Selangor's water assets from Syarikat Pengeluar Air Selangor Holdings Bhd (Splash) by Selangor Menteri Besar Azmin Ali and his predecessor Khalid Ibrahim give cause for concern.
The previous menteri besar Khalid revealed on Nov 5 that the state government has offered RM2.94 billion for Splash – almost 11 times higher than the sum originally offered, RM250 million. Selangor MB Azmin

has rebutted this and claims that Khalid had already agreed on the (new) price.
Azmin has alleged that when Khalid was the menteri besar (between 2008 and 2014), Khalid made Splash an offer of RM2.975 billion to take over the equity of the company. It did not help the general public when the Selangor state assembly speaker (Hannah Yeoh) refused to allow Khalid time to explain about the original deal with Splash negotiated during his tenure.
The PAS and DAP executive councillors have been quiet about the negotiations with Gamuda, Wan Azmi Wan Hamzah and the Federal Government, even though the PAS executive councillor is in charge of the water portfolio in the state government.
It has been alleged that Khalid was ousted as Selangor Menteri Besar after he refused to accede to Splash demands. During the controversy, which led to the so-called 'Kajang Move', PKR accused him of corruption and published a thick dossier of misdeeds for which PKR leader Saifuddin Nasution later retracted and apologised in court.
So there you have it. One of the reasons why Khalid Ibrahim was ousted was because he refused to approve the SPLASH deal. Wan Azmi Wan Hamzah wanted almost RM3 billion while Khalid agreed to only RM250 million.
Anwar Ibrahim then brought Wan Azmi to meet Khalid and even explained to Khalid that Wan Azmi was prepared to pay PKR RM400 million (with another RM200 million for Anwar personally) but still Khalid would not relent. And that was why, said Kua, they launched the 'Kajang Move'.
Wan Azmi Wan Hamzah
Two days ago, in the article titled 'PKR to get RM500 million if SPLASH is priced at RM2.975 billion', we said:
Basically, although Azmin said that the price of RM2.975 billion that he offered to take over SPLASH is the same figure that Khalid offered them, Khalid's offer of RM2.975 billion in 2009 was before deducting liabilities of RM1.396 billion, hence reducing it to a nett offer of RM1.579 billion before deducting any dividends paid out.
In short, Azmin's offer of RM2.975 billion is nett while Khalid's offer in 2009 was gross and once netted off would be about half that figure.
That was in 2009, though. In 2013, the figure changed to RM2.56 billion and after deducting liabilities of RM1.584 billion and dividends of RM725.4 million, the nett figure came to RM250.6 million, less than 10% of what Azmin is offering today.
Hence Azmin's offer is RM2.975 billion while Khalid's offer was merely RM250.6 million. Hence, also, what Azmin told the Selangor State Assembly is a lie — but the DAP Speaker of the State Assembly refuses to allow Khalid to explain this to the Assembly.
And what we said is supported by Gamuda's own announcements here:
GAMUDA'S ANNOUNCEMENT DATED 13 FEBRUARY 2009
GAMUDA'S ANNOUNCEMENT DATED 26 JUNE 2009
GAMUDA'S ANNOUNCEMENT DATED 29 JUNE 2009
GAMUDA'S ANNOUNCEMENT DATED 16 JULY 2009
GAMUDA'S ANNOUNCEMENT DATED 21 JULY 2009